My E Mail sent today, Saturday 4th of November 2017 (sic)


1stly, my own 'thoughts' ..... posted on social media, today: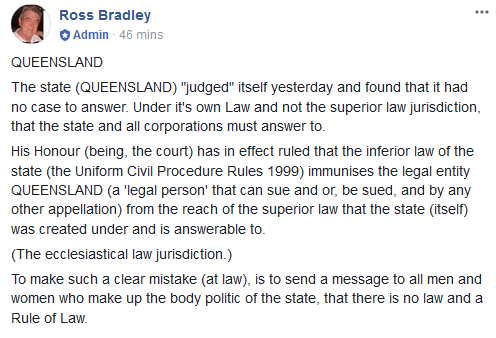 Yesterday (in the court-room) I strongly posited or, put forward as fact or as a basis for argument that there was a discrimen between the two jurisdictions. A fact can never be argued, in a law court.

DISCRIMEN (Latin): crisis| separating line| division; distinction| difference

Sydney City Council v. Reid
(1994) 34 NSWLR 506
(1994) 84 LGERA 381
The word itself (Discrimen - ancient Latin) was used so well in the last sentence of his own judgement by the Honourable Justice MEAGHER J when he said:
"This suggested 'discrimen' is inadequate". - MEAGHER J

The Council matter, is here: Legal Database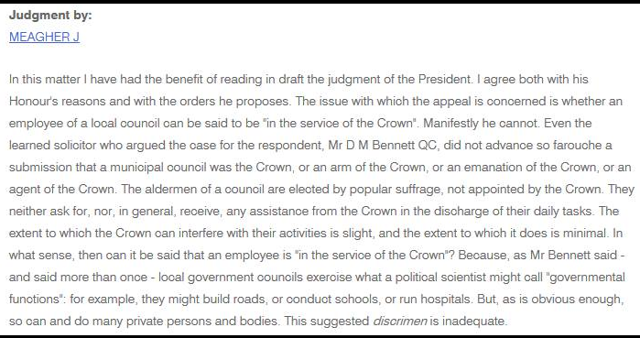 And the following screen-shot below was written by a George Hugo Tucker, in a book published (it seems), early 2003.

Much-like His Honour Justice David Boddice he is a smart Fella, clearly.

Book: Homo Viator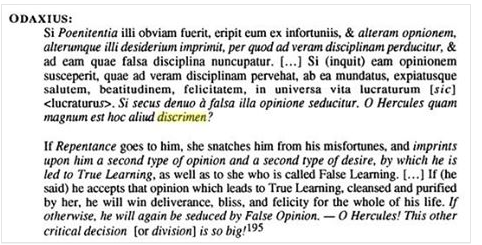 A reminder that... all "sworn" OFFICERS of the Supreme Court (especially) are UNDER, the Crown. In a nation state or, any state founded in the Christian law, they swear their allegiance and invoke the Help of God.....to uphold the law of, the Crown.

That law is 'termed' as being the common law of England and it comes from, the Crown.

All other men and women (who "act" juridically) are "powered by" the legal personality of a state, and are "equally" answerable to the law of the Crown.

(That is ..... the common law of England. The superior, ecclesiastical body of law.)

Today I have CC-ed this E Mail to the Honourable Attorney General Yvette Maree D'Ath (being the 1st law Officer, of the state) so as to ask the Honourable Attorney General that she must immediately appeal this decision as made by His Honour yesterday, and on my behalf and most certainly in the interest of the people of Queensland. It is her role to do so.

And that the Honourable Attorney General must immediately appeal His Honour's decision on behalf of all the men and women of QUEENSLAND (who are the electors she answers to) and who do make up the body politic and who are the very foundation of this great state that we are so lucky to live in.

The sad thing is...

If his Honour has made an Affirmation of Allegiance under the Constitution of Queensland 2001, then he is under the law of the state. He could never have made any decision in the matter, because it involves the very law of the state that he himself is a subject of. (Conflict of interest.)


At the court yesterday, his Honour was asked to recuse himself from the matter, if he was not a sworn officer to the Crown. He choose not to do so. He choose not to excuse himself from the matter, as Filed.

Two days before (and at the court), his Honour said that ... "all Judges in the Supreme court, swear an Oath".

My initial contact to you (attached below), clearly shows that he made a mistake in saying that.

Question? What authority (jurisdiction) does any ruling in a state jurisdiction (using a state's legislation) have over a natural person (a man), who has filed the original matter at the court?

His Honour should have recused himself. Even the King could not rule in his own causes.

"The King is under no man, except God and the Law." - LCJ Coke

Sincerely,

ross-james (My legal name and as a natural person with inherent Rights and Duties.)

ps; Some more "food for thought".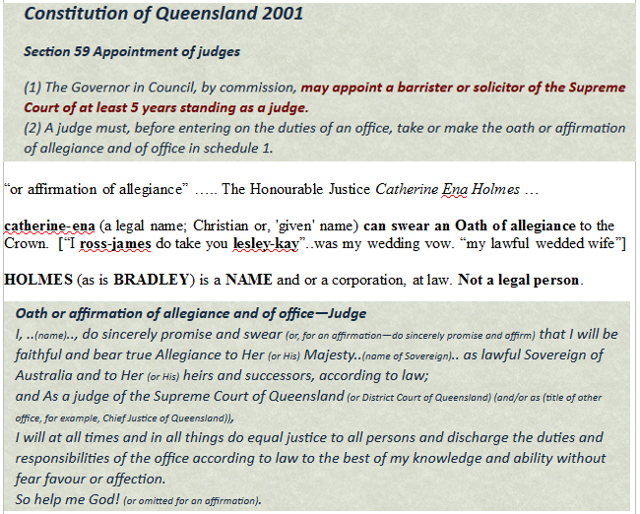 ************************

Sent: Tuesday, October 31, 2017 at 1:55 PM
From: "Ross Bradley" <qeg@mail.com>
To: Associate.BoddiceJ@justice.qld.gov.au
Subject: Thank you for your help in Court this morning...

Dear Associate of His Honour, Justice David Boddice,

Thank you for your help this morning when I attended court before His Honor, re; a File Fee Waive matter.

In all fairness and before publishing my brief account on social media, please advise His Honour of what is my own 'take-a-way' from in his court this morning. You are more than welcome to correct any mistake that you feel I may have made.

Thanks again,
ross-james (My legal name and as a natural person with inherent Rights and Duties.)
******************************
"Who is going to hear that, God?", were the words or similar that were made in reply to me, when I had told his Honour Justice Boddice in court today that QUEENSLAND (as a state, a legal person and body politic), answered to the superior law jurisdiction available from the Supreme Court's plenary jurisdiction, and from it's inherent law jurisdiction and stemming from the Charter of Justice, of 1823. That still remains the law, today.
I replied that the honourable Judges of the Supreme Court who swear an Oath of allegiance to the Crown and lawful sovereign of Australia (a juristic entity and a creation, at law) are empowered' to do so, in their being sworn Officers of the Crown or, similar.

"All Judges swear an Oath"...

His Honour made his 2nd of three mistakes in his court today when he replied, that …. "all Judges swear an Oath".

Perhaps he isn't aware of Her Honour the Chief Justice's PROCLAMATION when 'acting' as "Her Excellency" the Governor of Queensland and that she still is or, Her Honour at least was doing so when (and on behalf of the Sovereign who she is said to be representing as an Officer under the Crown, and as is my query within my matter to be filed), giving her own assent for the Honourable Premier of Queensland, to call an early state election.

I 'kept my powder dry', in this regard. An Affirmation is not a sworn Oath, to the Crown. And HH is clearly, under the state.


The third mistake (in what was a "trifecta" of mistakes this morning), was in his declaring that the "rules" of the state do apply to a natural person (a man) when filing a matter against the state in my own declared superior ecclesiastical law jurisdiction, in the Registry of the state.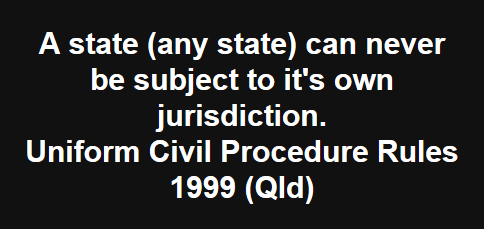 Nor can a man (as a natural person, filing against the state) ever be subject to any "Rules", of a state.  All states are a creation at and answerable to, Law. They are a legal person and only legal persons can sue and or be sued, at law.
His Honour's brief Supreme Court 'judicial profile' tells us, that:

< In 1984 [his Honour] Justice Boddice was admitted as a barrister of the Supreme Court of Queensland and appointed Senior Counsel in 2001. >

His Honour, Justice Boddice: https://www.sclqld.org.au/judicial-papers/judicial-profiles/profiles/dboddice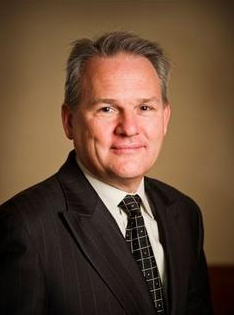 In all fairness, I have also and 1st E mailed this post (sic) to the Associate of his Honour, the Honourable Justice David Boddice.


******************************