I've had to now change my above header to this (yesterday's) instablog post - for reasons as are explained below, in my comment to this post.
It appears that I may well have put someone's nose out of joint?
As it was:
"Google Testing Ads Served Off Search Query Impression, Not Clicks"
Swanson1 has had more final 'curtain calls' than Dame Nellie Melba ever dreamed of having when returning to make further comments on the Vince Martin instapost, "LookSmart Is As Good As Finished."
My reply to him, is as follows:
Swanson1 .... Back on March 30th, you posted the following:
"I just can't see a CPV model work for an aggregator like Looksmart unless they have their own network, and if they did why would you not sell CPC or CPA if it was quality?"
I can only answer, that this was likely....
Because it is NOT (or, was not) generally available through-out the period of testing. I have mentioned that you were dealing with just one part of Looksmart's business, ok? Being, it's own ad network.
I've since pointed you to where Looksmart's Benoit Vatere not only explains that "we own the network" but that, "we follow users showing search intent"..... He also tells all that [From search] "Google & Yahoo are looking for bigger margins" and (of Looksmart) receiving data from them ......"we have about 3 billion queries per day".
Besides that obvious need for an "independent" RTB auction.
seekingalpha.com/instablog/36191-looking...
I'd like to (now) draw your attention to what a Google spokesperson has said in an adweek.com article out just today..Do note the initial mention of "a variety of search engines" and with experiments dating back as far as Feb. 2010.
....."These are two ongoing experiments that we described in February 2010 (the use of search referral clicks from a variety of search engines to improve ad relevance) & October 2011 (the customization of search ads based on recent visits)."
.."Here's how it would work: a user might search for "prada shoes" but not actually click on a search result or search ad.
Later in the day (within seven hours) that user might visit any site within the Google Display Network and come across an ad from, say, Prada or Saks Fifth Avenue. At its core Search Companion would provide search ads outside of the search results page, explained a source."
< Scott Jones, general manager of display for Responsys (which is not participating in the beta), said that search data is valuable signal for targeting display ads, categorizing it among first-party signals like a brand's CRM data. ..."It's all about intent, and from our perspective there are a lot of signals that represent "intent"-one of them is what term were you looking for or, what content were you specifically looking for", he said. >
www.adweek.com/news/technology/sources-g...
Now whatever way you want to allow this confusing article (to further 'twist' you own acceptance of what I've been claiming, all along), you need to understand that need for an independent operator to 'collate' those 'terms that users were you looking for' and accept that they are coming to Looksmart from "a variety of search engines".
I will remind you (perhaps you are learning of this for a 1st time?) that Looksmart's appointment of a Scientist (and, the foremost analytical 'genius'), in Vincent Granville (I feel), is about providing the very best of analytics (consistent and equal to all who buy and sell in Looksmart's global CPA/CPV advertising marketplace) and from within or, across the total platform.
And, it was ....
.. Back in March 2011 when I'd noted (in an article that he had written on his own site: tiny.cc/sgbv8) where the Looksmart Chief Scientist Dr. Vincent Granville, had said, he was:
."Currently working on a Google keyword price/volume forecaster with Dr. Jean-Yves Dexmier, CEO of Looksmart [and who's also] a member of the prestigious French group of mathematicians, known as Bourbaki. [In the article he says that -- - together they were now] developing scoring algorithms that are 200 times faster than algorithms available in the marketplace. (Without using cloud)."
Success Story: (Dr. Vincent Granville - Read, Success Stories on his website) - www.analyticbridge.com/group/successstories
."I've finished creating the list of all top commercial keywords that account for 85% of Google pay-per-click advertising revenue."
Note: www.linkedin.com/groups/Success-story-te...
**********

Vincent
Success story: text mining in advertising analytics: predicting... analyticbridge.com
I've finished creating the list of all top commercial keywords that account for 85% of Google pay-per-click advertising revenue. I've also identified all top…
March 6, 2011
**********
(Yes."the Creation of a list of about 100,000 keywords representing 85% of the keyword pay-per-click commercial universe, in terms of Google advertising revenue.")
seekingalpha.com/instablog/36191-looking...
Here's hoping you (and others) get to understand a little more of just where I am coming from. Should you happen to do so, you may just decide to make your-self some dollars along the way.
Always, only an opinion.
LOOK: On May 22: $ 0.76

0.03 (+4.11%)
LC
ps; While I feel that CPA type ads will come from marketers that include a number of major player partners (yes, meaning, Google, Microsoft, Yahoo and even Facebook - ultimately) to then - together form a ONE global CPA marketplace - this recent article from SearchNewz [Google Tests Displaying PPC Ads Below Ads Related To Notation] suggests:
There is a significant change in the way Google is displaying PPC ads in search results. It seems presently the search engine giant is testing the "Ads Related to" notation for segments and categories of search queries.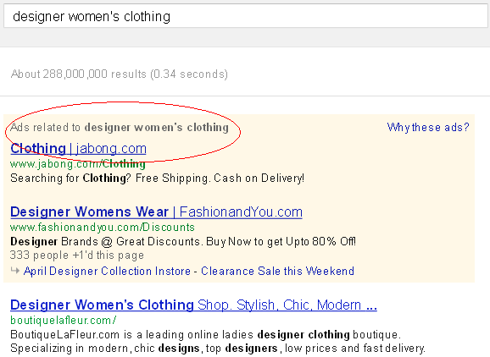 Story: www.searchnewz.com/topstory/news/sn-2-20...
pps; Even more "testing"? With those ('possibly'?) CPA results, as were showing on Google+, now gone? The same results that other search engines would (also) show for similar keywords, perhaps? With Microsoft (and Yahoo) doing like-wise, with/for Facebook????
"Goodbye Google+ People & Pages, Hello Knowledge Graph Box"
Story: http://selnd.com/JzfWjh
ppps; From SearchEngineLand "Ads Related To…" Text Officially Rolls Out On AdWords' Top Ad Block
....."The intent, says a Google spokesperson, is to give users more information: "As part of our ongoing efforts to show ads that are relevant and informative, we are including more information about why users are seeing certain search ads."
If I know Google, this effort at transparency is also meant to spur click-through rates - and has likely done so in extensive testing. Perhaps users are more likely to click when they understand better why they're getting the ads they're getting."
Disclosure: Long LOOK
.
.