.
Some would see today's trading as being kind of strange. Certainly those who may be only new to the stock over the past couple of days. LOOK rose once again and the share price closed UP solidly for a 2nd day in a row.

LOOK. 
0.21 (+15.22%). 

Not since the report prior to MSN dumping LOOK as a partner (back in 2003) have Looksmart reported one profitable quarter. - That's a total 35 quarters gone since that (historical), and only profitable quarter, in the Co's history.

Today was 'strange' as Markert Makers plied their 'typical' skills with a low float Co that they can fully 'control' (only 17.12M shares, as issued) and with what seemed like only 15 minutes prior to the close of the market, had the share-price value in negative territory, when compared to yesterday's close of $1.38. They then,  quickly moved  the value back up, closing it on a new 12 month's high.

The small chart tells the story.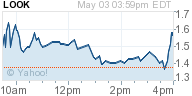 http://finance.yahoo.com/q?s=look

During my long period of investment with the Co there has often been a certain  'pattern' to trading, prior to a report. (LOOK announced today, that it will report, this Wednesday)

Generally speaking, there would be a rise in the share price value (like todays, and yesterday) giving shareholders a glimmer of hope, going into the report. Only to (almost always), see it drop sharply in the A/Hrs trading and the very next day, in handing down results with disappointing numbers.

A few years back I had a dream. The Co's SP value would do the usual and rise into a 'quarterly' report, but instead of a poor result posted, they'd finally announce that profitability & news of a strong "merge" (or, a 60% "controlling stake" type buy-in), with a "Jumbo" partner, like Newscorp.  This would result in a 'bounce' like nothing that could have ever been imagined. I think we are close to that (my) dream unfolding. Yes, and dreams do come true.

It's worth noting also that the (historical) logarithmic chart of LOOK (going right back to its float day), is rather INCREDIBLE in that with today's close (of $1.59), the Co has traded EXACTLY to resistance.

LOOK: 3:59PM EDT: $1.59  
0.21 (+15.22%) 

LC

Disclosure: Long LOOK and happy to be so