.
Comparing yesterday's (long term) chart and that of todays (following the close of market) may help some get a better understanding of what may well lie ahead for patient shareholders of Looksmart stock. In what is a strong and very exciting growth segment of search advertising and one, that Looksmart (most certainly) does hold, a "uniquely" independent position in.

As stated: (In my previous post, that I had lost)

"In my previous InstaBlog post (March 3rd) I had made the point, that .... It's worth noting also that the (historical) logarithmic chart of LOOK (going right back to its very beginning, or, float day), is rather INCREDIBLE in that with today's close (of $1.59), the Co has now (virtually) traded EXACTLY to resistance."


Here is (that) yesterday's Chart (clearly) showing the above scenario: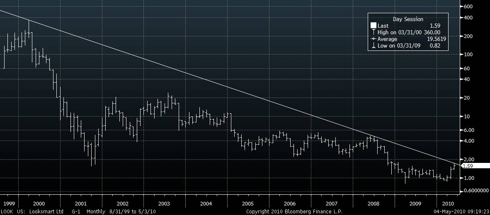 The chart shows that LOOK had traded, EXACTLY to it's resistance. (Click on it, to enlarge the picture).

Today's chart shows (with LOOK now, breaking through that resistance), that, not only is the LOOK (Looksmart) share price value going to rise but it clearly will be trading very much higher, in days, months and years to come.
 
I mean, just who would be foolish enough to SELL in their understanding of this "reality" situation? Who would be foolish enough to go ahead and "short" the stock, with (currently), just 17.2M shares, as issued?

With today's close (UP another 8.18%) @ $1.72pps, Looksmart has "managed" to come up with what is an incredible break on the long term downtrend, and one that's going right back to 2000 .....That is clearly shown (again), here: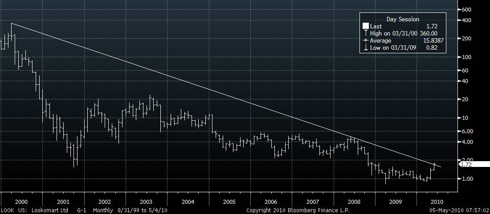 The past few days can show (below), the rise in both volume and the SP value, leading into tomorrow's Q1 2010 earning's report. One that I feel will provide, only the Co's second profitable quarter in it's entire history.


| | | | | | | |
| --- | --- | --- | --- | --- | --- | --- |
| Date | Open | High | Low | Close | Volume | Adj Close* |
| May 4, 2010 | 1.58 | 1.82 | 1.39 | 1.72 | 901,900 | 1.72 |
| May 3, 2010 | 1.40 | 1.70 | 1.35 | 1.59 | 1,477,900 | 1.59 |
| Apr 30, 2010 | 1.19 | 1.50 | 1.19 | 1.38 | 361,300 | 1.38 |
| Apr 29, 2010 | 1.17 | 1.19 | 1.15 | 1.18 | 7,800 | 1.18 |
| Apr 28, 2010 | 1.19 | 1.19 | 1.13 | 1.15 | 24,700 | 1.15 |
http://finance.yahoo.com/q/hp?s=LOOK+Historical+Prices
Indications to me of a return to profitability are, that this will be so. IMHO. Profitable  for only the 2nd time in the Co's lifetime. .....
And what of an "i
nterest
" (as per John Gilliam's own blog post) from
AAPL
(Apple), or, will it be
my own 
preferred "
pick
" (in Newscorp - NWS), or, could it even be a 'combination' of (both) say, 
Newscorp
and
Microsoft
, with the former mentioned, my long held ("
controlling stake
") choice? Any move (as such) will have a profound short and long term effect on the share-price and with Looksmart still trading as a seperate entity. 
These last two abovementioned (Jumbo) Co's (both, with strong enough reason to have more than just an interest in Looksmart), have (I do believe), coroborated in the building of Looksmart's
AdCenter
(and were
ALL
, located together under the very same roof - in Looksmart's old 4 floor building down at 625 Second Street, San Francisco), to then help with the construction of Looksmart's Adcenter to the
global scale
that it represents.
https://seekingalpha.com/user/36191/instablog/search?terms=RAPT
Looksmart represents a chance in a life-time
for those who may have read this far into this post. It's what an investor can only dream about. The finding of that 'needle in the haystack' kind of chance, that will go down in history as such.
As per usual,
ALL
just my own opinion, of course.
LOOK
:
4:00PM EDT
:
$1.72
0.13
(+8.18%)
LC
Disclosure:
You guessed it ...Long
LOOK
and so happy to be so !!!