.
Google's recent acquisition of Invite Media has been yet a further endorsement of the DSP (Demand Side Platform) and the significant move has been generally accepted as being a 'neutral' means for Google (via it's DoubleClick Exchange), to further help monetise it's (own), huge publisher base inventory. 

Effectively, we'll have more advertisers (through their own DSPs), fairly transact (particularly in display), resulting in more display dollars moving to exchange and auction driven transactions.

The OPEN Marketplace (and RTB - real time bidding) has certainly increased in reach as a result of this. The link below (from AdExchanger) has comments on this strategic move (by Google) and generally see further M&A's in the space in the near future.

Zach Coelius, CEO, Triggit thinks [that] ........... 'the Invite acquisition is a great testament to how seriously Google is taking Real Time Bidding (RTB) and the dsp space.......... RTB is here to stay and it is the new platform for digital media buying. The players who have been sitting on the sidelines waiting and hoping that it goes away now really need to figure out their RTB strategy'.

http://www.adexchanger.com/online-advertising/reaction-invite-media/#more-22239

Looksmart had advised of a new partner of "significance" being integrated into it's own AdCenter marketplace, during the CC following the Q2 Report. As is shown in this 3m graph from Alexa.com the recent doubling of Traffic is clearly showing that the new partner will have a strong bearing on Looksmart's revenues both this quarter and the future ahead.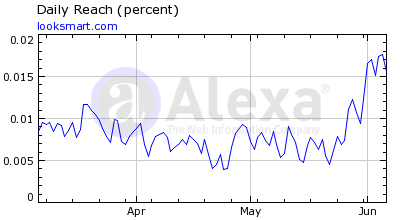 http://www.alexa.com/siteinfo/Looksmart.com

Market Makers continue to put downward pressure on the LOOK share-price value and smart buyers are picking up the few shares that are being surrended by loose hands. LOOK's shareprice is at such a rediculous low level (value-wise), in my opinion.

LOOK: 3:58PM EDT: $1.43  
0.09 (- 5.92%)   

LC

ps; Yahoo Finance continue to DELETE  or, are censoring my (any) posts made of a positive nature over on the LOOK board and have done so (once again), in the past day or, two.

https://seekingalpha.com/user/36191/instablog/search?terms=censorship

Now let us see just how long these three posted "opinions" to Yahoo Finance's LOOK board last, before being CENSORED by a fascist minded (& unfair) Yahoo who are protecting no one but the moronic element in life these days.


Disclosure:
Long
LOOK
and happy to be so