Looksmart's independent AdCenter (advertising) platform and an "
experience
" at
Undara's Lava Tubes
 (Queensland, Australia)
are
"
unique
" in their own special way.
Looksmart
(
has risen some 28%
in the past two days), is barely at what could be 'termed' as '
a new beginning'
, whilst 
Undara
[
Undara Experience
] had came about some
190,000 years ago
when volcanic activity was shaping and re-shaping this very special part of northern Queensland, here in Australia.
From within my previous InstaBlog post I had advised that, "
I'm off
"!! (On a short adventure Holiday, that included carefully 'dodge-ing' wild boar and Kangaroo's at dusk!).
What
a unique
"
experience
" this has been for me and website notes (also) advise us that It has been estimated that during the eruption
the Undara volcano had spewed forth some 23 cubic kilometres of lava covering 1,550 square kilometres
. (So far, some 68 separate sections of cave have been identified from over 300 lava tube roof collapses.)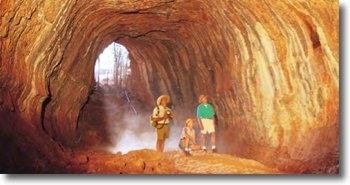 For more information about the geology and ecology of the
Undara
Lava Tubes
, read "Tunnels To A Wildlife Underworld"
http://undara.com.au/lava-tubes/tunnels-to-a-wildlife-underworld/
The word Undara means 'a long way' in the Australian Aboriginal language. A visit to Undara (ex Brisbane, for me) meant near on 3000 KM's of most enjoyable travel that was well worth, every 'inch' of the way. (A huge "thank-you" goes out to Undara's "Ranger" Chris and partner in Admin - Penny for both the 'invite' along with their warm hospitality freely given, during this wonderful stay.
Thanks also go to all Undara's most friendly staff & management. - A truly great resort & 'experience')

Undara's
stop-over Carriage Homes. Has been voted
Australia's Most Unique Accomodation

Whilst away Looksmart (
LOOK
) has advised the market of a return to profitability [
LookSmart Reports Preliminary Second Quarter 2010 Results
 - GlobeNewswire] for the Q2 period, ending June.
With an existing Market Cap of
less than $27M
, the company is trading at less than 'cash' value when considering the advice that was given to the market following the Co's Q1 reporting period.
Looksmart has previously told us [
LookSmart Reports First Quarter 2010 Results
], that following the Q1 period:
< "The Company ended the quarter with $24.7 million in cash, cash equivalents, and investments, a decrease of $3.0 million from $27.7 million at December 31, 2009.

This decrease is primarily related to our previously announced decision to pay cash for capital expenditures rather than utilizing a capital lease structure which totaled $1.4 million for the quarter, slower collections from one large customer and increased revenue from several invoice customers.

Net cash used in operating activities for the three months ended March 31, 2010 was approximately $1.3 million."> 
LOOK
:
3:51PM EDT
:
$1.55
0.05
(+3.33%)
Google's "
Travel to Undara
"
http://www.google.com.au/#hl=en&q=Brisbane+to+Undara+distance&aq=f&aqi=&aql=&oq=Brisbane+to+Undara+distance&gs_rfai=&fp=57773f5064b4f071
LOOK
- Historical Prices:
http://finance.yahoo.com/q/hp?s=LOOK+Historical+Prices
LC
Disclosure:
Long (and strong)
LOOK
and happy to be so....