.........and it would seem to me to be a whole lot more than Yahoo simply taking a strong stance about my posting a link back to (my) Seeking Alpha instaposts here, that I regularly do. I mean,
the web is 'built' on links
, no?
Yahoo have been 'deleting' posts on it's LOOK board for years now. What is it about the posting of my 'thoughts' on Looksmart, that they want to protect shareholders (and others) from, I wonder?

seekingalpha.com/user/36191/instablog/se...

And I've no doubt they will be protecting some-one? (Perhaps even, accumulators of the LOOK stock?). -  And no doubt (also), that Yahoo will DELETE the above link and this, a follow-up story (below), that I have just now posted. [And, THEY have already]

I had referred to the deleted post (my previous InstaPost to this one), as follows:
##.. where an Article from AdExchanger had 'joke-ingly' suggested that Yahoo would (soon) be announcing a "spin-off" of it's Right Media Exchange....##
Those that may have read that "
joke
" article would have noted that
Newscorp were to be providing the Ceo appointment
for the 'spun-off' Right Media Exchange (as suggested), with Yahoo very pleased.....:
"....to announce that our friends at News Corporation have come aboard as one of these new stakeholders and will fold its Fox Audience Network efforts into Right Media Exchange as well as the premium owned and operated display inventory from its Fox Television and Dow Jones and Company subsidiaries including Fox News and The Wall Street Journal.

To lead these efforts and those of Right Media Exchange, Adam Bain of FAN will become the new CEO of Right Media Exchange."
Yes, (and, as suggested in my previous InstaPost) ..."
There's many a true word spoken in jest
"
Readers may have noted [and for Yahoo readers,
before
the post was removed], my "
interest
" in another digital (player) investment of mine, in the ASX listed Co, Webfirm.
This Co
continues to rise in value and
was UP by another 16%
in OZ, today.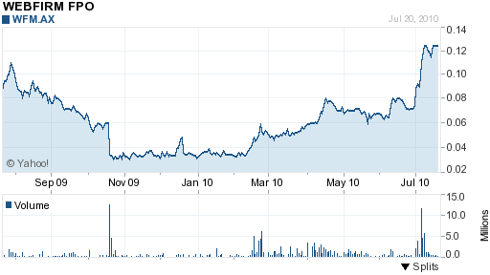 finance.yahoo.com/q/bc?s=WFM.AX+Basic+Chart
Note the 'mention' of WebFirm made from within another (& previously posted) Instapost, as linked here:
seekingalpha.com/instablog/36191-looking...
Note (also) that
Alexa
(when just now, my checking out yet another site of interest (mentioned in that above link), being "
Best-Mountains.com
",
now have this to say
:
<"We don't have enough data to display the traffic metrics for best-mountains.com">
"
Oh what a tangled web we weave, when at 1st we...
"????
"
They
" certainly go to a lot of trouble, Folks. That's for sure. In my opinion.
:)
LC
Disclosure:
Long
LOOK
and happy to be so, too....