Yahoo
would now appear to
well and truly have
(they have shown their hand - as per my previous InstaPost),
the Premium advertising
(buy side)
Exchange area
just about '
parceled up
'.
And I strongly suspect that
Microsoft's AdECN
will get to do likewise and will eventually 'dominate' with their own publisher (and an
RTB
sell side), involvement.
Both Exchanges
(of this such a formidable 'partnership'), will also get to operate transparently and independently from each other. - Is how I'm seeing it all.
www.adexchanger.com/ad-exchange-news/mic...
/
A good article here (linked below), tells of the changes ahead and the author (
Alex Baxter
, a VP and GM of
Paradise Digital
)
, s
ays in part:
< Ad Exchanges are marketplaces where networks, publishers and advertisers buy and sell media in RTB auctions. [RTB - Real Time Bidding]

They have access to data suppliers to facilitate RTB and count AdBrite (AdBrite Exchange), ADSDAQ (Contextweb), Ad Exchange (Google/DoubleClick) and the Right Media Exchange (Yahoo) among their ranks.

...............Online advertising in a real-time bidding enabled world will drastically change the contextually adjacent sponsorship model that we've lived in for decades.

Most important to the publishers in the above explanation of this ecosystem is the data exchange, agency buying desk and the RTB enabler.

With these three entities, we can tap into our own infrastructure to start delivering highly valuable ad campaigns and more effectively monetize inventory that may otherwise go unsold.

The pace of change here can be frighteningly quick and your organization needs smart people thinking about these technologies, how to leverage them in relation to your own assets and what innovations to come will impact your business and our industry in an age of seismic shifts.>
www.minonline.com/news/Real-Time-Bidding...
Exchanges
will soon get to "
inter-connect
" (with each other) for that 'one stop shop' buy, is the (so), obvious (and, ultimate) progression to then add enormous global scale to the new, quickly growing ecosystem.
As has been previously shown in a post (or, two)
Looksmart's traffic
(that they have, coming into and going away from the Co's AdCenter 'management' platform)
is clearly, ''on the rise'
. - More-so, since the commencement of this Q3 period, that we are now in.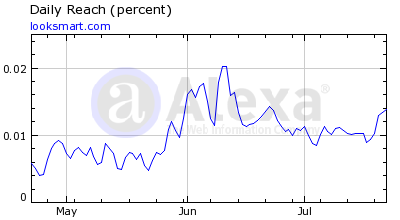 www.alexa.com/siteinfo/looksmart.com
#
It's
the secondary
(or, the remnant Ad/Publisher)
marketplace
I feel, that Looksmart have concentrated all it's "
efforts
" on (over the past 5 years or, so) and it's pretty clear to me that
they Looksmart will get to have NO
(real)
competition
in this very arena.
I will remind readers here once again that in regards to the scale of it's uniquely 'independent' (and
award winning AdCenter management platform
), it was the former Looksmart CEO (in) Ted West (from within a CC), who had previously told the market:
<......."We believe that these performance features are comparable to those from each of the leading propriety search advertising platforms, but also that they are unique at scale among competing non-propriety search advertising networks.

.......We fully understand that to replicate these performance features of scale would represent a significant engineering undertaking for any keyword search advertising provider".>
IMHO, as always. DYOR.
LOOK:
Jul 23
:
$1.55
0.05
(+3.33%)
LC
Disclosure:
Long
LOOK
and happy to be so, too....