Looksmart - And ....."a rose is still a rose ...by any other name", no?
Re-branding
(or, the 'white/private' labeling) of technology is so common these days and has become what is a basic requirement in forming any network of scale.
Check the recent
GROWTH
in Looksmart's "
Reach
" &
from WHO that
"
growth
" is coming into the Looksmart AdCenter management platform, from. (While there, be sure to check out Alexa's "
ClickStream
" and it's [Alexa's] very own advertising option's offer, too -
Advertise with Alexa
)
********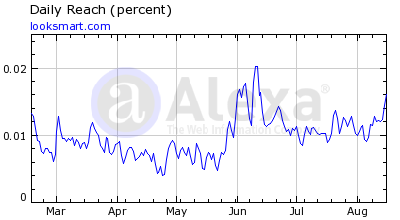 Percent of
global Internet users
who visit looksmart.com:
Reach
Change
7 day 0.01310
+23%
Change in Reach over the trailing 7 day period
1 month 0.01160 +5% Change in Reach over the trailing 1 month period
3 month 0.01160
+48%
Change in Reach over the trailing 3 month period
www.alexa.com/siteinfo/looksmart.com
#
********
And ..... (From within my previous Instapost)
##...ValueClick are also 'planning to provide advertisers with the whole package in one stop, without all the extra' intermediaries, too. - How can that be so without having access to another (neutral) Network, I wonder?..##
Yes ... They are now,
ALL
(slowly) coming to the Looksmart "
private-labeling
" (of the AdCenter
RTB
- auction based) platform, "
party
". In my opinion.
Check this:
< Now search engine marketing companies have begun to provide free tools and platforms to small-and-medium size businesses in hopes of eventually locking them in to subscription services for life.

Take that one step further, to find demand side platforms (DSP) building networks of tech offerings on top of real-time bidding platforms.>
Then there's that 'old' Looksmart AdCenter partner in
Facebook
, with it's (over)
500 MILLION
members.
< Aside from building a self-service user interface for creating Facebook ad campaigns, xa.net will allow ad agencies, networks and other companies to run the campaigns through the company's CPMatic platform, according to Leathern.>
http://www.mediapost.com/publications/?fa=Articles.showArticle&art_aid=134002#comments
HMmm?
The company's CPMatic platform???
You can call it whatever you like, but ........"
a rose is still
(and will always be)
a rose
...
by any other name
", no?
Those Looksmart iced "
donuts
" (impressions) cannot be looking any "
fresher
", is my reckoning.
:)
LOOK
:
3:58PM EDT
:
$1.57
0.05
(+3.29%)
Disclosure:
Long
LOOK
and happy to be so, too....