Looksmart AdCenter
"
partner
" in
Ybrant Digital
(see Looksmart's MediosOne announcement), has got itself what I feel is a 'nick' here (they've 'stolen' it),
with their purchase of Lycos
, so cheaply.
< "Our goal is to combine the benefits of Ybrant's global network with what Lycos has to offer in creating a compelling global destination for our advertising clients worldwide," said Suresh Reddy, chairman and CEO of Ybrant.>
Read more:
www.nydailynews.com/money/2010/08/19/201...
It's not hard to fathom as to why this is such a good deal for Ybrant.
Lycos
(long bottomed out, in 'users') still has advertisers and those all important "
eye-balls
" and
Ybrant Digital
are so fully 'involved' within the now more quickly growing Looksmart advertiser - publisher (global), marketplace.
seekingalpha.com/user/36191/instablog/se...
From another report on this acquisition:
< "Ybrant is the absolute perfect partner for us," said Jungwook Lim, CEO of Lycos.

"Combining Ybrant's digital solutions for both media buyers and sellers with Lycos' resources and media will bring value to both consumers and clients."

Daum reorganized the business of Lycos in 2009 and has turned Lycos profitable.

As a result of the sale of Lycos, Daum will be able to devote its energy and corporate resources in order to find new potential growth business and future-oriented pipeline such as mobile, LBS, SNS and Search.>
Say
"
Hello
" to Microsoft's
Bing
, for starters perhaps?
This is
very good news for Looksmart
, I feel.
LC
ps; Readers only need to check my 'thoughts' (linked here) on the growth for the
Ybrant
site "
scanmedios.com
" to see where (I feel) the revenues generated may well (currently) be going back to. (Try Microsoft, ask.com & maybe Newscorp [?], the combined 'heavy-weight' resourses that were behind the massive construction of Looksmart's Adcenter platform?)
seekingalpha.com/instablog/36191-looking...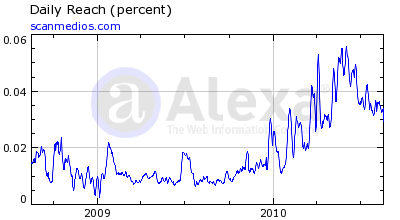 www.alexa.com/siteinfo/scanmedios.com#

Disclosure:
Long
LOOK
and happy to be so, too...