AdExchanger
(today), tells of the news that
OpenX Exchange Targets Japan With Dentsu
, a move that follows-on from a previous deal made by
OpenX
with
Orange
, some time back.
seekingalpha.com/instablog/36191-looking...
Much has been posted of
OpenX
and the premier role it will play within the global marketplace.
seekingalpha.com/user/36191/instablog/se...
Of the (
OpenX
-
Dentsu
) partnership, from within a "
ClickZ
"
article
it's even been suggested [
read coverage from ClickZ'z Adaline Lau
] that
no independent ad exchange provider has yet entered the Japanese market
, but I'm not so sure.
There is the possibility that
Rakuten
(
LinkShare
- - that is a wholly owned subsidiary of
Rakuten
, Inc), may well have 'jumped the gun' (on them), in Japan
seekingalpha.com/user/36191/instablog/se...
I'm not going to 'long hand' the "
whys and wherefores
" of whose platform is or, may be being used, who has built what & that there is the need for an independent kind of 'uniformity' to bring them
all
"
inter-operating
"
together
(one day), in the not too distant future. So....
By now, readers will have made their own minds up on the phoesability of this (my own), point of view.
LOOK
:
3:59PM EDT
:
$1.60
0.05
(+3.23%)

LC
ps; Percentage
GROWTH of global Internet users
who have made a visit to the home of
AdCenter
@
looksmart.com
over the past (
Q3 Period
), three months.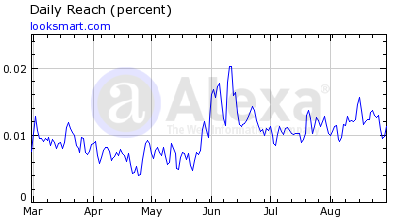 www.alexa.com/siteinfo/looksmart.com
#
pps; April, 2011- On
Dentsu
, it's interesting to note that they're making deeper moves relating to
RTB
, etc ...
"On the product news front,
IgnitionOne
(owned by Dentsu), today also said [you can
Read the release
] it has developed a dashboard that gives marketers a centralized way to manage paid search, display & Facebook ad campaigns. - - And, they're hiring 75 more employees!
Read more in ClickZ.
www.clickz.com/clickz/news/1691855/dents...
Read more on
Dentsu
-
seekingalpha.com/user/36191/instablog/se...
ppps; Added August 15th 2011 -
As Digital-Ad Techniques Proliferate, Specialists Aim to
"Digital-ad shop
IgnitionOne, a unit of Dentsu Inc
., is rolling out a service that lets marketers buy, measure and boost the performance of ads that appear on search engines, along the border of a Web page and on social-networking site Facebook."
Disclosure:
Long
LOOK
and happy to be so, too ....