A great article today at AdExchanger.com (by  Zach Coelius, CEO of Triggit - linked below), kind of explain where it's all heading (I feel), in time to come.

He mentions, that:

<...the balance between the amount of time people spend on the internet & the online share of marketing dollars is way out of whack>

And, that he feels:

< To bring those dollars online we must build a media ecosystem that is better than television or print.  

At the core of that problem are three challenges we need to overcome as an industry:

    * The first challenge, which I have written about in the past on these pages, is that we have to be able to deliver scale to marketers where they can spend hundreds of millions of dollars easily and effectively.>

www.adexchanger.com/data-driven-thinking...

The continued growth in the Looksmart AdCenter marketplace is (I believe), as a result of bringing (a linking together of) more networks within that desired (and, an ultimate), Premium and Secondary 'global' marketplace.

In an online ecosystem (that's meticulously being built), that will get to provide marketers with the kind of scale that's needed allowing them full control of their online advertising spend, that can offer them brand safety, much more flexibility & provide total transparency along with appropriate targeting, plus that all important need, in their being able to have full trust in all their partners within an equal to or, a 'one fits all' players management platform (for both sides), in offering a reliable (fully neutral), insight into both their real media costs or, sells.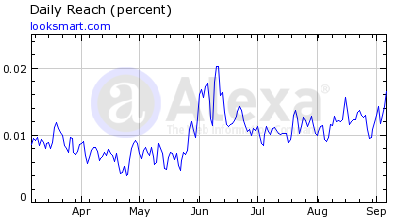 Percent of global Internet users who visit looksmart.com:
 
Reach
Change
7 day
0.01330
+18%
1 month
0.01250
+16%
3 month
0.01200
+46%
www.alexa.com/siteinfo/looksmart.com
#
It's happening, Folks!! In my opinion, as always.
LOOK
:
3:55PM EDT
:
$1.56
0.01
(0.64%) -
(Volume:
11,600
)
:)
LC
ps; Let's not forget that in Looksmart's recent [12th of May] -
current report
, the market was told that it's (and, it's "
independent
") AdCenter marketplace (
management
)
platform
was doing around
TWO BILLION impressions DAILY
and that this had doubled since the news within the CC (following the Q2 report - 2009), that:
< "Through the AdCenter platform, LookSmart's distribution partners are able to monetize their international search queries and advertisers are able to target down to the city-level in Canada, Australia and the United Kingdom," said Ted West, CEO and president of LookSmart.
>
seekingalpha.com/instablog/36191-looking...
Disclosure:
Long
LOOK
and happy to be so, too ....