"Man who keep feet firmly on ground have trouble putting on pants." - Chinese Proverb
Good day members,
It's early morning here in paradise, a small slice of land on the southern tip of Florida, not far from the old haunt of Earnest Hemmingway and Tennessee Williams. 80 degrees with a slight breeze off the ocean. As I sit here eating a just picked, perfectly ripened, textbook example of Florida's most prized citrus fruit, the honeybell, it's almost impossible not to think how good I have it.
Yes, living here in the tropics has its perks. The taste of the salt air when the breeze is on shore. The always tan skin… the Imelda Marcos sized collection of sandals. I'm writing next to the pool… it's January. Later on today, I'll be trading stocks in some random tiki-bar on one of the islands I'm surrounded by. There's wi-fi everywhere… It's almost perfect.
The one thing nagging at me is the honeybell I'm just about finished with. You see, this orange is only harvested for about 2 to 3 months out of the year. Its insanely sweet and is filled with more juice than Barry Bonds and A-rod combined. But this may be the last year I ever eat one that is as perfect as this one.
Florida's crowning citrus achievement may not be around next year. As we discussed in our last article (see HERE), there's a terrible disease ripping through the worlds citrus growing regions… Huanglongbing.
The Florida crop is in dire straits, on full quarantine. California and Arizona are up next. And scariest of all, Brazil is about to take it on the chin. The citrus industry as we know it could be completely wiped out. This may be the last slice of honeybell I ever eat (I'm going to get another right now just in case).
So as I move away from the pool this morning and head for a nice lunchtime tiki-bar to trade from, I'm going to be looking at how to make money on the death of citrus.
But let's start with some facts and a quick position.
Brazil is responsible for over 50% of the crop used to create frozen concentrated orange juice. Florida, California, Arizona and a few other countries make up the remainder. So that 50% market share that Brazil currently occupies is quite important.
Here in Florida, the citrus harvest is in full swing. Winter is the season when most of the varieties are ripest. The honeybell is no exception. The department of agriculture just downgraded the size of the Florida crop by 5% due to citrus greening (Huanglongbing).
Down in Brazil, the harvest begins in July and runs through January. Almost the opposite season of Florida… it makes sense since the Brazilian crop is also harvested in the winter, the southern hemisphere winter. Come harvest season in Brazil, I'm expecting to hear news of horrible crop damage due to greening.
With this knowledge, and the knowledge of Huanglongbing speading in Brazil, our first position here is to go long FCOJ futures. Typically we would enter positions on the current contract month or the following contract month, but this time, we want our contracts to expire at the height of the Brazilian harvest, when the news should be the worst.
So let's look at the September FCOJ futures.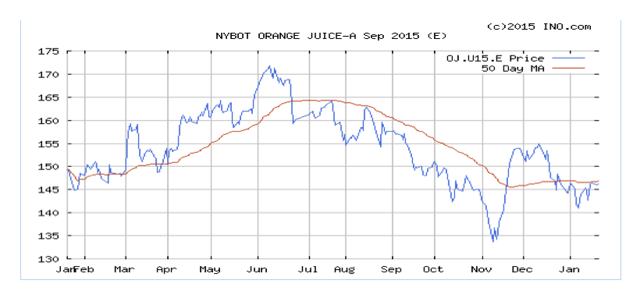 As the Brazilian harvest news begins to pour in, these September contracts could take a leap to well over those June highs you see above. There has been a drought in Brazil (hence the June spike during harvest time) but this Huanglongbing epidemic could dwarf the size of the drought emergency.
Notice that run-up in November through mid-December. That was caused primarily by news of citrus greening hurting the harvest in Florida (Brazil produces roughly 3 times as much FCOJ as the US).
Should the Huanglongbing disease grow and disrupt the Brazilian crop as we feel it could, that spike you see in November could consequently be three times larger, and should occur during the Brazilian harvest, making the September contracts pretty sexy right now.
I mentioned in our previous article how there could be a cure for the so-far incurable Huanglongbing disease. I'm still doing research on this company to confirm it can indeed stop, slow or at lease help this problem. They're already working on the coffee rust problem (with remarkable success so far) and word has it they're planning on taking Huanglongbing head on.
Until we can confirm this, there's no reason to spread rumors or enter positions too early.
Next week, however, we will have additional positions to look at which could see huge spikes as citrus greening rips through the global crop.
Even down here in the southernmost part of the continental USA, the tiny key limes are in trouble. So for lunch today, I'll enjoy a slice of key lime pie, have a grapefruit based rum cocktail and squeeze some lemon juice on my baked yellowtail snapper. Enjoy these fruits while you still can.
He who plants fruit-trees, must not count upon the fruit." - Dutch Proverb
Here's to greening your account,
AJ Caesar