How to Bank on the Pork Crash
"Porkchops and bacon, my two favorite animals." - Homer Simpson
Good day,
A big sloppy rack of BBQ baby back ribs anyone? How about a nice grilled center-cut pork chop with a side of wild rice… or maybe just a plane old ham and cheese sandwich? Any way you slice it, pork is likely to be on your plate way more often. So get ready to load up on the bacon, its meat candy time!
Why? Pork prices are collapsing. In fact, when you head to your grocer you'll notice prices are the lowest they've been in YEARS… and will go much lower once the passionate porcine purveyors take delivery of the February contract product.
This is fantastic news for the swine enthusiast (especially considering how ridiculous beef prices are) and even better news for investors. We'll get to the investing part in a moment, but first let's bask in the glory of cheap bacon… bathe in the idea of $4 a pound for hickory smoked, thick-cut, crispy goodness.
I can smell it now… emm
Ok, back to reality.
If it weren't for the historical destruction of the price of crude oil, pork-mageddon would be all over the news. It's been on a truly remarkable slide, and it's one we're going to take advantage of both on our dinner plates and in our portfolios.
Today, we'll begin our look at what's happening to pork and prepare some plays to take advantage of the severe decline in prices.
It's All In The Chart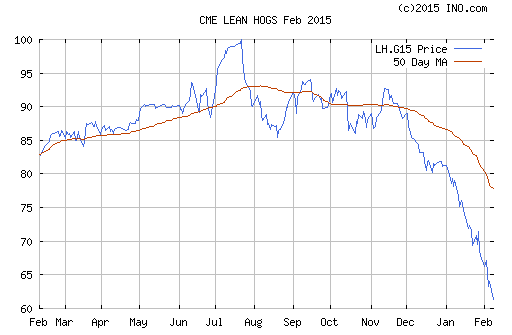 Nope, this is not the crude oil chart. What we're looking at is the one year chart for the Feb 2015 lean hogs contract. Since the beginning of December it's completely broken down. If we ran our cars on pork fat, this would be all over the news. However, we run our cars on gasoline and in case you haven't noticed, that's collapsed even further than pork.
Why This Pig Won't Fly, Yet…
Last year, a horrible disease was spreading like wildfire throughout North American pig farms, porcine epidemic diarrhea virus, PEDV (and it's even worse than it sounds). Millions of piglets were killed cutting the future meat supply sharply. It takes roughly 6 months from birth to butcher.
The result was record cash and futures prices (as evidenced in the mid-summer time period in the above chart) and insane retail prices at the supermarket. Farmers truly were on the verge of losing their entire herds. The porcine virus was real, deadly and spreading very quickly. Traders bid hogs up to historic highs, and then something happened…
Out of nowhere, we got a handle on the virus, virtually stopping the spread.
With PEDV finally under control, the head count of sows (momma pigs) expanded vastly, piglets stopped dying and herd sizes exploded faster than just about anyone expected. And…
A Bumper Crop in 2013 and 2014
America's breadbasket performed amazingly these past few harvests. We've seen both corn and soybean yields (the two main components of pork feed) at Garden-of-Eden levels.
Consequently, prices for these two commodities have fallen, particularly corn.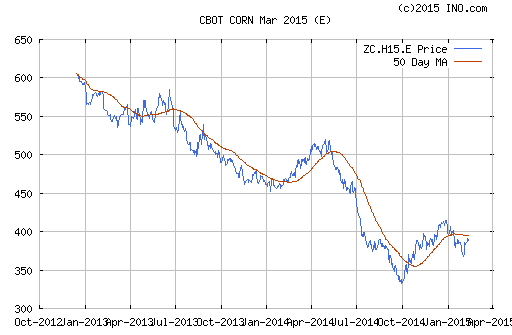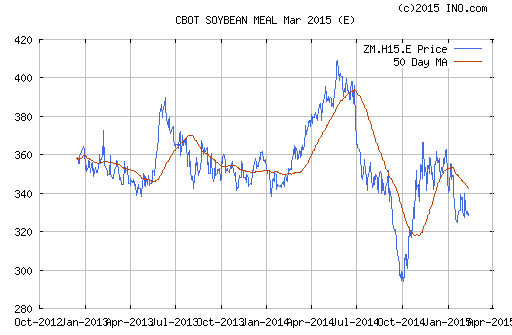 Now combine a growing population of healthy pigs with lower cost feed and you've got a recipe for cheap meat. Will this last forever? Of course not!
Nothing lasts forever, especially cheap bacon. While the virus seems to be under control right now, any mutation that alters it unresponsive to drugs could send pork prices back to the stratosphere.
Alternatively, a less than stellar corn or soy crop this upcoming season will send feed prices higher. At some point we can expect prices to rise.
But since they're low right now we've got two great stocks to have a look at. Both should benefit over the next two quarters as pork prices remain depressed. We're expecting their operating and profit margins to be the best in years, and their stocks should follow suit.
In our next issue, we'll examine these two companies and show how cheap pork will grow their bottom lines as it also grows our waistlines.
Until next time,
Good investing
AJ Caesar
"You can never put too much pork in your mouth as far as I'm concerned." - Lewis Black