Is it time to get into Russian Stocks?
Riding the Russian Rollercoaster to Ridiculous Returns
"Diplomacy is really far less important than the stock movements within Russia." --
Alan Greenspan
Good day members,
And a happy Mardi Gras to all! I'm sure some of you on the East Coast are already dipping into the old liquor cabinet, mixing up some hurricanes and donning yourselves with dozens of cheesy plastic necklaces from the 99cent store. You West-Coasters may have to wait another hour or two… although as the saying goes "it's 5 o'clock somewhere!"
Nothing defines the week's ahead of self-denial, repentance and reflection like a pre-Lenten night of unchained debauchery. "You mean all I have to do is give you these beads?"
You can count me among those who will enjoy a cocktail tonight, although not nearly to the extent of those whippersnappers who flock to New Orleans. Oh, to be young again. I wish I could give up growing older for Lent.
What I will not be giving up for Lent is portfolio growth. And we're being offered a great opportunity in Russia to buy some good stuff on the cheap. So sit back, mix up a nice Russian vodka cocktail, in the spirit of Fat Tuesday, of course, and prepare for some ridiculous Russian returns.
Yes Russia is being hammered by sanctions, is experiencing a steep drop in their currency against other major currencies and a never ending onslaught of criticism against their incursions in Ukraine. But they're resource rich, have a growing middle class, a large cash and gold reserve and their stock market has been discounted to the point where we can no longer ignore it.
With oil prices seemingly bottomed, now may be the right time to get into some plays over there, even while Putin parades around on the backs of Tigers and Centaurs.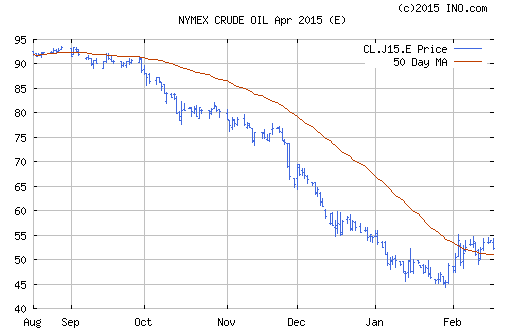 The Russian economy derives about 45% of its revenues from taxes on oil and gas. So the severe drop in oil prices beginning last summer has really hurt the coffers. However, their stock market seems to have oversold on the prospect of a prolonged Russian economic winter.
Back in November Putin warned of the possibility of a catastrophic oil slump and how it could severely stunt Russian growth. He also noted that with $400 Billion plus in cash and gold reserves, Russia should be able to meet all of their government obligations for some time.
After Putin made that announcement the Russian stock market began to tank. Have a look at the Russian Trading System (RTS), which is akin the Dow Jones Industrials here in the U.S.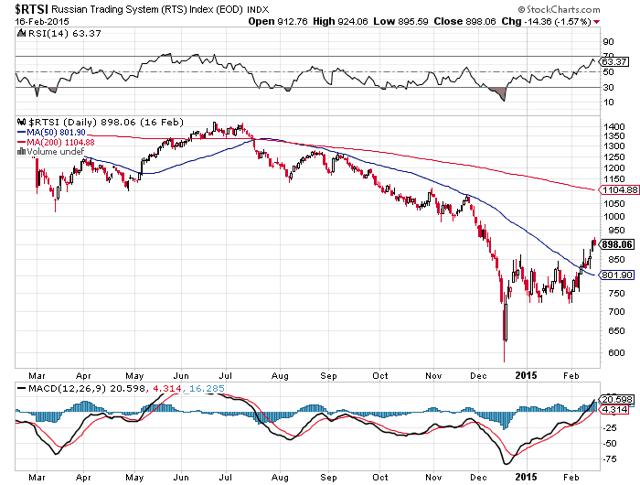 You can see that in late November the index took a real nosedive. But look at the insane recovery that's happened. This chart is showing a potential to nearly double. The trend is now up!
So how do we play Russia's undervalued stock market?
Let's start off by looking at the Market Vectors Russian ETF (NYSEARCA:RSX). According to Yahoo Finance, The investment seeks to replicate as closely as possible, before fees and expenses, the price and yield performance of the Market Vectors® Russia Index.
The fund normally invests at least 80% of its total assets in securities that comprise the fund's benchmark index. The Russia Index is comprised of securities of Russian companies. A company is generally considered to be a Russian company if it is incorporated in Russia or is incorporated outside of Russia but generates at least 50% of its revenues (or, in certain circumstances, has at least 50% of its assets) in Russia. The fund is non-diversified.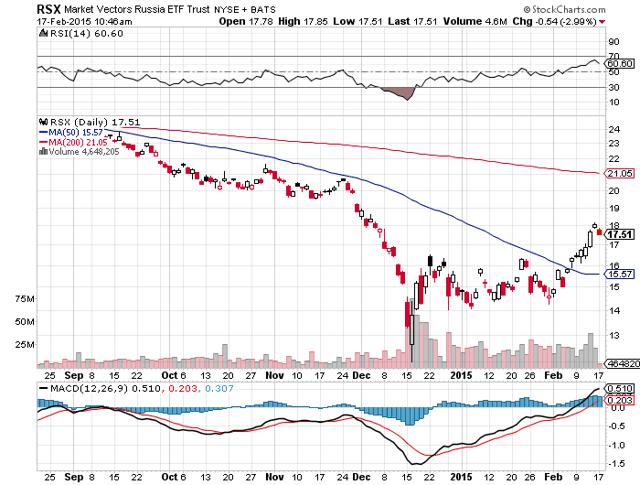 We should be looking at this ETF as a long-term, perhaps 5 year horizon investment. As all of the hoopla surrounding Ukraine dies down, and it eventually will, oil prices will once again climb back higher providing fundamental reasoning for a stronger Russian stock market.
In previous issues we discussed the real reasons for cheap oil (the Saudi/US plan to stick it to Vlad and Iran). Once these geopolitical skirmishes are finally over, oil will definitely rise much higher and all of our Bakken plays we discussed in past issues will fly, as well as the Russian market. This is, of course, assuming Putin doesn't order an al- out invasion of Ukraine. If that happens, all bets are off.
Later this week we're going to have a look at two Russian ADR's that are very attractive right now. We should also consider adding these two "stocks" to our global holdings portfolio. Yes, Russia is risky right now, but risk is what brings us the rewards.
So pour yourself another Stolichnaya, load up on the plastic beads and raise hell tonight. I'll be in bed by 9:30 finishing up "I, Claudius" by Robert Graves… and keeping my Lenten promises this year.
Until next time…
Good Investing,
AJ Caesar
"Russia does not want confrontation of any kind. And we will not take part in any kind of 'holy alliance."
--Vladimir Putin
Disclosure: The author has no positions in any stocks mentioned, and no plans to initiate any positions within the next 72 hours.