I Followed the Money and I Ended Up Here…
"Of the billionaires I have known, money just brings out the basic traits in them. If they were jerks before they had money, they are simply jerks with a billion dollars." --Warren Buffett
Good day members,
What would you do it you had an extra few bucks sitting around? Like maybe a few billion burning a hole in your pocket. Would you hop on a private jet and fly to different international cities for lunch every day? Maybe you'd buy your favorite sports team and finally turn them into a contender. A mega-yacht?... how about becoming one of the world's great philanthropists?
Every one of us has dreamed of becoming fabulously wealthy… that's why we play the Powerball, that's why we trade stocks. We're always looking for that one play that blows our minds. The one stock that went from $1 to $100 in just a few weeks…
Unfortunately the chances of any of us becoming the next Mark Cuban are pretty much zero. However, with realistic goals, each and every one of us could become very comfortable in life. But that doesn't mean we shouldn't dream, or stop pushing ourselves to get better. It also doesn't mean we shouldn't be paying attention to what the actual billionaires are doing.
By following their money, we can get a great insight into why they invest in certain stocks, how they plan on increasing their fortunes and which companies are going to shape our future.
And best of all… we can invest alongside them.
In the next few issues, we're going to have a look at some billionaire investors who not only created fortunes for themselves, but could create mini-fortunes for investors who piggy-back their plays.
A few of the stocks we'll cover are very early stage companies that can offer us big returns.
So today, we'll begin our discussion on billionaire investors with Dr. Phillip Frost.
Frost is worth an estimated $4Billion, roughly the GDP of Sierra Leone or Montenegro. Dr. Frost made his fortune (self- made at that) in the pharmaceutical/medical industry.
Here's a quick rundown of how he became a Billionaire:
Way back in 1972, he and his partner Michael Jaharis purchased Key Pharmaceuticals. Then, in 1986 they sold out to Schering-Plough it for $600 Million. The deal made Frost roughly $100 million. Not bad.
After selling Key and becoming a multi-millionaire, Frost decided the golf course was not for him and started Ivax Corporation, another pharma. In January of 2006, he sold out to Teva Pharmaceuticals of Israel for a whopping $7.4 Billion… Wow.
So the man became seriously rich by taking small companies and turning them into monsters and selling them. So what's he up to now? This is where it gets interesting.
There are hordes of investors out there who base their portfolios solely on what the billionaires' club is doing. This is often a smart move, but not as simple a strategy as it seems. You see, billionaires will often park money in stocks that are very stable and offer long term, slow growth with little downside risk. Once you become a billionaire, you tend to want to stay one.
Investing in Apple right now will not make you a billionaire… the best you can hope for is a nice steady return. So playing the safe bets the super-rich make will not make you super- rich too, they will likely not make you super-poor though.
However, there are some stocks out there that are not yet blue chips, in which billionaires are investing, hoping to someday sell out and add to their fortune. This is how Frost made his billions… turning small companies into behemoths, and then selling them.
And Frost is active, right now, in several non-blue chip companies…
So here we go!
Let's start with Opko Health Inc. (NYSEMKT:OPK). Opko is Frost's major play, his baby.
According to the Opko website, the company is a multi-national pharmaceutical and diagnostics company aiming to establish industry-leading positions in large and rapidly growing medical markets by leveraging our discovery, development, and commercialization expertise and our novel and proprietary technologies.
They intend to leverage their global commercialization expertise to pursue acquisitions of commercial businesses that will both drive our growth and provide geographically diverse sales and distribution opportunities.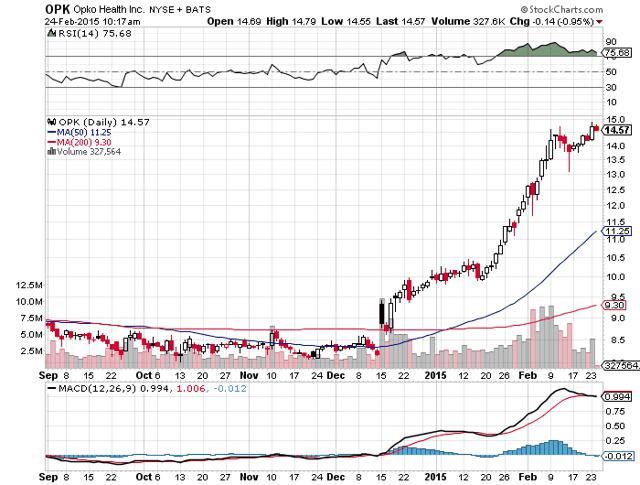 Bacically, they're a $6 Billion market cap pharma company whose chart looks a little ridiculous… and over-bought, honestly. Frost owns millions of shares, roughly 10% of the company, and if history is any indication, he plans on selling them once a huge Pharma company comes knocking.
Look for this company to one day be bought out, just like his past companies. And if it's purchased at say north of $20 a share (including the premium paid on buyouts), Frost will add yet another $Billion to his bank account.
Opko is a multi-billion market cap company; wouldn't it be great if Frost was invested in some small-caps? Stocks we can hope to become rich on alongside him? Good news… he is!
Frost owns several small stocks, but a few are looking like potential home runs waiting to happen… and they're literally dirt cheap.
Pershing Gold Corp. (NASDAQ:PGLC)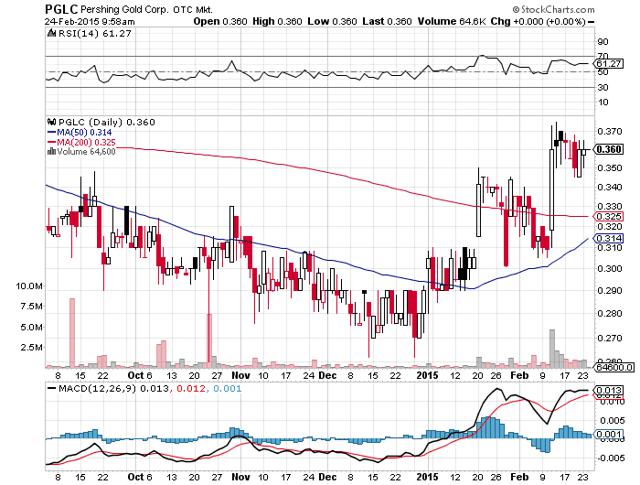 From Yahoo! Finance: Based in Lakewood, Colorado Pershing Gold Corporation is engaged in the exploration and development of gold and precious metal properties primarily in Nevada.
It focuses on the exploration of Relief Canyon properties covering an area of approximately 25,000 acres located in Pershing County in northwestern Nevada. The Relief Canyon properties include approximately 940 owned unpatented mining claims, 120 owned mill site claims, 170 leased unpatented mining claims, and leased and subleased private lands.
Another small gold exploration company… why should we be excited about this? Well Frost owns tens of millions of shares, about 15% of the company. And it's trading around 35 cents a share, with a market capitalization of $126 Million… a small-cap!
Will Frost's magic touch turn this $0.30 stock into the multi-dollar range? Is this a company that can make us wealthy?
Is that $126 Million market cap still too big for you? Want an even smaller Frost company?
How about Drone Aviation Holding Corp. (OTCQB:DRNE)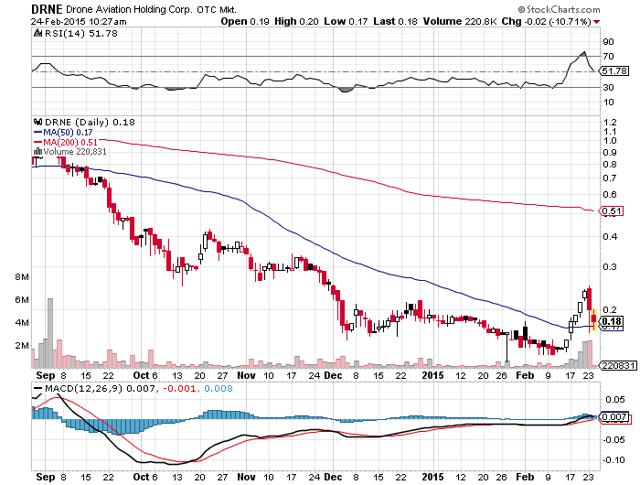 With a market cap of just over $5 million, this microcap stock could offer Frost followers enormous gains. Frost has been in the stock for less than a year and has invested nearly $1million into DRNE.
According to Yahoo! Finance, Drone Aviation Holding Corp., through its subsidiary, Lighter Than Air Systems Corp., provides critical aerial and land-based surveillance and communications solutions to government and commercial customers in the United States and Internationally.
It is focused on the design, development, marketing, and sale of tethered aerostats, including the Blimp in a Box (NASDAQ:BIB) system and the Winch Aerostat Small Platform (WASP), as well as various other tethered drone products. Its BiB system is a aerostat platform designed to provide semi-persistent, mobile, detection of improvised explosive devices, border security, and other governmental and civilian uses, as well as to provide real-time day/night high definition footage for intelligence, surveillance, and reconnaissance. The company's WASP is a mobile aerostat that could carry a variety of payloads to support military operations. Drone Aviation Holding Corp. is based in Jacksonville, Florida.
So here we have a micro-cap stock, worth under $6 million that a BILLIONAIRE has invested in. Very interesting, indeed. However, the stock has pretty much tanked since Frost invested last August and is trading near all-time lows. Is this a sign of bad things to come?
Maybe, maybe not. Frost's track record is amazing for certain, but it generally takes years for his plays to turn into monsters… He didn't sell Ivax to Teva the day after he created it. So for 18 cents a share this may be worth taking a shot on, even if it takes a few years.
There are a number of other Small-cap plays Frost is involved in, and we'll cover more of them in the future. Later on this week, we'll have a look at another Billionaire who's involved in small-cap stocks that we can piggyback on and dream of becoming super-wealthy ourselves.
Before we go, I'd like to mention an interesting play here. It's an ETF that tracks the portfolios of billionaires. Direxion iBillionaire Index ETF (NYSEARCA:IBLN)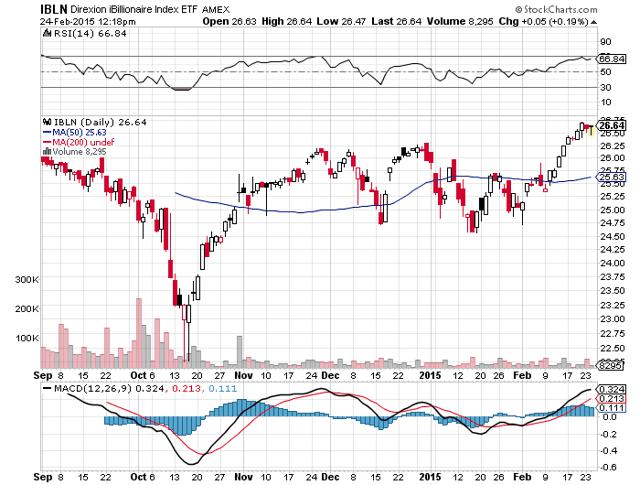 According to Yahoo! Finance, The investment seeks investment results, before fees and expenses, that track the iBillionaire Index.
The fund, under normal circumstances, invests at least 80% of its assets in the securities that comprise the iBillionaire index. The index is composed of 30 U.S. mid and large cap securities selected by iBillionaire Inc. (the "Index Provider") using proprietary methodologies. The fund may invest up to 20% of its assets in financial instruments in order to gain exposure to the component securities in the index. The fund is non-diversified.
Basically, this fund follows the investments of billionaires once they file their SEC disclosure forms (13F). There are a few other ETF's that track billionaire investors as well, and we'll have a look at some of these next time.
Here's to good investing!
AJ Caesar
"I never wanted to be on any billionaires list. I never define myself by net worth. I always try to define myself by my values." --Howard Schultz
Disclosure: The author has no positions in any stocks mentioned, and no plans to initiate any positions within the next 72 hours.