A Blast From The Past… Still Lovin' These 3 Oil Stocks
"Who controls the past controls the future. Who controls the present controls the past"
--George Orwell
Good day members,
It seems as though the oil collapse is finally off the front pages; replaced by Hillary Clinton's email server, racist students at Oklahoma, more turmoil in Ferguson and the unfortunate suspension of Jeremy Clarkson. So with crude no longer the story fit for print, is now the time to buy up oil stocks?
Yes. In fact, back in December, in the midst of the tumble, we discussed three oil and gas stocks that we liked, even though oil was still dropping. And we still like them today.
So here are the three stocks we covered back in December and what we discussed about them…
----------
The 3 Stock to Consider Getting Into Now
We may never again see such a massive discount in oil and oil stocks. We have before us a great chance to pick up some great oil names on the cheap.
Even with oil prices having come down so much, US based fracking will not be denied. In fact, the technology is getting better and better by the day. The rapid advances are causing production costs to fall making the Bakken and other US based oil and gas fields very attractive again.
At $100 a barrel, everyone and their mother loved Bakken plays. Now at $58 a barrel, we should be drooling over it.
So here are our 3 top plays
Oasis Petroleum Inc. (NYSE:OAS)
Oasis Petroleum Inc., an independent exploration and production company, focuses on the acquisition and development of oil and natural gas resources in the North Dakota and Montana regions of the Williston Basin.
The company's primary projects are located in West Williston, East Nesson, and Sanish. As of December 31, 2013, it had 515,314 net leasehold acres in the Williston Basin; and had approximately 105.8 million barrels of oil equivalent of proved undeveloped reserves.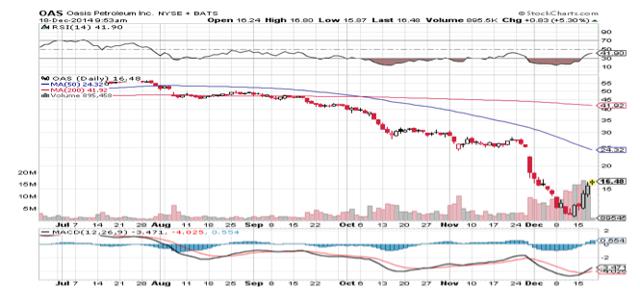 Continental Resource Inc (NYSE:CLR)
Continental Resources, Inc. is engaged in the exploration, development, and production of crude oil and natural gas properties in the north, south, and east regions of the United States.
The company sells its crude oil production to end users, as well as to midstream marketing companies or crude oil refining companies at the lease. As of December 31, 2013, its estimated proved reserves were 1,084.1 one million barrels of crude oil equivalent (MMBoe), with estimated proved developed reserves of 406.8 MMBoe.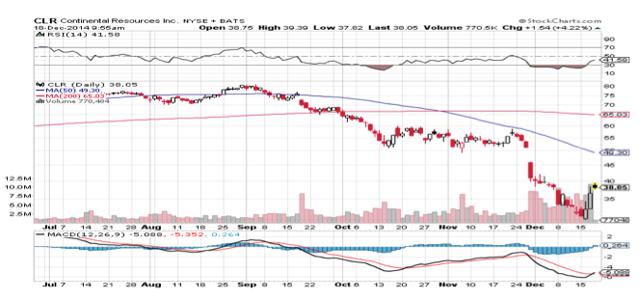 Whiting Petroleum Corp (NYSE:WLL)
Whiting Petroleum Corporation, an independent oil and gas company, acquires, explores, develops, and produces crude oil, natural gas liquids, and natural gas in the United States. It operates primarily in the Rocky Mountains and Permian Basin regions of the United States.
The company primarily sells oil and gas to end users, marketers, and other purchasers. As of December 31, 2013, its estimated proved reserves totaled 438.5 million barrels of oil equivalent; and had interests in 3,922 net productive wells in approximately 751,700 net developed acres.

So keep these names on your watch list. After such amazingly deep discounts, we could see shares in these companies begin to march back higher. These should be viewed as "long-term" plays as the current volatility in the oil markets will likely have shares zigging and zagging for a while longer.
But in the long run, we've found some winners!
------
So what's happened since we covered these three stocks back in mid-December… just three months ago? Well for one, oil did continue falling; now settling in a trading range around $50 a barrel.
Here's a quick rundown of what each stock has done, even though oil fell lower than the $58 per barrel, the price when we started our conversation on Bakken plays. These prices are from December 19th at the opening bell through March 11th at the closing bell.
WLL: $32.21 now $38.04. a nice healthy 18.1% gain
CLR: $37.58 now $43.84 a strong 16.7% gain
OAS: $16.52 now $14.13 for a loss of 13.4%
Overall, these three stocks have moved up a cumulative 11% since December 19th. Not too shabby. We still feel there's tons of upside potential here as the price of oil finally seems to have found a bottom.
So for the long-run, all three stocks, including Oasis Petroleum (OAS) are ones to keep your eye on.
Here's to good investing!
AJ Caesar
"History is the version of past events that people have decided to agree upon."
--Napoleon Bonaparte
Disclosure: The author has no positions in any stocks mentioned, and no plans to initiate any positions within the next 72 hours.