How About Some More Big-Boy Dividend Stocks…
"Better a witty fool than a foolish wit" - William Shakespeare
Good morning members,
Well, it looks like our final issue on dividend stocks is here… well the final one for a little while anyhow. There are so many great dividend stocks out there that I'm sure we will revisit this topic many times again. But for now, this is our last issue covering them for at least a few months, unless something pops up, of course.
We've covered everything now from tiny companies with huge dividends to huge companies that pay dividends higher than the inflation rate and the savings account rate. Today, we'll have a look at two more big caps that are paying strong dividends and are relatively safe investments. You'll notice a remarkable similarity between today's stocks, and those covered on Tuesday… so once again your moral compass may play a part in whether or not you participate in them.
So let's get started…
In our last issue we covered Verizon and Altria, both strong companies with a great long history of success. Today, we're going to cover Rogers Communications and Phillip Morris. Strikingly similar...
Let's begin with Rogers Communications (NYSE:RCI)
According to Yahoo! Finance, Rogers Communications Inc. operates as a communications and media company in Canada. The company's Wireless segment offers wireless telecommunications services to consumers and businesses under the Rogers, Fido, and chart brands; and wireless devices, services, and applications.
This segment distributes its products through independent dealer networks, company-owned retail stores, retail chains and convenience stores, distribution channels, ecommerce sites, and call centers and outbound telemarketing. As of December 31, 2014, it had approximately 9.5 million subscribers.
Its Cable segment offers high-speed broadband Internet access, digital television and online viewing, phone, and home Wi-Fi services to consumers and businesses. This segment distributes its products through company-owned retail stores, ecommerce sites, call centers, outbound telemarketing, door-to-door agents, and third party retail locations.
As of December 31, 2014, it had 2.0 million high-speed Internet subscribers, 2.0 million television subscribers, and 1.2 million phone subscribers, as well as operated a network that passes approximately 4 million homes.
The company's Business Solutions segment offers network connectivity services through its fibre network and data centre assets for businesses, governments, and other telecommunications providers.
This segment provides its products through its sales team; and a network of third-party channel distributors. Its Media segment offers consumer magazines publications; marketing, medical, financial, and trade publications; online publications; and digital magazine services, as well as operates television networks and radio stations.
The company also provides digital services, and home security and automation systems; owns the Toronto Blue Jays, a major league baseball team and Rogers Centre event venue; and operates online and mobile digital media platforms. The company was founded in 1920 and is headquartered in Toronto, Canada.
Rogers is very much like a Canadian version of Verizon, but at 1/12th the market cap.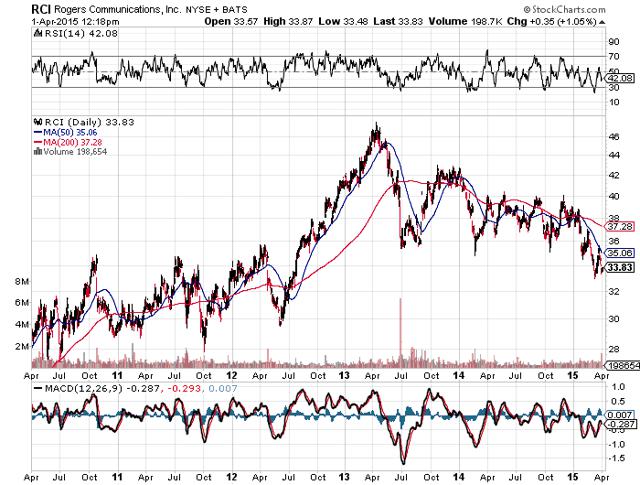 The 5 year chart above shows that RCI has been experiencing some weakness over the past several months. The stock is currently near its 52 week low, of around $33 per share. While the stock is technically weakish right now, it is paying out a respectable $1.51 per share (currently 4.40%), giving us some downside protection.
If you get a moment to look at the stock over the past 10 to 12 years, you'll see the long-term trend has been healthily up. While very similar to VZ, RCI is perhaps a slight bit riskier on the equity side.
However, earning $2.06 per share and paying out $1.51 tells us that the dividend checks will continue to hit your mailbox for a while to come. If the long-term trend continues, RCI could fit nicely into your dividend portfolio…
Now it gets weird. You thought RCI was similar to VZ, well check this out:
Phillip Morris International (NYSE:PM)… is actually a subsidiary of Altria (which we looked at on Tuesday) which trades on its own under the symbol PM. So here we have the exact same moral issues we discussed with Altria. Cigarettes… is it ok to profit off of another's addiction?
And again, we'll leave that up to you to decide.
According to Yahoo! Finance, Philip Morris International Inc., through its subsidiaries, manufactures and sells cigarettes, other tobacco products, and other nicotine-containing products.
Its portfolio of brands comprise Marlboro, Merit, Parliament, Virginia Slims, L&M, Chesterfield, Bond Street, Lark, Muratti, Next, Philip Morris, and Red & White.
The company also owns various cigarette brands comprising Sampoerna, Dji Sam Soe, and U Mild in Indonesia; Fortune, Champion, and Hope in the Philippines; Diana in Italy; Optima and Apollo-Soyuz in Russia; Morven Gold in Pakistan; Boston in Colombia; Belmont, Canadian Classics, and Number 7 in Canada; Best and Classic in Serbia; f6 in Germany; Delicados in Mexico; Assos in Greece; and Petra in the Czech Republic and Slovakia.
It sells its products in approximately 180 countries in the European Union, Eastern Europe, the Middle East, Africa, Asia, Latin America, and Canada. The company was incorporated in 1987 and is headquartered in New York, New York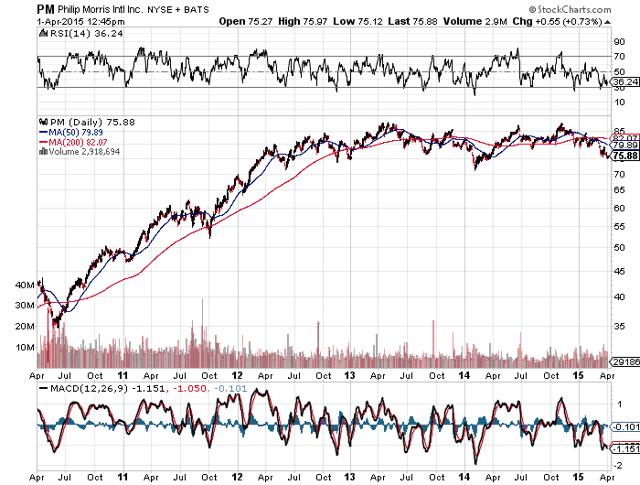 Just like Rogers, PM is trading near its 52 week low and is showing recent weakness in the chart. However, over the past 5 years (chart above) the stock has roughly doubled, while paying nice dividends to investors.
Earning $4.76 per share and paying out $4.00 (currently 5.2%) Phillip Morris is another company that is paying out less in dividends than it earns in positive income… once again making that dividend payment fairy safe.
So today we have two additional large cap stocks that both pay nice dividends, and are earning more than they pay out. Will this continue? Are there any deep risks involved with either of these two? More due diligence is obviously needed before any investment choices are made. Today's article is simply to show everyone the opportunity.
Speaking of opportunity, here's a list of "honorable mentions"… large cap stocks that are all paying out nice dividends and are earning more than they pay…
Wynn Resorts Ltd (NASDAQ:WYNN) Earning $7.18 per share and paying dividends of $6.00 per share (yielding 4.8%), This is another "moral issue" stock, a big name in the gambling industry.
Las Vegas Sands Corp. (NYSE:LVS) Another gambling company, LVS is earning $3.52 per share while paying out $2.60 (yielding 4.7%).
Cannon Inc. (NYSE:CAJ) There should be no moral issues with Cannon, the maker of office equipment. Currently earning $1.92, CAJ is paying out $1.27 (3.6%) in dividends.
Shaw Communications Inc (NYSE:SJR) is a television and broadband provider based in Canada. Earning $1.44 per share, SJR is paying out 95 cents, yielding 4.2%
Telus Corporation (NYSE:TU) is another Canadian telecommunications company earning $1.85 per share and paying $1.27 for a 3.8% yield.
Somewhere within the group of dividend stocks we've covered over the past several issues lies a company that will fit almost anyone's tastes. We've covered a number of stocks ranging from microcap to mega caps, giving us a wide array of opportunities.
In the coming issues, we're going to once again have a look inside the portfolios of billionaires to see if there are any gems we should consider getting into.
Until then…
Good investing
AJ Caesar
"My philosophy, simplicity plus variety" - Hank Stram, Pro-Football Hall of Famer
Disclosure: The author has no positions in any stocks mentioned, and no plans to initiate any positions within the next 72 hours.