This Ultra-Wealthy Investor Shares His Philosophy
"Behind every stock is a company, find out what it's doing" -Peter Lynch
Good day members,
Spring is in full swing, the baseball season is well under way (have you seen those Mets!), and our portfolio is growing faster than the relentless dandelions spouting on my neighbor's lawn. Yep, things are really looking up.
We're in the time of year where spirits are high, outlooks are bright and our optimistic life philosophy awakens the inner happiness from its long winter slumber.
As Plato once said "life must be lived as play."
And, as Dana Plato (of Diff'rent Strokes fame) once said "stick em' up!"
Both Plato's had a philosophy on life. But neither has offered us their clear philosophies on investing… although Dana Plato did invest $20 in a pellet-gun and quickly turn it into $164 and 5 years' probation…
So today, we're going to look at the philosophy of a very successful investor, and discuss three stocks he has recently added to his portfolio - two small-caps and a mid-cap that we should consider adding ourselves.
Meet Arnold C. Schneider, III.
According to the Schneider Capital Management website, Mr. Schneider (Arnie as he's known by his peers) founded Schneider Capital Management in 1996 and has a total of 30 years of investment experience.
He was previously a Senior Vice President and Partner of the Wellington Management Company. He began his career as an analyst in 1983, assumed portfolio management responsibilities in 1987, and eventually headed the Value team for institutional accounts and several mutual fund portfolios. He received a BS in Finance from the McIntire School of Commerce at the University of Virginia and is a past President of the Financial Analysts of Philadelphia.
Arnie manages a billion dollar portfolio and invests using a fairly simple philosophy.
So what is this philosophy? Well let's look at what Mr. Schneider believes in by viewing a chart found in his site.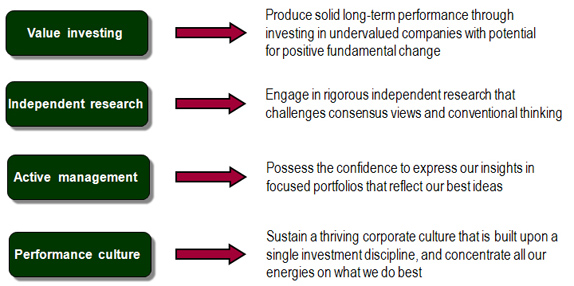 It's a fairly simple, yet effective investment philosophy. In fact, this philosophy is shared by many of the uber-wealthy investors which we've covered, and by many more which we haven't.
Using this philosophy, Schneider has amassed a sizeable fortune. Luckily for us, his investments are public information and we can peer into his portfolio to see if any of his stocks fit our own personal investment philosophies.
Here's Three Stocks Schneider currently has that may fit us.
First Niagara Financial Group Inc. (NASDAQ:FNFG)
Baltic Trading Limited (NYSE:BALT)
UR-Energy Inc. (NYSEMKT:URG)
Let's start with First Niagara Financial Group Inc .
According to Yahoo! Finance, First Niagara Financial Group, Inc. operates as the bank holding company for First Niagara Bank, N.A. that provides retail and commercial banking, and other financial services to individuals, families, and businesses.
The company's deposit products include savings and money market, and certificate of deposit accounts, as well as municipal deposits. Its loan portfolio comprise commercial business loans; commercial real estate and multi-family lending products; residential real estate lending products; home equity lending products; indirect automobile lending products; credit cards; and other consumer loans, such as personal secured and unsecured loans, and overdraft lines of credit.
The company also offers wealth management services through various third party investment vehicles comprising separately managed accounts, bonds, exchange traded funds, and mutual funds, as well as provides retirement planning, education funding, and wealth protection products and services, such as stocks, bonds, mutual funds, annuities, life insurance, long term care insurance, and advisory products. In addition, it sells insurance products consisting of business and personal insurance, surety bonds, life, disability, and long-term care coverage products; and offers risk management advisory services, such as alternative risk and self-insurance, claims investigation and adjusting, and third party administration of self-insured workers compensation plans, as well as provides treasury management services.
As of December 31, 2014, the company operated a network of 411 bank branches, which included 194 in New York primarily located near Buffalo, Rochester, Syracuse, and Albany; 122 branches in Pennsylvania situated near Philadelphia, Pittsburgh, Erie, and Warren; 84 branches in Connecticut located near New Haven and Hartford; and 11 in Western Massachusetts situated near Springfield.
First Niagara Financial Group, Inc. was founded in 1870 and is headquartered in Buffalo, New York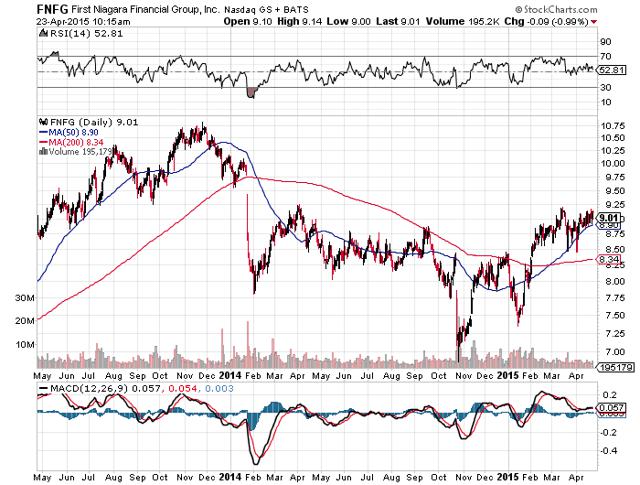 As you can tell from the chart, FNFG has not had the best two years, although recently the stock has been on a steady uptrend.
Schneider first purchased stock in FNFG in the last quarter of 2014, accumulating 1.48 million shares, averaging below the current market value.
He made this sizable investment even though FNFG is losing $2.13 per share (while paying a dividend of 32 cents, yielding 3.6%. Perhaps Mr. Schneider sees a massive earning turn-around on the horizon? According to rule 1 of his philosophy, he's a value investor, so he does feel a turnaround is well… around the corner.
Now let's look at Baltic Trading Limited
According to Yahoo! Finance, Baltic Trading Limited, together with its subsidiaries, engages in the shipping business in the dry-bulk industry spot market worldwide.
The company operates a fleet of dry-bulk ships that transport iron ore, coal, grain, steel products, and other dry bulk cargoes.
As of March 2, 2015, its fleet consisted of four Capesize, two Ultramax, four Supramax, and five Handysize vessels with an aggregate capacity of approximately 1,221,000 deadweight tons.
The company charters its vessels to trading houses, including commodities traders, as well as producers and government-owned entities. Baltic Trading Limited was founded in 2009 and is based in New York, New York.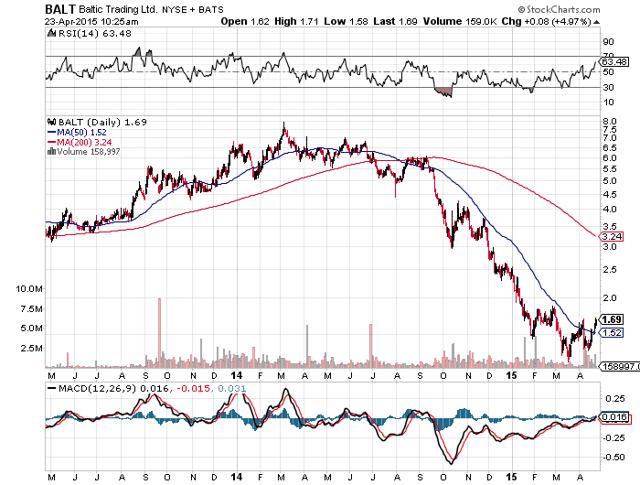 Over the last 8 months or so, BALT stock has taken a beating, dropping from the $6.50 area down to under two bucks.
Schneider increased his position in BALT by 343% in Q4 at an average of $3.19 per share. His 2.1 million shares are now under water. If you believe Schneider's value investing philosophy, getting in to BALT now would ensure you're getting even better value than he did.
Again, as with FNFG, BALT is losing money, posting at negative 36 cents per share… and again a dividend is in play here, yielding 2.6% on 4 cents. Has Schneider added even more BALT in Q1 with deeper value? We'll only know for sure when he submits his next filings.
This $89 million small-cap could show some great growth potential if and when the economy finally picks up. Could the stock go even lower? Yes, it could, but it does look fairly cheap here.
And how about UR Energy Inc.
According to Yahoo! Finance, Ur-Energy Inc., a junior mining company, engages in the identification, acquisition, evaluation, exploration, development, and operation of uranium mineral properties.
The company holds interests in 14 projects in the United States. Its principal property is the Lost Creek project comprising a total of approximately 2,100 unpatented mining claims and 4 Wyoming mineral leases covering an area of 42,000 acres located in the Great Divide Basin, Wyoming.
Ur-Energy Inc. was founded in 2004 and is headquartered in Littleton, Colorado.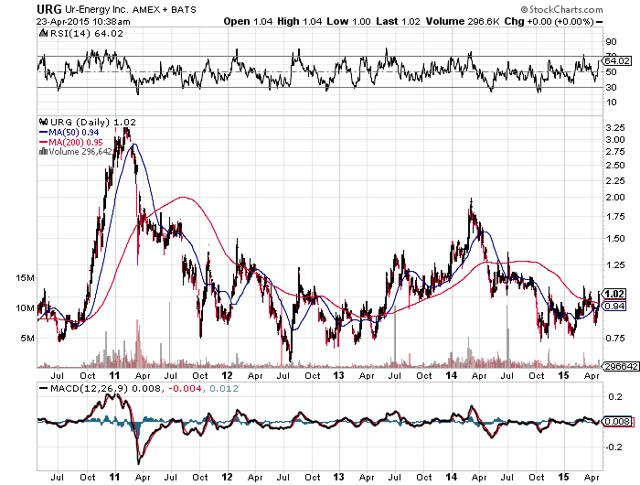 Above is the 5 year chart. I'm using this chart to encapsulate the Fukushima disaster on March, 11 2011. As you can see, this stock, and every uranium stock for that matter, really nosedived when the nuke plant in Japan had melted down. That disaster really put a damper on the uranium industry and this stock has yet to recover.
Schneider began his position in URG in the fourth quarter of 2014 with 115,000 shares, averaging at 88 cents per share. So he's already in the money on this stock. There is a small uptrend occurring and there could still be plenty of value left here, especially once the nuclear energy industry gets back on its feet.
This $120 million company is also losing money to the tune of 7 cents per share. Remember, Schneider just added this to his portfolio for the first time, so he believes there's a lot of upside here.
So perhaps one or more of these stocks fit into your investment philosophy, perhaps not. In upcoming issues, we'll look at stocks that have positive earnings and are already on strong uptrends.
I know some of us prefer the short term ride on the upside, while others like to "get in early." Ideally, you use a little of both. But remember, long term growth portfolios are not built on stocks that have already maximized their market value… unless of course your philosophy is "safety in dividends."
Until next time
Good investing,
AJ Caesar
"Owning a stock is like having children, don't get involved with more than you can handle" -Peter Lynch
Disclosure: The author has no positions in any stocks mentioned, and no plans to initiate any positions within the next 72 hours.