A Blueprint for Deep Value Investing
"Try not to become a man of success, but try rather to become a man of value" - Albert Einstein
Good day members,
Today, a beautiful one it is, we're going to turn our attention to a few stocks that have recently been purchased by a famous "value" investor. All three of these stocks are relatively small companies, two trading in the small-cap range, one a mid-cap.
All three of these stocks were recently purchased by a man known for buying stocks he believes are worth 30 to 60% more than his purchase prices… and all three are actually trading below his cost average. So here we have an opportunity to lock up three "deep value" stocks at a discount to where this very sharp man got in.
Before we get into these stocks, let's have a look at the man who recently went long on them, and we'll have a look at his "blueprint to value investing."
Meet Arnold Van Den Berg, Chairman, CEO, Co-CIO of Century Management
According to the Century Management website (centman.com), "Arnold founded the firm in 1974. Today, he serves as chairman of the Century Management Advisory Committee, as well as chairman of the CM Advisors Family of Funds Board of Trustees. Active in managing investment strategies for the firm, Arnold is the lead portfolio manager for the CM Value I (All-Cap Value) separate account strategy, for all of the balanced separate account strategies, and for the CM Advisors Fund (MUTF:CMAFX). He is the co-portfolio manager for the CM Fixed Income separate account strategy and the CM Advisors Fixed Income Fund (MUTF:CMFIX).
Arnold's accomplishments in the world of investing have been recognized by many:
Featured in The World's 99 Greatest Investors: The Secret of Success by Magnus Angenfelt, 2013 (pp 226-227)
Included on the list of "SuperInvestors" on the Graham and Doddsville blog
Featured on the list of investment gurus on GuruFocus.com.
Interviewed, quoted and referenced by numerous publications such as:
Outstanding Investor Digest
Seeking Alpha
Outlook Profit Magazine (India)
Money Manager Review
NASDAQ.com
Forbes.com
Austin Business Journal
While Arnold has no formal college education, his rigorous self-study, tremendous dedication, and over 45 years of industry experience are the foundation of Arnold's extensive market knowledge. Prior to starting Century Management, he worked as a financial advisor/consultant for Capital Securities and John Hancock Insurance. Arnold is married and has three children and seven grandchildren."
This very wealthy man is known for his deep value investing philosophy. There's no secret to his success, in fact he published his "blueprint" directly on his firm's website for the entire world to see. You have to love the rich guys that share their secrets.
So what is this blueprint? Let's refer to his website again…
"The foundation of our value-based investment philosophy is built on five guiding principles:





Paying too much for a great company can lead to a poor or mediocre return. However, we believe buying a lesser known company, one with a short-term problem or one that is temporarily out of favor, for a bargain price (i.e., paying 30% to 60% of the intrinsic value) can potentially lead to a great return.
Furthermore, it has been our experience that investing at bargain, or as we like to say "wholesale," price levels helps reduce risk, increase potential reward, and put time on our side.
Among our five guiding principles, we put the greatest emphasis on price. Here is why:
Assume you have an investment that will generate $10,000 of free cash flow (i.e., income that can be paid out as a dividend or, in the case of a bond, a coupon payment).
Everything else being equal, if you desire a 10% return, you can pay $100,000 for that investment (e.g. $10,000 income divided by $100,000 investment = 10% return).
Also assume this free cash flow, or coupon payment is fixed at $10,000 and you desire a 20% return. You can only afford to pay $50,000 for that investment (e.g. $10,000 income divided by $50,000 = 20%).
Last, if you desire a 40% return, you can only pay $25,000 for that investment (e.g. $10,000 income divided by $25,000 investment = 40%). The price you pay will ultimately determine your return."
So with these guiding principles in mind, what has Mr. Van Den Berg added to his portfolio that may fit into ours? Three deep value stocks… all of which are trading lower than his cost basis.
Cloud Peak Energy Inc. (NYSE:CLD)
SpendSmart Networks Inc. (OTCPK:SSPC)
Yamana Gold Inc. (NYSE:AUY)
Here we have a coal company, a tech company and a gold company. Let's start with the coal company
Cloud Peak Energy Inc. , according to Yahoo Finance! Cloud Peak Energy Inc., through its subsidiaries, produces coal in the Powder River Basin (NYSEARCA:PRB) and the United States. The company operates through Owned and Operated Mines, Logistics and Related Activities, and Corporate and other segments.
It produces and sells sub-bituminous thermal coal with low sulfur content primarily to electric utilities operating in the United States and internationally.
The company owns and operates the Antelope mine and Cordero Rojo mine located to the south of Gillette, Wyoming; and the Spring Creek mine located in Montana.
Its development projects include the Youngs Creek project and the Crow project in the Northern PRB.
The company also provides logistics and related services, such as the purchase of coal from third parties or from own mines, as well as the contracting and coordination of the transportation and other handling services from third-party operators. In addition, it is involved in the brokerage of coal.
Cloud Peak Energy Inc. is headquartered in Gillette, Wyoming.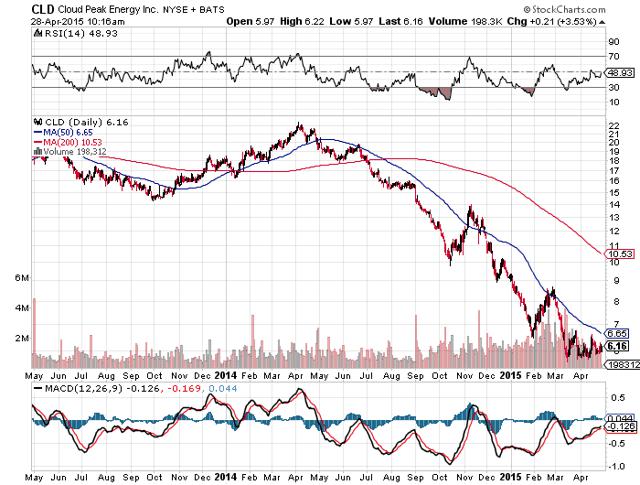 Wow, talk about a huge collapse of a stock. CLD was trading in the $20's just a year ago. Van Den Berg made a purchase of 195k shares in the first quarter of this year. His average cost was $7.37 per share.
With the stock now trading around $6.15, we're looking at a massive discount to Van Den Berg's deep value purchase.
The company currently has a market cap of $376 million with a PE of 4.8, compared to the industry average of 22.8. They're earning $1.29 a share.
With natural gas so cheap, coal stocks have taken it on the chin. This is precisely why Van Den Berg went long here. As you can see from the chart, the stock seems to have bottomed out $5.75. It will be interesting to see if Van Den Berg adds more to his position here in the second quarter.
Speaking of adding stock, here's on that Van Den Berg originally purchased in Q4 of 2014, but did not add any more in Q1.
SpendSmart Networks
According to Yahoo! Finance, SpendSmart Networks, Inc., through its subsidiaries, provides proprietary loyalty systems, and a suite of digital engagement and marketing services to consumers and merchants.
The company delivers and manages loyalty platforms, including merchant funded rewards, loyalty rewards tablet/kiosk, and proprietary rewards management systems; mobile marketing technology, such as text and email messaging, customer analytics and propensity marketing, patent pending automated engagement engine, and Text2Win sweepstakes features; and enterprise level loyalty and mobile marketing consulting comprising monthly hands on reviews by its Certified Masterminds, campaign creation and optimization, and localized support.
It also provides mobile and loyalty marketing services for small and medium sized businesses; personalized Website, e-commerce, and mobile app development services; and Web marketing tools and analytics.
The company was formerly known as The SpendSmart Payments Company, Inc. and changed its name to SpendSmart Networks, Inc. in June 2014. SpendSmart Networks, Inc. was founded in 2007 and is headquartered in San Luis Obispo, California.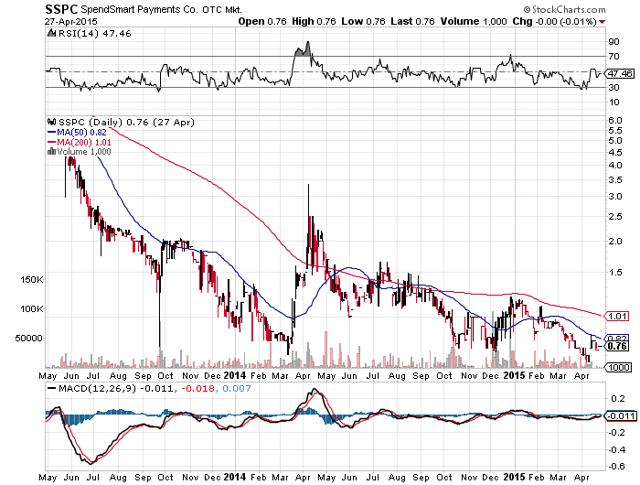 As with CLD, you can see that SSPC stock has seen better days.
This $14 million market cap company finds 542k shares in Van Den Berg's portfolio, at an average cost of $0.91. In Q4, he made his purchase, and interestingly he did not add or sell any in Q1. He may have found the right amount of shares he's comfortable with for a longer term ride.
SpendSmart is losing $0.76 a share right now and trades very thin. A turnaround in earning could send the stock back to the multi-dollar area, but this one is risky with the low volume.
And how about a stock Van Den Berg increased his position in? Well, that's Yamana Gold Inc.
According to Yahoo! Finance, Yamana Gold Inc. engages in gold mining and related activities, including exploration, extraction, processing, and reclamation. The company has precious metal properties and land positions in the Americas.
Its portfolio includes seven operating gold mines, such as Chapada (copper/gold), El Peñón (gold/silver), Canadian Malartic Mine (gold/silver), Jacobina(gold), Gualcamayo(gold), Minera Florida (gold/silver/zinc), Fazenda Brasileiro, and Mercedes (gold/silver), as well as a 12.5% indirect interest in the Alumbrera mine (copper/gold/molybdenum); and various development stage projects and exploration properties in Brazil, Chile, Argentina, Mexico, and Canada.
The company was formerly known as Yamana Resources Inc. and changed its name to Yamana Gold Inc. in July 2003. Yamana Gold Inc. was founded in 1980 and is headquartered in Toronto, Canada.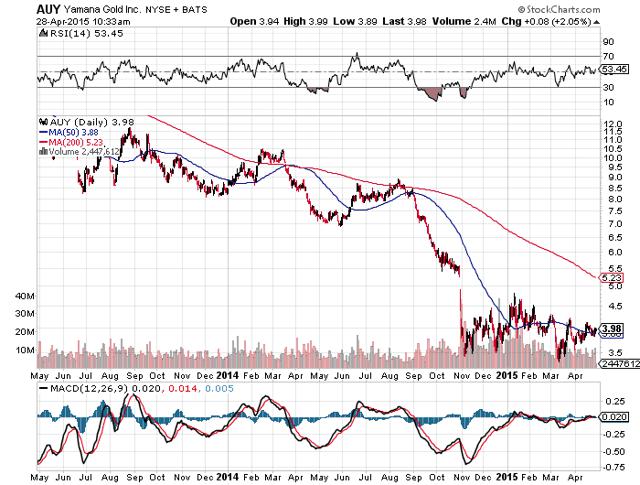 Here's yet another chart that shows a stock that got whooped. Van Den Bert doubled his position in this stock in Q1 to a total of 2,407,291 shares, averaging $4.05 per share. He put roughly $9.7 million into this company, so he must truly believe there is a deep value here.
At a $3.4 billion dollar market cap, AUY is currently trading at $3.97, a small discount to his cost average. While the company is losing $1.69 per share, they are paying out a 6 cent dividend (yielding 1.6%).
We generally don't like stocks that pay out dividends while reporting negative earnings, but Van Den Berg's interest here has piqued our interest.
You'll have noticed that these ultra-wealthy individuals we've been covering really love to buy energy and gold companies. They surely know something we don't, that's why they have yachts and helicopters and we don't. So don't be surprised to see a rally in gold in the coming year or so, even if the FED does eventually raise interest rates.
So here we have three stocks that were filtered through an uber-rich man's blueprint for value investing. Has he struck out on stocks before? Sure, everyone including billionaires has had some pretty crappy stocks in their portfolios, but their track records are undeniable.
Are any of these stocks a good fit for your portfolio? If you like buying deep discount stocks, at a deeper discount than legendary investors, the answer would likely be yes. What has us excited with some of these stocks is how small their market caps are… plenty of room to grow!
Until next time…
Good investing,
AJ Caesar
"Rule #1: Never Lose Money; Rule #2: Never forget Rule #1." -Warren Buffett
Disclosure: The author has no positions in any stocks mentioned, and no plans to initiate any positions within the next 72 hours.