The Chinese Junk That's Starting to Look Attractive
"When written in Chinese, the word 'crisis' is composed of two characters. One represents danger and the other represents opportunity." --John F. Kennedy
Good day members,
Talk about an itchy trigger finger… it's very tempting to go long on quality Chinese stocks right now. I know, "quality Chinese" sounds like an oxymoron, but there are some great companies trading at huge discounts due to the recent collapse of the Chinese stock market.
30% across the board haircuts don't occur too often. When they do, one of two things generally happen. The market either continues to fall over coming weeks/months/years in a bear market (with dead cat bounces), or the market springs back rather quickly (think flash crashes). So with this Chinese crash, which one is it? The beginning of a Chinese Bear, or a drawn out flash crash?
Unfortunately, only time will tell us the answers. But if you're young enough, and have a pair of brass ones, the time to buy may be now; because over the course of the next 10-15 years or so, there's a great likelihood that the Chinese market is trading higher than today.
Sure, there are a ton of problems with the Chinese market, namely the validity in the reporting of their listed companies, the abilities of their regulatory bodies to accurately spot fraud and the fact that their market is being pumped with cheap cash (as is ours). But even with these persistent problems, there is some value to be had.
So today, we're going to look at two Chinese investments that are likely to be trading much higher in the years to come. Of course, there's just as likely a chance that they fall further before they rise higher, but again, only time can tell us that. Are these two investments bargains right now, or not quite yet? Let's have a look…
Lets start with the largest IPO of all time… Alibaba Group Holdings LTD. (NYSE:BABA)
According to Yahoo! Finance, Alibaba Group Holding Limited, through its subsidiaries, operates as an online and mobile commerce company in the People's Republic of China and internationally.
It operates Taobao Marketplace, an online shopping destination; Tmall, a third-party platform for brands and retailers; Juhuasuan, a group buying marketplace; Alibaba.com, an online wholesale marketplace; Alitrip, an online travel booking platform; 1688.com, an online wholesale marketplace; and AliExpress, a consumer marketplace.
The company also provides pay-for-performance and display marketing services through its Alimama marketing technology platform; Taobao Ad Network and Exchange (TANX), a real-time online advertising exchange in China; and data management platform that allows participants on TANX to evaluate and select online advertising inventory using behavioral data, as well as data from browsing behavior and shopping history.
In addition, it offers cloud computing services, including elastic computing, database services, and storage and large scale computing services through its Alibaba Cloud Computing platform; Web hosting and domain name registration services; payment and escrow services for buyers and sellers; and develops and operates mobile Web browsers. The company provides its solutions primarily for businesses.
Alibaba Group Holding Limited was founded in 1999 and is based in Hangzhou, the People's Republic of China.
Basically, what we've got with BABA is the Chinese version of Amazon mixed with Google.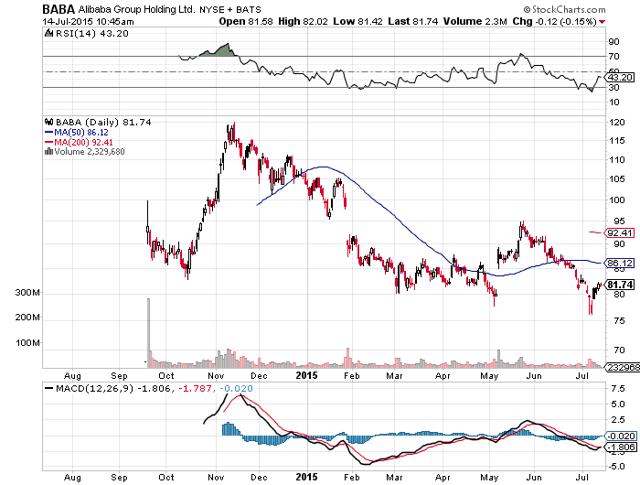 What is so attractive right now with BABA is its price. Since its IPO back last October, BABA has not traded this low. After peaking out near $120 per share, BABA began sliding (ala Facebook) and is now trading lower than the price available to retail investors on IPO day.
If it does follow the "pop-and-drop" pattern that Facebook showed us during its first several months as a public company, we could be in for some great profits down the road. Facebook initially looked like a disaster after its IPO in 2012, but is trading almost 3X higher now.
Can BABA repeat the Facebook success pattern? Here's what Facebook looked like in its first 10 months of trading: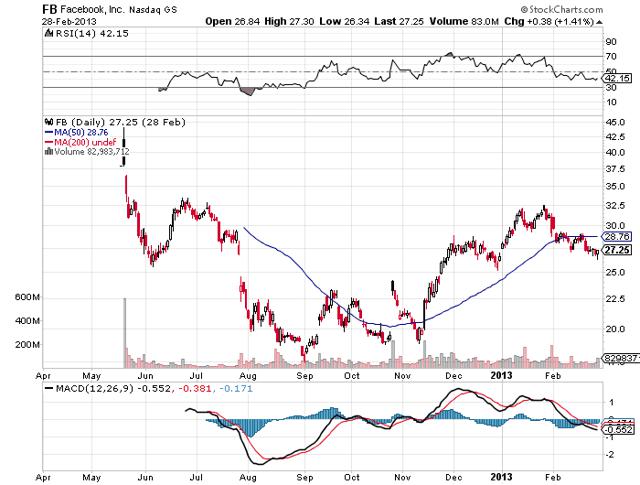 Although the charts of BABA and FB are quite different, there are a few similarities. Namely the fact that the stocks both took a nosedive within months of their respective IPO's then began recovering. Unfortunately for BABA, the strong recovery just ran into the Chinese crash. Good for us?
But this isn't about a comparison between two giant tech companies really. It's about the massive discount available in BABA for those brave enough to take it. It's certainly risky right now, but the rewards could be huge…
After all, BABA is trading at a PE of 52. Sounds high, but for a recently listed mega-tech company, its actually quite low. Facebook was trading 4X that PE for a very long time before finding its groove (now PE of 87)
So there could indeed be some great value here with BABA. So long as the Chinese economy doesn't hit the crapper, BABA has a great few years ahead of it.
Now for those of us who don't like single stock plays, let's look at the iShares China Large-Cap ETF (NYSEARCA:FXI). This ETF, according to Yahoo! Finance, The investment seeks to track the investment results of an index composed of large-capitalization Chinese equities that trade on the Hong Kong Stock Exchange.
The fund generally invests at least 90% of its assets in securities of the underlying index and in depositary receipts representing securities of the underlying index. It seeks to track the investment results of the FTSE China 50 Index (the "underlying index"), which is designed to track the performance of the largest companies in the Chinese equity market that are available to international investors. The fund is non-diversified.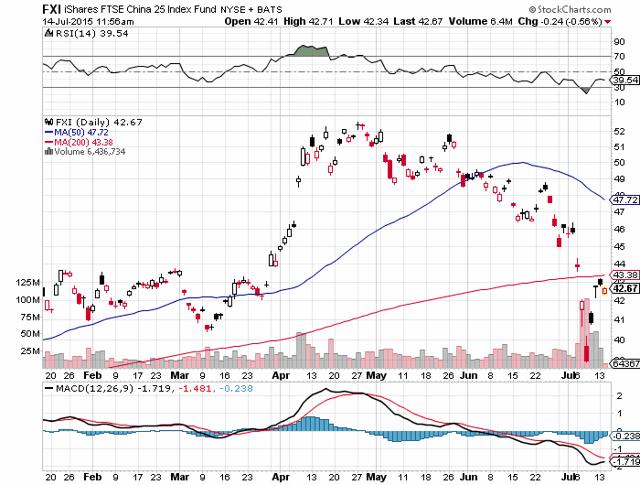 By investing in FXI, you're basically betting on the Chinese stock market as a whole (like a Dow bet). Below is the China 50 Index (much like out Dow 30). You'll see the similarities between the charts.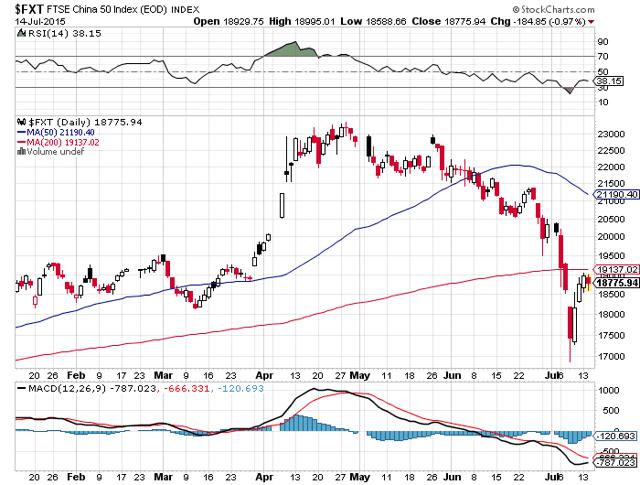 If you believe a strong rally in the overall Chinese market is going to occur, the FXI is a great way to invest. However, there is the risk of enormous volatility here. Be careful if you play this. If the Chinese market does a head fake and continue slipping, you could be crushed on this play.
So for long term investors the odds favor the Chinese market trading much higher in 10 to 15 years than it is today. But for the more immediate future, the better of the two "bets" would certainly have to be BABA…
"Never give up. Today is hard, tomorrow will be worse, but the day after tomorrow will be sunshine."
--Jack Ma, Founder of Alibaba
Here's to good investing…
Until next time,
AJ Caesar
Disclosure: I/we have no positions in any stocks mentioned, and no plans to initiate any positions within the next 72 hours.