The rural economy grew at a rapid pace in March as improving home sales, expanding farm equipment sales, and strong farmland values have improved the rural economic outlook.

The overall Rural Mainstreet Index (RMI) improved to 56.7 from 55.3 in February, according to the survey of bank CEOs in a 10-state region. This marks the fifth straight month the index is above growth neutral 50.0 and well above the reading of 47.4 last March.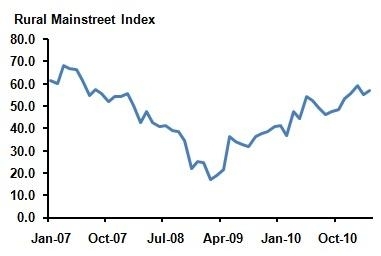 "Expanding global and domestic economic growth is pushing the Rural Mainstreet economy into solid growth territory," said Creighton University economist Ernie Goss, co-author of the report.

Agriculture

Farmland prices continue to remain above growth neutral for the 14th consecutive month, but March's reading declined slightly to 75.0 from it recent high of 75.9. Bankers continue to note strong sales in their region, but some are concerned rising fuel prices could pressure farm income.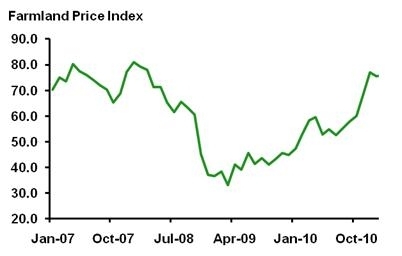 The farm equipment sales index substantially improved to 75.9 from 63.5 in February. "Farm implement producers and dealers are experiencing a banner year as farmers spend their higher income," said Goss.

Banking

Loan volumes improved in March to 47.1 from a weak reading of 39.0 in February. Checking deposits increased to 68.7 from 67.8 in February, but certificate of deposits declined to 45.5 in March from 50.8.
Bankers were asked how the recently passed Dodd–Frank Wall Street Reform and Consumer Protection Act would likely affect community banks. 96% expect to charge customers additional fees to cover their higher transaction costs and 99% of bankers advocate modification or further analysis of that portion of the bill, known as the Durbin Amendment.  

Rural bankers continue to expect sustainable growth over the next six months in the rural economy, although the economic confidence index declined to 65.2 in March from February's reading of 70.9.

Outlook
The rural economy continues to lead the way in a slowly improving economy. Unexpected economic challenges may cause some bumps in the road, but strong farm income and farmer spending will keep the rural economy steaming ahead.

Visit http://farmlandforecast.colvin-co.com for daily articles on farmland agriculture.
Disclosure:
I have no positions in any stocks mentioned, and no plans to initiate any positions within the next 72 hours.