Many People Could Be Drinking Labor Smart's Kool-Aid
Please Note: Blog posts are not selected, edited or screened by Seeking Alpha editors.
Summary
Labor Smart is a labor staffing agency that recently merged with a pre-revenue hydrogen water firm.
There is very little information on the product and the business and Labor Smart itself hasn't posted financial reports in more than five years.
Labor Smart has a valuation of $364.7 million but I don't think the business is worth much in its current state.
Introduction
Today, I'm taking a look at Labor Smart (OTC:LTNC), a small U.S. temporary staffing solutions provider that recently acquired a pre-revenue beverages company named Takeover Industries. The deal allowed the owners of the later to take control of the business.
Labor Smart is valued at $364.7 million as of time of writing and looks like a sell.
Overview of the business
Labor Smart is a labor staffing agency with a total of six locations across five states in the Southeast and Midwest and some of the sectors it serves include warehousing, construction, hospitality, and retail.
It seems that among the company's clients is NFL team Kansas City Chiefs, as confirmed in a tweet by outgoing Labor Smart CEO and president Ryan Schadel.

(Source: twitter)
The company has submitted an application to otcmarkets.com to begin the process of gaining compliance with the Alternative Reporting Standard, but its latest available financials at the moment are as of September 25, 2015.
Back in September 2015, Labor Smart was a small company with $4.5 million in assets and quarterly revenues of $5.8 million. The business was unprofitable, generating a net loss of $0.6 million for the quarter ended September 25, 2015.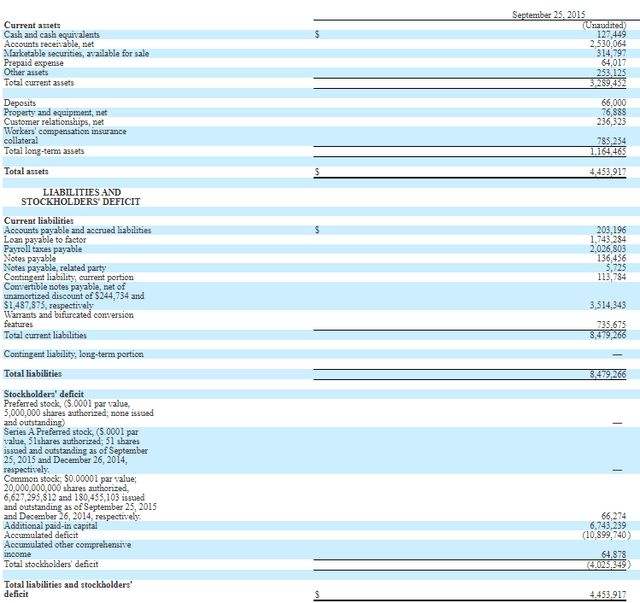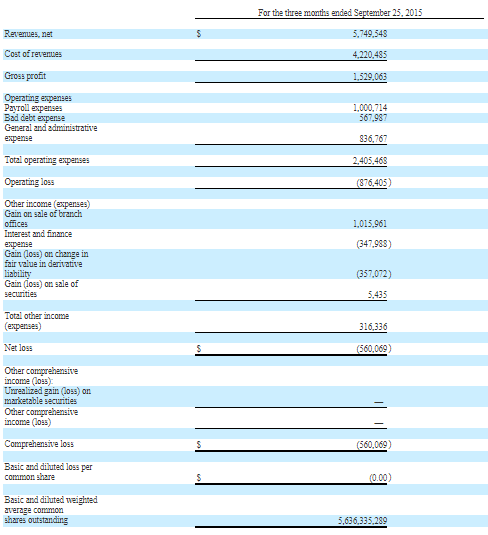 (Source: SEC)
In January 2020, Labor Smart bought a pizzeria franchise operator named Restore Franchise Group. The latter had one location in the city of Cumming in Georgia.
The reverse takeover and the product
The share price of Labor Smart started to soar on February 8 as did the share volume.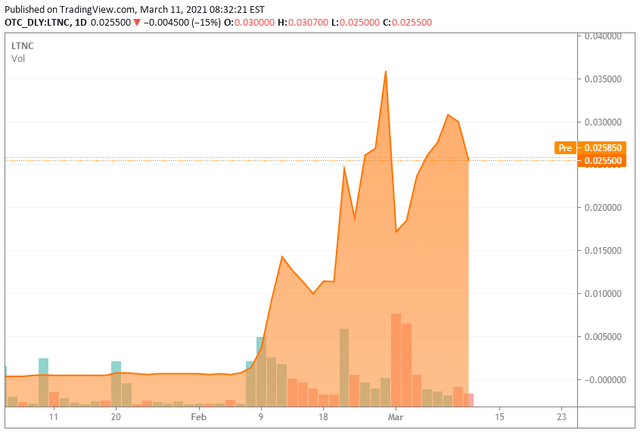 (Source: TradingView)
During that day, Schadel mentioned on twitter that something large was coming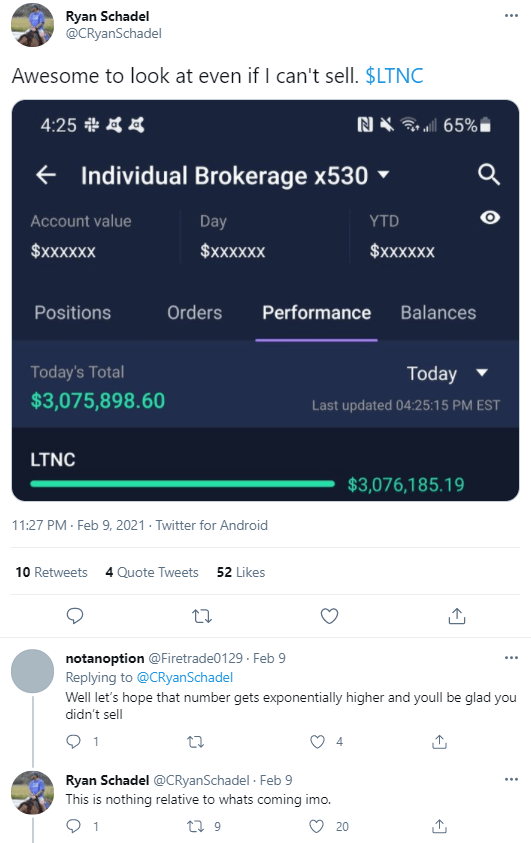 (Source: twitter)
On February 10, he revealed that there were acquisition talks with an unnamed hydrogen water company and the signing of a letter of intent was announced on February 11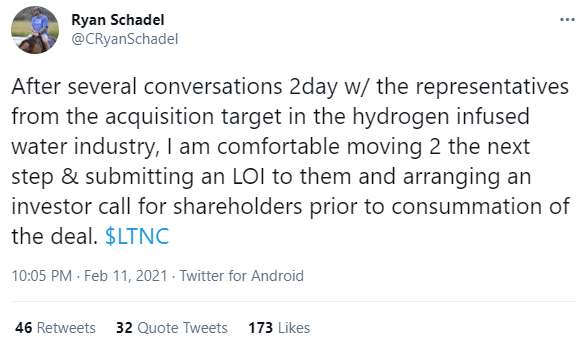 (Source: twitter)
The official announcement for the completion of the deal came on March 1.
The owners of Takeover Industries received a total 6.8 billion common shares of Labor Smart, which are restricted for 12 months. Also, Schadel retired a total of 500 million of his own shares.
There isn't much information available on Takeover Industries. This company and Labor Smart are now led by Joe Pavlik, who seems to have a somewhat significant presence on twitter with more than 10k followers.
Going to the website of Takeover Industries, there's a beverage displayed that bears the NXT LVL brand.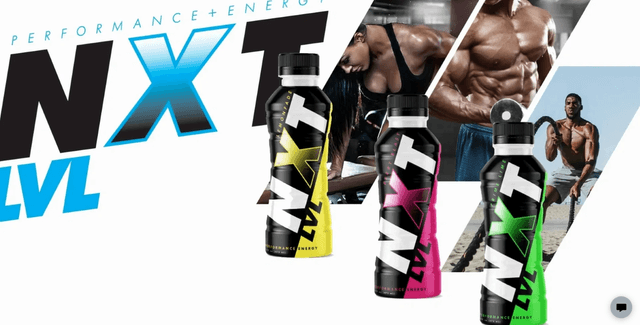 (Source: Takeover Industries)
According to Joe Pavlik, the company has an FDA-registered canning facility that produces hydrogen water using naturally occurring pristine spring water. The product is free of BPA, MTBE, chlorine and fluoride.
On March 9, Schadel posted footage from inside the canning facility, but did not want to disclose its location.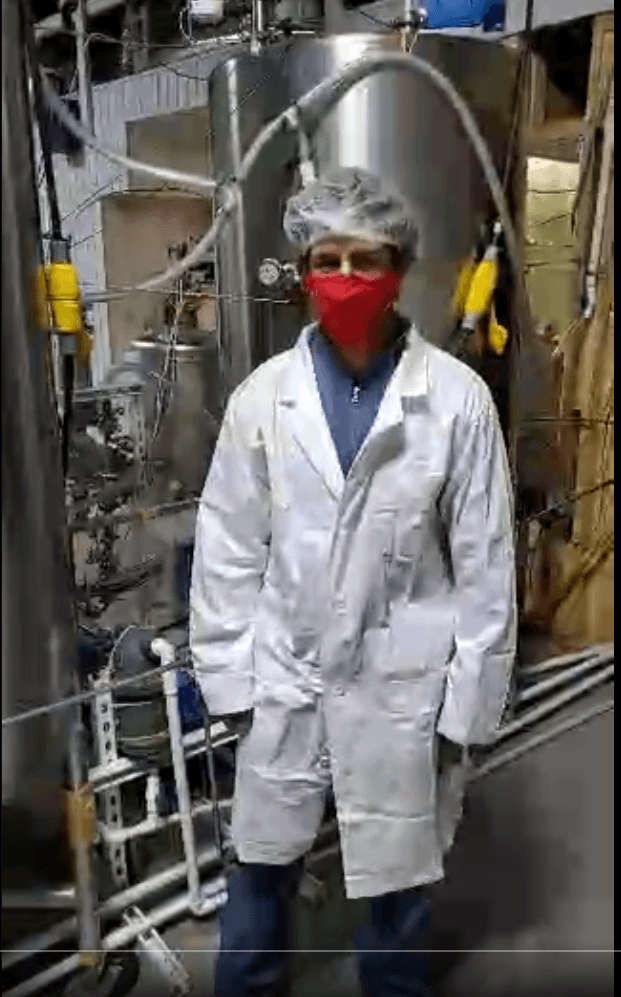 (Source: twitter)
Schadel later said he walked a facility that has a monthly production capacity of half a million cases of 12 cans each.
This means the canning facility could produce 72 million cans of hydrogen water per year. Hydrogen water is usually expensive, which means Labor Smart could potentially generate hundreds of millions of dollars in revenues annually thanks this facility alone.
However, I find the lack of transparency and details highly disturbing and the whole situation reminds me of the Rich Energy debacle that engulfed the Haas Formula 1 team during 2018.
Valuation and retail investor interest
According to OTC Markets, Labor Smart had eight billion shares outstanding at the start of 2020. As I mentioned, the owners of Takeover Industries received 6.8 billion shares and Schadel retired 500 million shares. This means Labor Smart should currently have around 14.3 billion shares outstanding and its valuation should stand at $364.7 million as of time of writing.
The company and its share are being promoted on twitter by Schadel and Pavlik, who currently have 19.1k and 10.5k followers, respectively. Also, a stock trader with the username StanTheTradingManhas this tweet pinned andhe has 113.6k followers.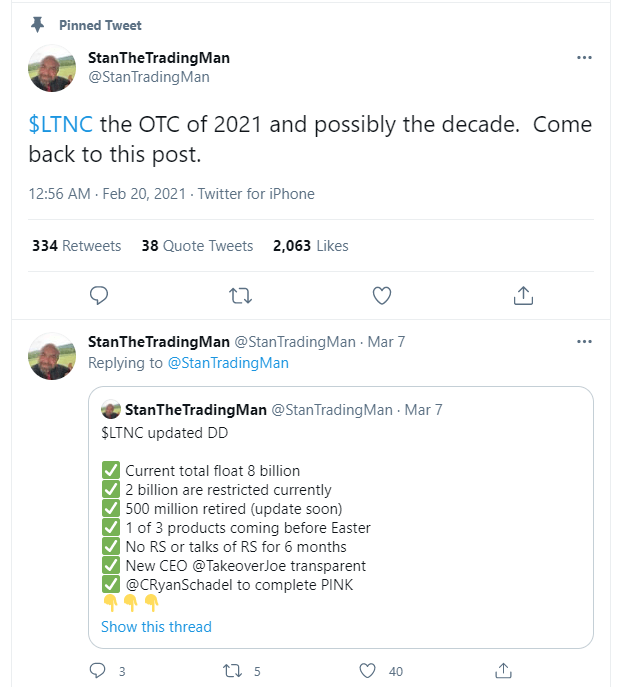 (Source: twitter)
Every few minutes, there's a new tweet out with the $LTNC hashtag as well as a new post on Stocktwits.
On YouTube, Labor Smart is covered by several channels such as Moon Market, Insider Financial, SharkGains, and Penny stock specialist. Some of them claim that the hydrogen water product is linked with American football player Tom Brady.
The company also has its own subreddit, which currently has around 1,800 members.
Investor takeaway
Labor Smart is a labor staffing agency that recently merged with a pre-revenue hydrogen water firm. There are few details on the product and the canning facility, which leads me to think the business could be close to worthless. This whole situation reminds me of the Rich Energy saga.
I think Labor Smart is a sell and investors can take advantage of this by shorting the shares. However, keep in mind this could be challenging due to the high share price volatility. According to data from Fintel, the short borrow fee rate currently stands at 0.3%.
There are two major risks I see for the bear thesis. First, it's possible that I'm wrong about the canning facility and Labor Smart's product takes over the hydrogen water market by storm. Second, the share price of the company could soar again due to retail investor interest as the bull case seems to be narrative-driven and not based on fundamentals.
Analyst's Disclosure: I/we have no positions in any stocks mentioned, and no plans to initiate any positions within the next 72 hours.
I wrote this article myself, and it expresses my own opinions. I am not receiving compensation for it (other than from Seeking Alpha). I have no business relationship with any company whose stock is mentioned in this article.
I am not a financial adviser. All articles are my opinion - they are not suggestions to buy or sell any securities. Perform your own due diligence and consult a financial professional before trading.
Seeking Alpha's Disclosure: Past performance is no guarantee of future results. No recommendation or advice is being given as to whether any investment is suitable for a particular investor. Any views or opinions expressed above may not reflect those of Seeking Alpha as a whole. Seeking Alpha is not a licensed securities dealer, broker or US investment adviser or investment bank. Our analysts are third party authors that include both professional investors and individual investors who may not be licensed or certified by any institute or regulatory body.