Suggested guidelines for spotting new investment ideas
We generally base our choice on the following factors.
Net income - It should be generally trending upwards for the past 3-4 years.
Cash flow per share - It should be trending upwards for the past three years.
Total cash flow from operating activities - It should be trending upwards for the past 3-4 years.
Current ratio - Should be above 1.
Interest coverage ratio - When available, any value above 1.5 is OK, but we would aim for 2.5-3.00 as our starting range. The higher the number the better.
Sales - They should generally be trending upwards for the past 3-4 years.
Levered free cash flow - This is the icing on the cake. If a company meets most of the above requirements and also has a positive levered free cash flow, it can generally be viewed as a good long term buy. Two examples are Leggett & Platt (NYSE:LEG) and Procter & Gamble (NYSE:PG).
The following criteria apply only to dividend paying stocks and not to growth stocks that might not payout dividends:
Payout ratio - It should generally be below 100%, but a ratio below 70% is optimal. Payout ratios are not that important when it comes to MLPs/REITs as they generally pay a majority of their cash flow as distributions. In the case of REITs by law they have to pay out 90% of their Taxable income as dividends. Payout ratios are calculated by dividing the dividend/distribution rate by the net income per share, and this is why the payout ratio for MLPs and REITs is often higher than 100%. The more important ratio to focus on is the cash flow per unit. If one focuses on the cash flow per unit, one will see that in most cases, it exceeds the distribution/dividend declared per unit/share.
Dividend growth rate - It should be at 5% or higher. A high yield with a low dividend growth rate is not good in the long run, but neither is a low dividend yield with a high growth rate; one needs to find an equilibrium here. And there are exceptions to this rule, some stocks appreciate rather rapidly and so a low dividend could be offset by the capital gains.
Five year dividend average - We generally aim for stocks that have a yield of 4.5% or higher. There are exceptions to this rule. Some stocks appreciate very fast, so even though the yield might be low, one can more than make up the difference through capital gains. One example is Jarden (NYSE:JAH).
An early warning signal that the company could be in trouble is when the total cash flow generated from operating expenses is not enough to meet the dividend payments. This information can be gleaned by looking at the cash flow statement. This is readily available at Yahoo Finance. In the example below we used LEG and the data was obtained from Yahoo Finance.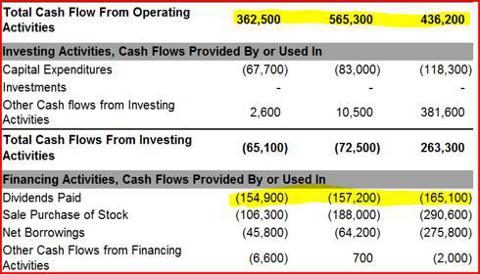 The cash flow in this case was more than enough to easily cover all the dividend payments for all the above years; in this the time period was from 2008-2010.
Many traders use other metrics and that is fine; we are just trying to provide a guideline. As you get better handle of the ratios explained below you can create your own list of criteria. If you would liked to kept abreast of any new developments consider joining our free newsletter