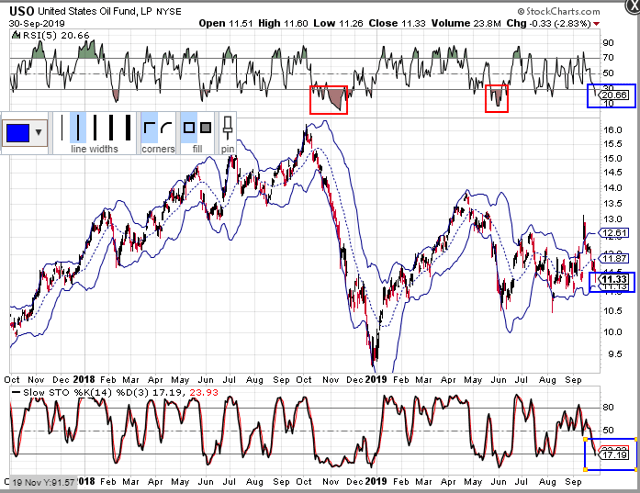 -Source: TJT Trading via stockcharts.com
USO (mirrors WTI in the short and medium term, but decays compared to WTI over the long term) has reached an oversold level on the 5 day RSI. Only twice over the last 2 years has WTI sold off markedly more in the short term when this level was reached. On the bollinger bands, WTI is now nearing the lower bollinger band. In my view, this is a buying level when the underlying instrument is in an uptrend. USO has also also reached an oversold level on the slow stochastics. This typically happens near the end of a sell off. On aggregate, these are buying levels on USO.
Additionally, futures are positioned at a bearish extreme. This means that when / if WTI starts to move up, shorts will have to run for the exit. The risk reward is skewed bullish for a levered USO trade. As such, before market close today I bought $11.50 January 17 USO calls for $.80 and $.81. 
Disclosure: I am/we are long USO.