THIS ARTICLE IS NO LONGER READILY AVAILABLE AT SEEKING ALPHA SO I AM REPUBLISHING AS A BLOG POST.  
Select Energy Services (WTTR) is a rapidly growing, high quality franchise company that provides water sourcing and water management services to companies engaged in the shale drilling and hydraulic fracturing ("fracking") business. Because both its customers, and its customers' customers, offer a commodity product or service, WTTR is also typically viewed as doing so as well. But that is not true. It is a franchise company with a highly protected competitive position. If you want to participate in the growth of U.S. oil production, while limiting your commodity exposure, this is the way to do so.
Investors who own either pressure pumping or frac sand companies should read this article carefully. The demand drivers for WTTR's business are exactly the same, but the supply drivers are entirely different. WTTR is a high quality company that offers far greater upside at a fraction of the commodity exposure.
I believe investors in WTTR can at least triple their money from today's prices over the next 12 to 18 months. The shares are deeply undervalued and can more than double just to get to my fair value range of $26 to $33. I also expect significant revenue, cash flow and earnings growth that will further increase the intrinsic value of the company.
INVESTMENT THESIS
Over the past several years, the United States has entirely reversed a forty-year decline in crude oil production, regained its energy independence and reemerged as a global energy superpower, second only to Saudi Arabia, in annual output. The economic and geopolitical significance of this cannot be understated.
The reason for this astonishing resurgence is the energy industry's development and refinement of modern fracking techniques, which enable the extraction of crude oil from shale on a highly economic basis. Over the last five years, the necessary oil breakeven price to do so has declined from an average of $66-98/barrel to an average of just $29-39/barrel today. What was in 2013 a marginal economic proposition dependent upon a sustained high price of oil, is today a winning economic proposition with a substantial margin of safety even at moderate oil prices.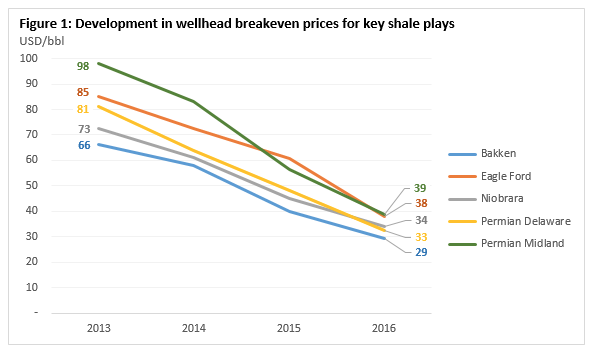 Source: Rystad Energy NASWellCube
(As can be seen above, there are significant differences in economics from basin to basin. The optimal fracking techniques, as well, can vary significantly from basin to basin and even within the same basin.)
Given the favorable economics, abundance of drilling opportunities and the increasingly favorable oil supply backdrop, it is difficult to imagine any scenario in which fracking activity does not increase significantly over the next five years. Even the oil majors such as Chevron (NYSE:CVX) and Exxon (NYSE:XOM), who can drill anywhere in the world, have now made U.S. shale drilling one of the centerpieces of their massive global drilling programs. While these capital programs are not literally set in stone, they are the result of many years of planning and they are unlikely to change except at the margins.
The three critical ingredients in fracking are sand, pressure pumping horsepower, and water. Most investors are familiar with the first two, and instinctively assume the business of water must be similar. That is a mistake.
WTTR is primarily in the business of providing water and water management solutions to the fracking industry and is appropriately associated with those two businesses. But there are critical differences which are not yet understood by investors broadly and that has created an extraordinary opportunity for investors. While the demand drivers for water are essentially identical to those for sand and horsepower, the supply side drivers are entirely different. Sand and horsepower are both commodity businesses with capital the only really meaningful barrier to entry. That's why those businesses trade at relatively modest multiples.
But the water business is not at all a commodity business. Water sourcing and management is a logistical business that requires permits and access rights to disparate sources of water, including lakes, rivers and groundwater. Currently, WTTR has permits or long-term access rights to approximately 1.5 billion gallons of water annually from hundreds of sources, along with their associated rights-of-way for transporting that water to where it is needed. Its franchise was cobbled together over many years and is now virtually impossible to replicate.
Many of those water and easement rights are exclusive. By way of example, WTTR has a dominant presence in the Bakken, which produces 1.2 million barrels per day (bpd), or about 12% of daily U.S. production. Water for fracking in the Bakken comes from Lake Sakakawea in North Dakota. This water from Lake Sakakawea cannot be obtained without a permit and it has been decided that no new permits will be granted within 25 miles of an intake location associated with an existing permit. There are five permits and WTTR owns three of those permits. Because of its protected long-term water position, the company has also been able to invest in an in-ground pipeline infrastructure system to make full use of its water rights. As a result, WTTR has a truly enviable and probably impossible to replicate competitive position.
Demand for water has grown exponentially, driven by improvements in drilling and fracking technology, and continued robust growth is all but assured. Ten years ago, a conventional vertical well might have required about 15,000 barrels of water, or 630,000 gallons. Today, a modern horizontal well requires 600,000 barrels of water, a forty-fold increase, the equivalent of more than 25 million gallons.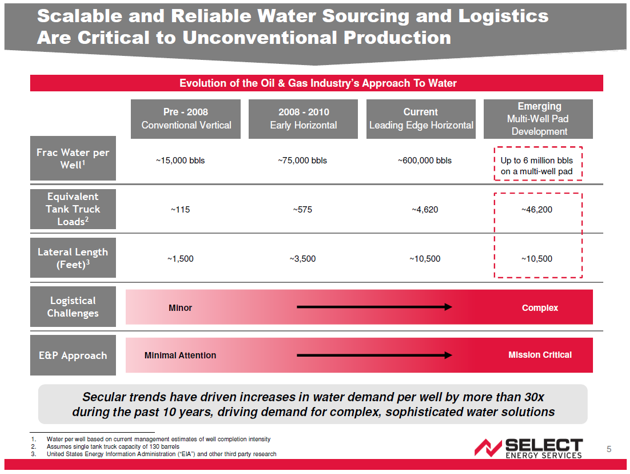 Source: Company presentation
When water demands were modest, water could be brought in by truck and sourcing was not an issue. But those days are mostly gone. Today, water is delivered through either lay-flat portable hose or pipelines. This requires access to many local sources of water and the associated rights-of-way to transport that water to its final destination. In short, it requires a lot of local knowledge and feet on the ground.
All of this makes water a very different business from sand or pressure pumping because the barriers to entry are much higher and, in some areas such as the Bakken, they are effectively insurmountable. Working quietly, before the great rush began, WTTR has systematically assembled a nationwide footprint of water and easement rights that is now effectively impossible to replicate.
WTTR has another two things going for it: scale and scope. When it went public in April 2017, it was already the largest water company in the industry. Number two was a private firm called Rockwater Energy Solutions. On November 1, 2017, WTTR acquired Rockwater in a merger of equals, thereby becoming the largest company in the industry by a very considerable margin. The rest of the competition is comprised of fragmented local and regional companies, many of them of the mom-and-pop variety. As the 800-pound gorilla, WTTR is by far the leader in the industry and, as the only company with access to the capital markets, it is ideally positioned to extend its lead.
In this business, size begets opportunity and opportunity begets size. WTTR is now able to undertake growth and expansion projects that are simply out of reach of many of the local operators they compete with.
THE MIRACLE OF MODERN FRACKING
Let me start with a little bit of background for those who may be less familiar.
While the concept of fracking or otherwise stimulating wells to increase their output has been around for a long time, it is only since the development of modern fracking techniques that the industry has been able to produce oil economically from tight shale formations. It is literally squeezing oil out of rocks. The story of the development of modern hydraulic fracturing is a truly fantastic one that reflects the best of American ingenuity and doggedness. Had it not been for the efforts of a determined few, the shale revolution might never have happened.
Prior to the development of these techniques, U.S. crude oil production was in a state of long-term secular decline. Having peaked at just over 10 million barrels per day (mmbpd) in 1970, production had declined to just half that amount by 2010. But, over the course of just the past six years, oil production has reversed its decline and grown dramatically, more than doubling to hit 10.5 mmbpd, a new all-time high. The entirety of that increase is attributable to the industry's ability to "crack the code" and develop modern fracturing techniques. It was and is very much an experimental process and those techniques are still being refined and improved upon each day.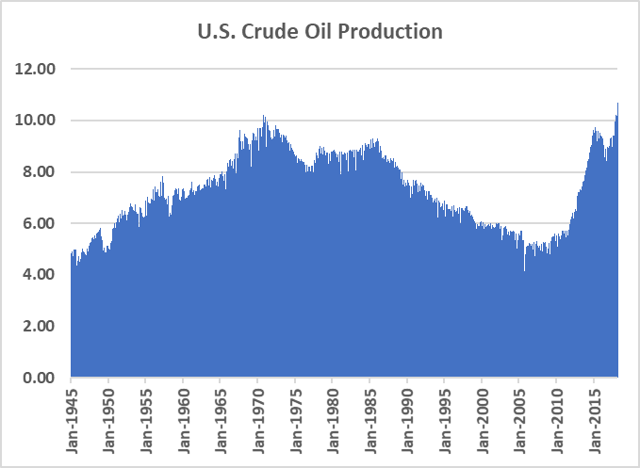 Source: U.S. Energy Information Administration (NYSEMKT:EIA)
At the current price of crude, this is a $125 billion increase in annual oil output. The fracking business is now an important economic driver of national significance. Considering the geopolitical implications as well, this is also a strategically critical business. All that aside, as I said earlier, given the favorable economics, the abundant shale geology that the U.S. has been blessed with, and the increasingly rosy outlook for oil supply and demand, it is essentially inconceivable to imagine any scenario by which shale related drilling and fracking does not increase significantly over each of the next five years.
Let's take a quick look at what fracking is all about.
In the old days, by which I mean a decade or more ago, wells were mostly drilled just vertically. Today, they are almost exclusively drilled horizontally as well—that is, after drilling vertically down to the targeted depth, the drill bit will turn a ninety-degree angle and drill horizontally, typically for up to two miles or more. This exposes a tremendous amount of oil bearing rock to the wellbore.
Fracking. at its essence, is the act of blasting a slurry of sand and water, along with some specialty chemicals, through the lateral wellbore at extremely high pressures. One of the keys to "cracking the code" has been to drill longer laterals, while fracking them at significantly higher pressures using increasingly more sand and water per lateral foot. Today, a leading-edge horizontal well runs about two miles horizontally and consumes in the range of one ton of sand and 2,500 gallons of water per lateral foot. In other words, such a well will use about 10 thousand tons of sand and 25 millions gallons of water. Companies continue to experiment with yet longer laterals, including a recent record breaking lateral in the Marcellus that was almost 3.7 miles long. Lateral lengths are still getting longer and the wells of future years will almost certainly need more sand, more water and more pressure. In return, they will almost certainly produce more oil.
SAND AND HORSEPOWER: ALL YOU NEED IS CAPITAL
This is an article about water, but I'm going to start by discussing sand and pressure pumping. Why? Because investors are a lot more familiar with these businesses, and it is investors' understanding of these businesses that is unfairly tainting their perception of the water business.
The reason for investors' greater familiarity with these businesses is because a number of them have been publicly traded for some time. The pure-play sand companies include, U.S. Silica (SLCA), Emerge Energy Services (EMES), Smart Sand (SND), Hi-Crush Partners (HCLP), and Covia (CVIA, formerly Fairmount Santrol). Some of these stocks were even high flyers at one point. As to pressure pumping, investors have long been familiar with the business through companies such as Halliburton (HAL), Baker Hughes (BHGE), Weatherford (WFT), Schlumberger (SLB), Patterson-UTI Energy (PTEN), Superior Industries (SPN), and RPC, Inc. (RES). As well, a number of pressure pumping companies have recently gone public, including, Liberty Oilfield Services (LBRT), FTS International (FTSI), ProPetro Holding (PUMP), Keane Group (FRAC) and Mammoth Energy (TUSK).
Starting with the sand companies, investors who own their stocks are no doubt focused on two things. First, the companies look cheap, currently trading at an average 4.5x multiple of enterprise value to 2019 forecast EBITDA. Second, the companies are minting money and the demand outlook is stellar. According to a report by IHS Markit, frac sand demand is forecast to double from approximately 150 billion pounds in 2017 to almost 300 billion pounds in 2022, led by a dramatic increase in drilling in the Permian Basin.
So, with frac sand companies minting money at current volumes, and with volume expected to double over the next five years, why are their stocks so cheap? The answer is that sand is a commodity. Currently, it is a commodity in short supply, and the price is sky-high. But the barriers to entry are low, and a wave of supply is beginning to come on-line. For the moment, demand still outstrips supply, and this is keeping prices elevated. But economic theory tells us that the price of a commodity will tend toward the marginal cost of production. For frac sand, that marginal cost is about $20/ton, well below current mine gate prices of $40-50/ton.
Of course, the reality is that nobody really knows what frac sand demand will exactly be in the out years. Almost certainly, it is going very significantly higher. But, even if the 2022 demand forecast turns out to be accurate at 300 billion pounds, if the industry gets ahead of itself and gears up to supply 330 billion pounds, sand prices are going to take a beating. All we really know is what economic theory tells us—in the long term, supply will catch up with demand and prices will tend toward their marginal cost, which is a whole lot lower than the current price. Given the large up-front capital cost, the low marginal cost of production, and the large number of disparate players, it is difficult to imagine why classical economic theory should not play out over time.
Let's take a quick look at the economics of building a sand plant. In June 2017, U.S. Silica announced it would build a new frac sand plant in the Permian Basin capable of shipping 4 million tons per annum. The plant would cost $225 million to build and have a reserve life of over 30 years of production. Construction would begin immediately with initial production expected in the fourth quarter. In other words, if you've got $225 million, you too can be producing 4 million tons per annum of frac sand within six months. The barriers to entry are that low. Frankly, that shouldn't be all that surprising—after all, it's just sand. It sits at the surface and you basically scoop it up, wash it, dry it, filter it and sell it. Many sand companies will claim that they are not really in the sand business but, like WTTR, they are really in the handling and logistical business. But based on where they are earning their money, they are pretty clearly in the business of selling sand.
To further drive this point home, let's take a quick look at Emerge Energy Services (EMES), a fairly typical frac sand producer. In 2014, the industry shipped 109.5 million tons of sand. Emerge shipped 8.6 million tons that year, for an 8% market share, and reported EBITDA of $123 million, or $14.30 per ton. The shares closed the year at $54 after trading as high as $145. Now, fast forward to 2017, when the industry shipped 148.4 million tons of sand, a healthy 35% increase. Emerge reported shipping 12.1 million tons, still about an 8% share, but reported EBITDA of just $30 million, or $2.47 per ton. The shares closed the year at $7.19 after trading as low as $5.65. Even though tons shipped grew by 40% during this period, EBITDA decreased by 75%. That is the nature of a commodity business, and that is why sophisticated investors don't pay fancy multiples for them, particularly on cyclically elevated earnings. It's not just about demand; it's about supply as well; and no one can predict either of them, so it is double jeopardy.
In response to the dramatic upturn in the demand for frac sand, particularly for drilling in the Permian Basin, the industry has so far responded by increasing supply by almost 75 million tons per annum, or 60%. Truth be told, that's a very stale number and the correct number today is almost certainly much higher. Recently, every day seems to bring new announcements of increased capacity. The list of new entrants is mind boggling—there's Vista, Preferred, Badger, Eagle, Premier, Black Mountain, High Roller, Aequor, Alpine, Atlas and West Texas Sand, to name a few. That's of course in addition to the more established companies who are also adding supply at a rapid pace. Furthermore, what started as a Permian Basin phenomenon is now rapidly spreading to other basins. All of these companies are going to try to sell all the sand they can produce and that's not going to stop until sand prices decline significantly. When they do, sand company earnings will decline significantly as well and it will become painfully clear that the sand companies are in the sand business and not the logistics business.
Similarly, in the pressure pumping segment, the surging industry demand has caused the industry to respond by reactivating idle horsepower and purchasing new equipment. As with the sand business, the only real barrier to entry is capital. In this case, $40 million and a six month wait will buy you a shiny new 50,000 hydraulic horsepower frac spread. The newly public pressure pumper companies are now flush with their IPO proceeds, and they've all used some of that money to add new equipment. To be clear, given the surge in fracking, this new equipment is badly needed. Unlike the frac sand industry, there's no particular evidence that the pressure pumping industry is overbuilding capacity—it's just when the only barrier to entry is capital, that's what can easily happen.
(Author's note: I am bullish on the pressure pumping industry. In truth, I think of pressure pumping as a quasi-commodity business rather than a pure commodity business. Labor is also increasingly a barrier to entry. As well, some pressure pumpers are more knowledgeable and efficient than others. It is a business where differentiation is possible. The pressure pumping industry is also a much less extreme version of the sand industry, because marginal costs are significantly higher. A new frac spread costs $40 million and it's a lot easier to be financially disciplined when you are spending that kind of money. But the principle is the same. Returns to shareholders are a function of both demand and supply. Even when substantial growth in the former is inevitable, the latter is uncontrollable.)
WATER: A TOTALLY DIFFERENT ANIMAL
But the water business is different and the proof, as they say, is in the pudding. Other than WTTR itself, no other water companies have either gone public or even filed to do so. Why not? Because they don't really exist. Sure, some regional water companies must have been created over the past five or six years and perhaps one or two of them will eventually amass enough scale to go public, but for the most part, they just don't really seem to exist.
(If you are interested in anything and everything to do with the fracking business, Infill Thinking is a nonpareil must-read resource. If there were a meaningful new entrant in the pre-frac water business, they would have identified it for me. So far, I have not read of any. The closest I've come is a company that plans to supply water to frac sand producers, who need it to wash their sand.)
Why don't such companies exist? The answer is because the barriers to entry are much higher. It's evidently just not that easy to enter the water business in scale.
Previously, I rattled off the names of almost a dozen pressure pumping companies and well more than a dozen frac sand companies. In a commodity business, on some level everybody competes with everybody. Let's take a quick look at what WTTR says about the competition in its 10K:
Many large domestic and international oilfield services companies offer some water‑oriented and environmental services, though these are generally ancillary to their core businesses. As a result, the water solutions industry is highly fragmented and our main competitors are typically smaller or mid‑sized and often private service providers that focus on water solutions and logistical services across a narrow geographic range. We seek to differentiate ourselves from our competitors by delivering the highest‑quality services and equipment possible, coupled with superior execution and operating efficiency in a safe working environment.
It's notable that they don't mention a single company by name as being a serious competitor. Think about it, after six years of a gold rush that saw tremendous amounts of capital poured into everything fracking related, WTTR cannot name a single large-scale competitor.
Think about the business of delivering sand. Before the advent of in-basin sands, most sand was shipped from Wisconsin, by rail, and then transloaded onto a truck for delivery to the well site. The emergence of in-basin sands has essentially eliminated the rail portion of the journey, but the last mile is still delivered via truck on public roads. A two-mile lateral well requiring 20 million pounds of sand will require about 450 truckloads of sand and even that amount is already putting a significant strain on the local ecosystem. Trucks and drivers are in extremely short supply, and many critical roads are beyond congested.
Now think about water. An equivalent well requiring 450 truckloads of sand will need ten times that many truckloads of water. That's an impossible burden on the ecosystem. Therefore, water these days is delivered by lay-flat hose that can be rolled out as needed.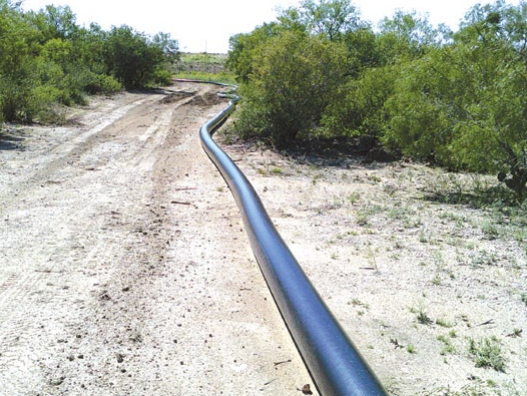 The limits of lay-flat hose are probably 30-40 miles and, of course, the shorter the haul the better. Obviously, a one mile hose run is going to be a lot cheaper than a thirty mile hose run. Thus, water has to be locally sourced, and the more locally the better. Furthermore, the hose does not run politely along the public road system like trucks. Invariably, the hose will have to run across someone else's private property, and that means rights-of-way have to be pre-negotiated. Again, a lot of local knowledge and feet on the ground are required. Assembling a national footprint is just not that easy and that's why WTTR is unique.
AN INTRODUCTION TO THE COMPANY
In addition to the water business, Select also has an oilfield chemicals business which accounts for 17% of revenues. This is a potentially very interesting and complementary business as oilfield chemicals such as friction reducers are also flushed down the wellbore during the fracking process.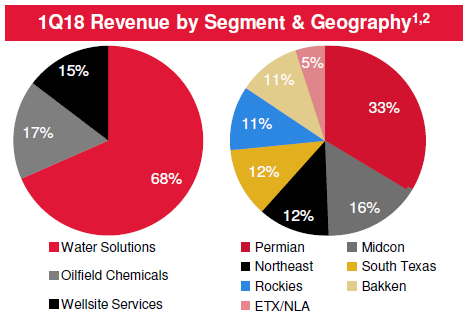 Source: Company presentation
The company also has a well site services business providing lodging and equipment rentals. I suspect this is a profitable but relatively non-strategic business that could be divested with the proceeds being reinvested into the company's more strategic core businesses.
As shown below, while the company has a presence in every aspect of water handling and logistics, 90% of its revenue comes from activities that directly surround the hydraulic fracturing business. About two-thirds of their water revenue comes from pre-frac water sourcing, containment and treatment, and the remainder is split between post-frac water treatment and recycling and production-oriented activities. According to the company, the pre-frac water business is less competitive, which I suspect owes to their large network of proprietary water sourcing and easement rights.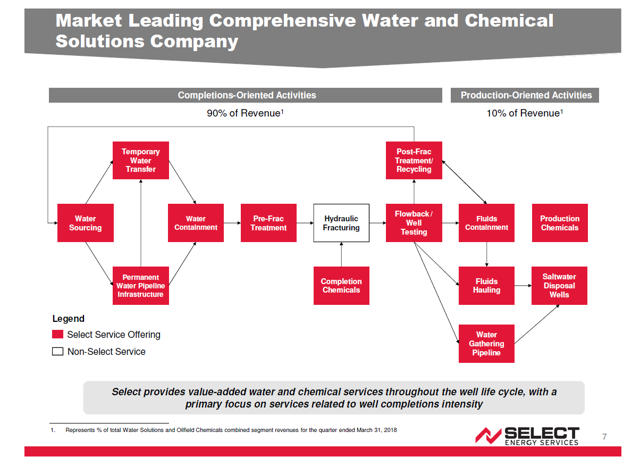 Source: Company presentation
I'm not going to go into much detail about what actually happens to the water. Suffice it to say that a modern horizontal well requires about 25 million gallons of water to be transported from the source to the well site. That's a lot of water. Once at the well site, it is stored in above ground pools and eventually mixed with sand and pumped downhole. Shortly after the fracking is completed, about half that water will flow back to the surface where it needs to be handled. And that's hardly the end of the water story. Once a well is producing, it will continue to produce about four barrels of water for every barrel of oil, and that water also needs to be either recycled or disposed of. All of this flowback and produced water is dirty water, thick with chemicals and clays and must be either recycled or properly disposed of. That's why, over the lifetime of a well, approximately 55% of operating expense are related to water. From WTTR's perspective, every touch point for water is an opportunity for profit.
Water logistics are also becoming significantly more complex as single well fracking evolves to multi-well pad development where multiple wells are drilled and fracked from a single drilling pad. Such a project can use up to 250 million gallons of pre-frac water and such a project is likely beyond the capabilities of many smaller operators.
Now that you (hopefully) understand why WTTR is different, let's look at the numbers.
Shares Outstanding: 106.6 million
Market Capitalization: $1.434 billion
Enterprise Value: $1.502 billion
The company is profitable and has a pristine balance sheet with substantial equity and virtually no debt.
Cash: $6.1 million
Debt $75.0 million
Stockholders' Equity: $1.081 billion
Current cash flows are robust and more than enough to finance the company's capital investment program. In fact, the company paid for the entirety of its first quarter capital investments out of operating cash flow.
Q1:18 Reported EPS: $0.15
Q1:18 Adjusted EBITDA: $59.6 million
Q1:18 Adjusted EBITDA/share: $0.56
On their most recent conference call, management stated that they expect the company to turn significantly free cash flow positive toward the end of the second quarter--right about now--and to be increasingly free cash flow positive throughout the balance of 2018 and beyond. 2019 should be a year of very significant free cash flow.
Beyond 2018, revenue, cash flow and earnings growth are all expected to be substantial. I believe the consensus estimates will prove conservative because they do not account for the many growth opportunities, both organic and inorganic, that the company has.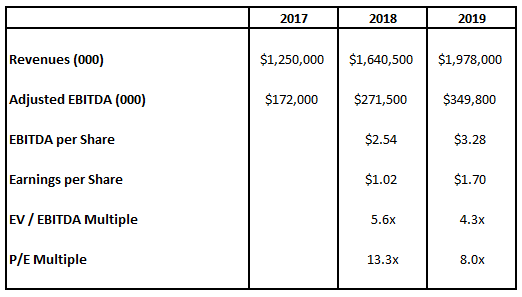 Source: Company filings, YCharts, author's calculations
As I will discuss later, WTTR currently sells at a discount to both its sand and pressure pumping peers. This is wholly unmerited. Water is a vastly superior business model and should sell at a significant premium.
Let's dig a little deeper to figure out why.
First, like sand, demand for water is explosive, growing almost 85% in 2017. With more drilling and longer laterals, Rystad Energy expects water use to grow from 144 billion gallons in 2017 to 317 billion gallons in 2020, more than doubling in just three years.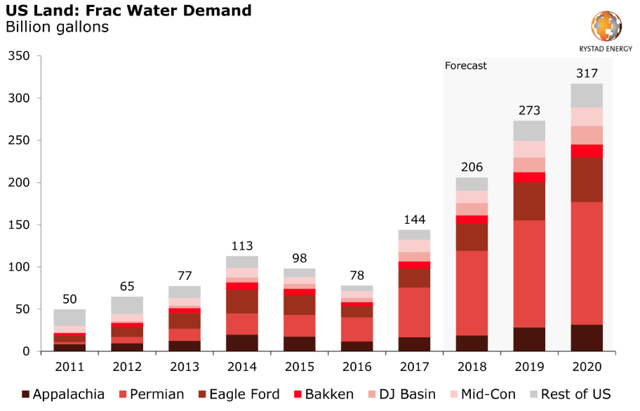 Source: Rystad Energy ShaleIntel
In the scope of national water use, that's a drop in the bucket. Even in Texas, water for fracking amounts to only 1% of the total groundwater use. The problem is that water is a local resource and much of that water demand is coming from West Texas, a hot and dry geography where groundwater availability can be limited.
According to a recent article in The Texas Observer, "a new fracking frenzy is putting a strain on groundwater." For example, in Howard County, fracking-related demand for water has increased from 100 million gallons in 2010 to nearly one billion gallons in 2015. Certainly, that number is considerably higher today. In fact, water there is in such short supply that only 8% of farmland is irrigated. Because of its location over the thinnest portion of the underground aquifer, it an area that is genuinely in jeopardy of running dry. While Howard County may be the exception for now, it is only 150 miles from the northern Delaware Basin, where Exxon and Chevron are launching massive drilling programs that will use billions of gallons of water.
The bottom line is that water rights matter, and soon they may matter a lot. Over the next year or two, the availability of water is going to be a big story—and that will be a major positive for WTTR. As noted earlier, WTTR has secured long-term access rights to approximately 1.5 billion gallons of water annually, mostly at a fixed price. That's a big deal and a huge competitive advantage over companies such as Tetra Technologies (TTI) and Basic Energy (BAS), who can transfer water but not source it. If water becomes scarce and prices rise, it will be an even bigger competitive edge.
According to the company's form 10K,
On the pre-frac side our Water Solutions segment's inventory of water sources is a key competitive advantage that enables us to offer our customers reliable access to the volume of water essential for fracking operations. Water sources are often difficult to locate, acquire and permit, particularly in the quantities needed for multi‑well pad development programs. We have spent years obtaining strategic water sources and have secured permits or long‑term access rights to approximately 1.5 billion barrels of water annually from hundreds of sources, including large scale sources such as the Brazos, Missouri, Navasota, Ohio, Rio Grande, Sabine, San Antonio and Washita Rivers.
Furthermore, the process of securing additional water rights is an ongoing one that requires significant local knowledge. The ability to consistently add water sources where they are needed is a critical competitive advantage.
The 10K continues,
In addition to surface water rights, groundwater resources are a key component of our extensive water portfolio. These sources have been secured or developed within our Water Solutions group and are designed with dedicated containment and transfer logistics to offer a complete water management solution. The first step in procuring a water source is identifying an area of interest based on anticipated drilling and completion activity as a result of lease activity, applications for permits and industry sources. After a specific water source is identified, we perform an assessment of the particular prospective source, including confirming availability, regulatory status, and any limitations on potential water rights. We use our AquaView technology to quantify volumes and flow rates to verify current and potential water availability and volumes. After confirming the relevant ownership information, we begin negotiations with the applicable landowner or holder of the water rights. After finalizing the agreements and access rights, our team will obtain necessary regulatory approvals, permits and rights‑of‑way as needed based on the regulatory authorities involved and individual circumstances. Going forward, we believe that our expertise and relationships in water sourcing will provide us with a competitive advantage in identifying and securing additional sources of water.
At year end, WTTR had about a billion dollars of property, plant and equipment on its books. If it were just a matter of replicating that infrastructure, the company would easily have half a dozen public competitors just like its sand and pressure pumping analogues. But it doesn't, and the only plausible reason is that the business has a wide protective moat around it and requires a lot more than just capital.
Furthermore, because of its running-away leadership position in certain basins, the company has the scale to create its own pipeline infrastructure, giving it an enormous edge over the competition. According to the 10K,
To support our water sourcing and transfer services, we have also made significant investments in strategic permanent pipelines that provide reliable and cost effective water delivery. Our most significant pipeline assets are located in the Bakken and allow us to take advantage of our water permits in that region. Our Bakken pipelines consist of two active underground pipeline systems, the Charlson and the Iverson systems, in McKenzie County, North Dakota that can currently deliver up to 62 million barrels of fresh water per year. We are in the process of developing a third underground pipeline to support Williams County and western Mountrail County in North Dakota that would allow us to fully utilize our annual water rights in this region. We have signed long‑term contracts supported by Areas of Mutual Interest with major Bakken producers that we believe will use a significant portion of our current pipeline capacity. We have also made investments outside of the Bakken, including our pipeline serving the SCOOP area of Oklahoma, the "Pecan Hill Pipeline," and our pipeline serving the Haynesville, the "IP Pipeline."
Finally, as shown in the pie chart just below the current section heading, WTTR has a geographically diversified revenue stream, with balanced exposure to all the major shale basins. This means it is not overly dependent upon any one basin. Margins from basin to basin are relatively consistent and the company has the flexibility to move equipment around as necessary. This is a great advantage as activity shifts from basin to basin, which it can do.
THE PERMIAN BASIN
No discussion of fracking would be complete without a section devoted to the Permian Basin. The Permian is by far the most important oil producing geography in the country. With an estimated 60-70 billion barrels of recoverable oil still in place, it is second only to Saudi Arabia's Ghawar field in size and importance.
As shown below, the Permian consists primarily of two smaller basins, the Midland Basin and the Delaware Basin. Since 2013, the breakeven crude oil price has declined from $98 to $39 in the Midland Basin and $81 to $33 in the Delaware Basin. In other words, despite the billions of barrels of oil in place, as recently as five years ago, the economics were only marginal.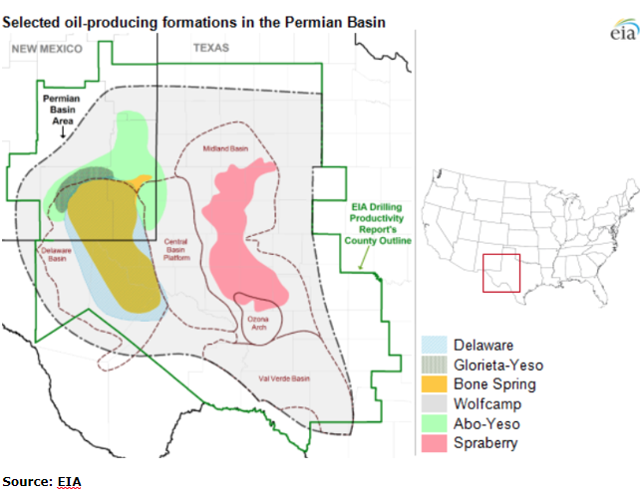 While the Midland was developed first, activity in the Delaware is starting to surge. It is the hottest play on the planet right now because the best geology there consists of large stacked pay levels of oil-bearing rock, one atop the other.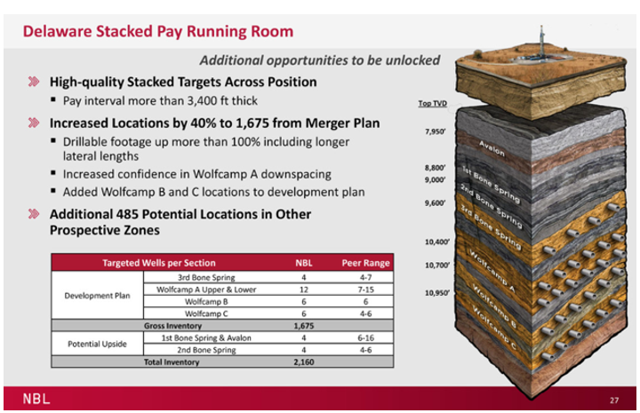 Source: Noble Energy, Inc. company presentation
Both the Delaware Basin and the Midland Basin are incredibly prolific. How prolific? According to a recent Goldman Sachs research report, at full production, just the Delaware Basin alone would be the fourth largest oil producer in the world. The Midland alone would be the eighth largest.
Below is a chart, courtesy of Goldman Sachs, showing where the Delaware Basin, Midland Basin, Eagle Ford Basin and Bakken would rank on a global basis, at full production, if they were separate countries. The Delaware Basin and Midland Basin are not there yet, but they will in over the next number of years, and that's what makes this such an exciting opportunity.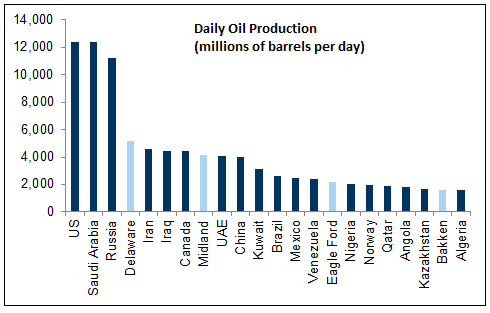 Source: Goldman Sachs research report
Remember, all this bounty is located in just a dozen or so counties in West Texas.
Currently, and for the foreseeable future, the Permian, and particularly the Delaware Basin, will remain the hottest drilling play on the planet. Chevronand Exxon both own huge leasehold interests here and have committed to massive drilling programs with the goal of greatly increasing production over the next several years. Other notable Permian Basin drillers include, Pioneer Natural Resources (PXD), Cimarex Energy (XEC), Apache (APA), ConocoPhillips (COP), Devon Energy (DVN), EOG Resources (EOG), Occidental Petroleum (OXY), Diamondback Energy (FANG), Viper Energy Partners (VNOM), Parsley Energy (PE), Jagged Peak Energy (JAG), and many others. It is going to be a bonanza.
WTTR derives about one-third of its revenues from the Permian Basin and it is going to be a source of spectacular growth. I don't think the potential growth here is in analysts' numbers and, frankly, I wouldn't know how to model the growth either.
WTTR has been busy cementing its leadership position in the Permian. Just prior to coming public, the company purchased Gregory Rockhouse Ranch (NYSE:GRR), a private company focused on providing water and water-related services in the Permian Basin. The GRR acquisition was particularly strategic in that it also added access to what the 10K describes as "a vast array of fresh, brackish and effluent water sources with access to significant volumes of water annually" and "water transport infrastructure including over 1,200 miles of temporary and permanent pipeline infrastructure, and related storage and facilities and pumps," all on the New Mexico side of the Delaware Basin. In 2016-17, Exxon spent $6.6 billion to add to its position (in red, below), mostly on the New Mexico side of the Delaware Basin.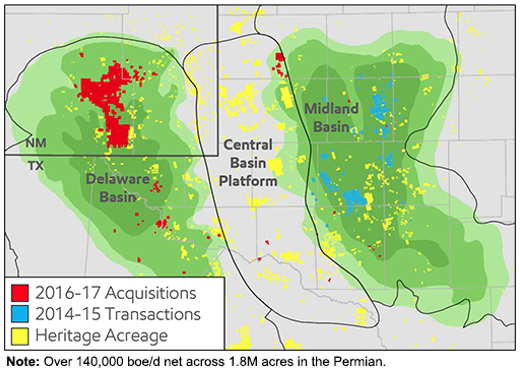 Source: ExxonMobil Corp
Chevron, which has been sitting on a massive acreage position in the area, is also now beginning to drill aggressively.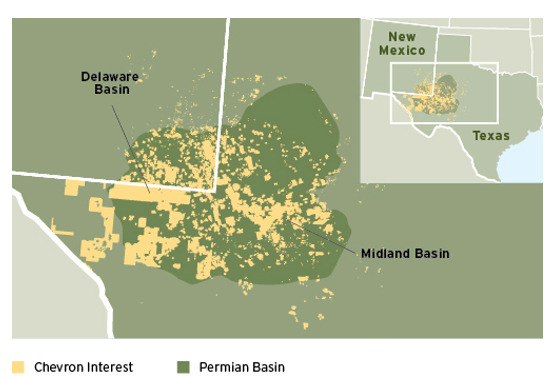 Source: Chevron Corp.
In its 10K, the company states, "We believe this acquisition has significantly enhanced our position in the Permian Basin." That is almost certainly a vast understatement.
The company has also recently made a number of smaller acquisitions, including Tex-Star Water Services and Resource Water Transfer, both of which added strategic customer relationships in the Permian.
This is a fragmented industry with many smaller operators. WTTR is now the 800-pound gorilla and no one else is even close. They have a sizable lead over the rest of the industry, and they have the financial resources to keep expanding upon that lead. Currently, the company is working to install a permanent pipeline infrastructure in the Permian—something most smaller players could not even dream of—and that will further widen the gulf between it and the competition.
FINANCIAL ANALYSIS
By virtue of its acquisition of Rockwater, WTTR effectively doubled in size overnight. The chart below shows revenue and EBITDA as if WTTR and Rockwater had always been a combined entity.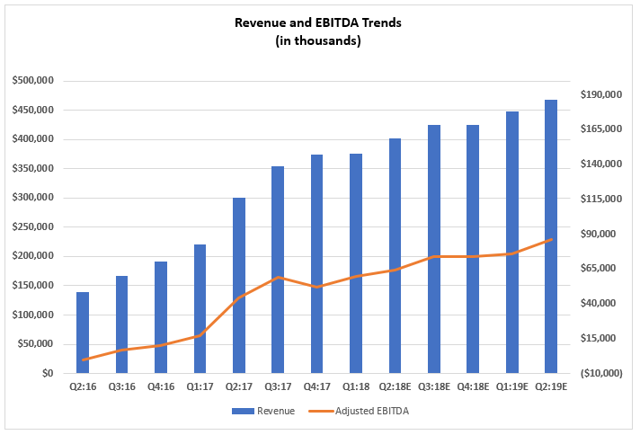 Source: Company presentation, consensus estimates
As can be seen, over the past year, the pro forma combined entity increased revenues from $221 million to $376 million, far outpacing the industry. Adjusted EBITDA increased from $17 million to $60 million. As for the going forward projections, they are just that. I expect that company will significantly exceed these estimates, although I am not entirely sure how it will all be done. According to the company, they are in the process of raising prices for their oilfield chemicals, which will result in margin improvement in Q2. They also recently invested so as to be able to manufacture friction reducer in their Midland plant. By bringing production in-basin, the associated transport and delivery costs will be minimized, and this will give the company a significant cost advantage. I'm not sure what this will yield, but the company seems excited about it.
The company is currently implementing across the board price increases in its water business as well. According to the company, the current increases are more about staying abreast of wage and cost inflation, but they anticipate continued price increases throughout the second half that will have the effect of improving margins. I expect continued accretive acquisition activity, even if they are only strategic tuck-in acquisitions. Without a doubt, the company is now the go-to player for anyone interested in selling their company.
The company is also focused on improving margins generally, which it believes have significant room to improve. As management explained on its recent conference call, while business is good all-around, the space isn't "humming and moving like a well-oiled machine." Both equipment and labor are very tight and supply chains are congested. That has created numerous inefficiencies that can and will be improved upon. There is a lot of room for margin improvement here and management is actively working to make it happen.
But most of all, I just expect the company to continue to methodically dominate by virtue of its scale and scope. When you are installing in-ground pipelines and the rest of the industry is playing with lay-flat hose, you've got a huge advantage. When companies like Chevron and Exxon are engaging in multi-pad drilling requiring 250 million gallons of water, I'm not sure who else is going to be able to satisfy them.
FREE CASH FLOW ANALYSIS
Another reason why WTTR merits a superior multiple is that, unlike the pressure pumping business, it does not require significant ongoing maintenance capital investment. Thus, for a given level of cash flow, WTTR can generate significantly more free cash flow—and that is the cash flow that can be used for growing the business or returned to stockholders in the form of dividends or share repurchases.
On its fourth-quarter conference call, management guided to approximately $155 million of capital expenses for 2018. Of that amount, they explained, about half is for maintenance and half is for new growth initiatives. Further, of the amount for maintenance expenses, some part of that is "catch-up" maintenance for expenses that were deferred during the downturn.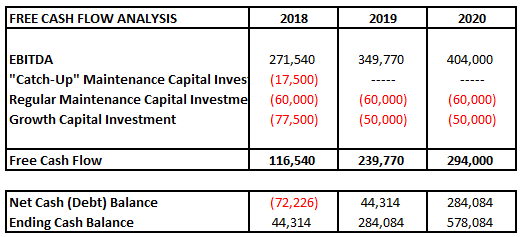 Source: Company financial statements, conference calls, author's estimates
Assuming that growth investment moderates at the cycle matures, I believe the company is on track to generate almost $650 million in free cash flow over the next three years.
Of course, to the extent that the company can find compelling growth investment opportunities, then that would be a good thing, leading ultimately to higher returns. For example, management would like to be able to invest an incremental $50-60 million to create an in-ground pipeline infrastructure in the Permian Basin much like it already has in the Bakken and other basins. This would allow the more economical transport of much larger quantities of water. Ownership of such a permanent pipeline infrastructure would give the company a significant competitive advantage over its smaller peers, who cannot afford such an investment. I'm expecting such an announcement sooner rather than later.
Q1:18 EARNINGS AND GUIDANCE
WTTR recently reported first quarter 2018 revenues of $376.4 million and adjusted EBITDA of $59.6 million. Net income was $10.1 million and earnings per share were $0.15. This was the first full quarter for the combined company and so the results are not directly comparable to the fourth quarter. Adjusting for the impact of the acquisition, management comments on the fourth quarter call suggested EBITDA in the low $50 million range, so this result was substantially better than guidance.
2018 FORECAST
I expect Q2 to be an excellent quarter, driven by better activity, improving margins and merger-related cost savings.
On its Q1 conference call, management noted that they track their business internally using the frac spread count. The Primary Vision national frac spread is a relatively recent data set available to investors and the industry. It is similar to the well-known Baker Hughes rig count, but the focus is on completions activity rather than drilling activity. As such, it is more directly relevant for fracking industry.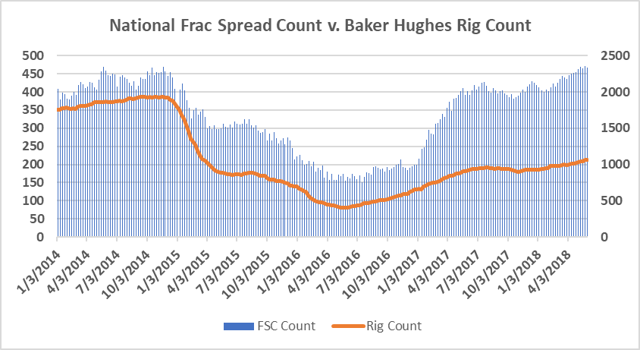 Source: Primary Vision, Inc.
As can be seen, both above and more clearly in the expanded chart below, the frac spread count has accelerated significantly in Q2. Maintained at its current level, the average frac spread count for Q2 would be 462, an increase of 10% over the Q1 level.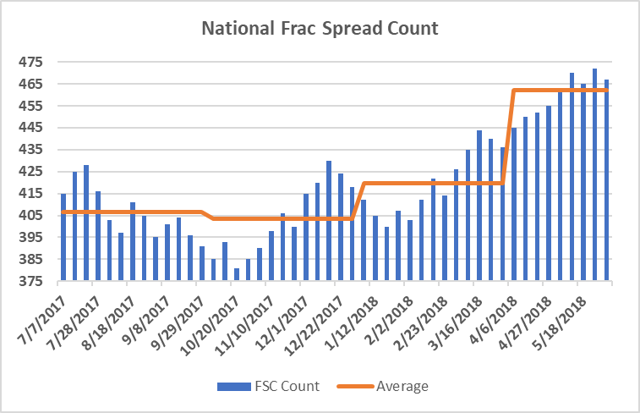 Source: Primary Vision, Inc.
Assuming the company's business roughly matches the 10% increase in the frac spread count, I estimate that Q2 revenues could be approximately $414 million which would somewhat better than the consensus estimate of $402 million. Assuming 35% incremental margins, EBITDA could be approximately $72-73 million, which would be significantly better than the consensus estimate of $63 million.
While I am not going to make a forecast for the second half, I expect both continued growth and significant margin improvement.
VALUATION AND TARGET PRICE
As can be seen below, the various energy subsectors can have significantly different multiples.
The large multinational oil service companies such as Schlumberger and Halliburton carry the largest multiples because their size, scope and technology endows them with a significant overall franchise value.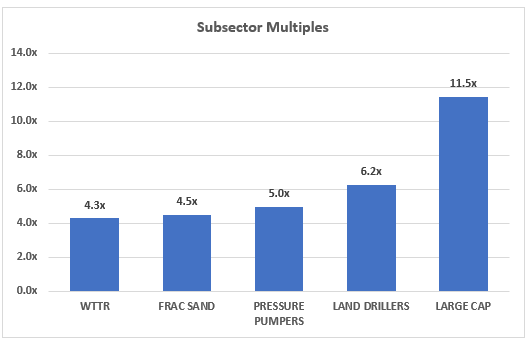 Source: Consensus estimates, author's calculations
Astonishingly, WTTR sells even below the average multiple of the frac sand producers, who carry the most commodity exposure of all the subsectors. Sand and water are both consumables, and clearly the market puts them in the same basket. I expect this will change as more investors come to understand the story.
I like the chart below, which compares various oilfield subsectors along four important metrics. The first is "High Completion Exposure," by which they mean high exposure to fracking. This is important because fracking has the best fundamentals of any subsector of the energy services industry and that is unlikely to change in the next year or two. Demand for all things fracking related is through the roof.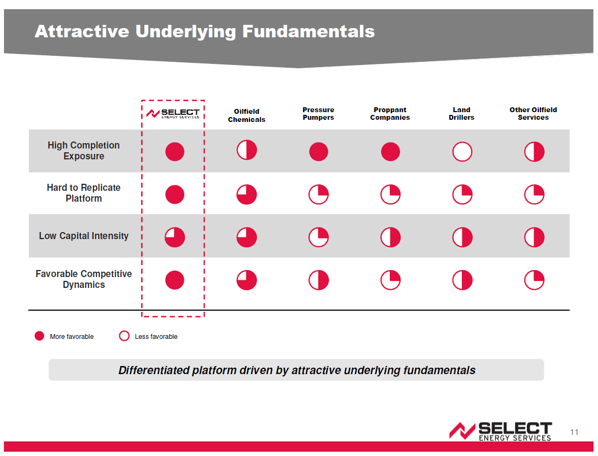 Source: Company presentation
The remaining three metrics—"Hard to Replicate Platform", "Low Capital Intensity", and "Favorable Competitive Dynamics"—are all highly qualitative metrics that speak to the type of multiple a company should trade at. Companies with hard to replicate business models tend to face far less competition; and companies with low capital intensity have many more options to either grow their business or return capital to shareholders. All of this merits a significantly higher multiple.
WTTR is a winner on all four metrics and the shares deserve a valuation multiple at the very top end of the range, or perhaps even higher. In fact, I believe that WTTR probably has a much better long-term business model—meaning faster growth, less cyclical, and with better margins and--than even Schlumberger or Halliburton and should trade at a superior multiple.
All things considered, I believe that in the current market environment, WTTR should have a trading multiple of at least 8-10x projected 2019 EBITDA, resulting in an initial price target of $26-33 per share. I expect that the company will ultimately do significantly better than estimates and, as the company proves out its business model, it may prove it deserves an even higher multiple.
INSIDER BUYING
On March 13-14, CEO Holli Ladhani purchased 29,388 shares on the open market at an average cost of $13.87. Around the same time, director Alan Burnett also purchased 2,500 shares at $14.14.
It's always a good sign when multiple insiders buy on the open market.
AN IMPORTANT RECOMMENDATION FOR MANAGEMENT
Let me start with a story, probably apocryphal, but it doesn't matter. As it goes, in the 1950's or so, a man approached a large toothpaste company with a stunningly simple idea that would cost almost nothing to implement yet allow them to increase sales by 40%. The idea? Make the hole larger. You see, by increasing the diameter of the hole from 5mm to 6mm, an average person would use 40% more toothpaste. The point is, sometimes the best ideas are surprisingly simple and lying in plain sight.
So, I'm going to present a similar idea. If implemented in full, it will increase earnings and cash flow per share by as much as 13% and I expect the shares would respond significantly and immediately.
Here's the idea.

WTTR is in the business of providing fracking-related products and services to domestic E&P companies. In that sense, they are no different from the sand or pressure pumping companies. Below, I have surveyed three each of the larger pure-play sand and pressure pumping companies for comparison. Like WTTR, each does business almost exclusively with the same universe of domestic E&P companies. As can be seen, the range for days receivables outstanding ranges from 43 to 59, which is exactly what I would have expected.

Source: Company financials, author's calculations
WTTR, however, is the glaring exception, with 97 days of receivables. Given its historical track record, the quality of its customer base, and the current robustness of the industry, I have no doubt that these receivables are all money good. (In 2017, WTTR wrote off just $707k—a truly negligible amount—of its trade receivables.) There's just no reason this number should be so large.
What's wrong with having so many accounts receivable? The answer is that it unnecessarily uses up a lot of capital. By reducing its accounts receivable from 97 days to the 54-day median of the six companies above, the company would generate $180 million in cash! That's more than the free cash flow the company is expected to generate in 2018 and, at current prices, that would be enough to buy back more than 13% of the company. As things are today, the company is just giving its customers a free ride on its cash balances.
Are there any structural reasons why management cannot reduce receivables from 97 to 54 days? Certainly, none that I can even imagine. This is the exact same customer base that the pressure pumpers and the frac sand providers sell to and if they can all do it, so can WTTR. I don't even think it would be that difficult. In fact, it's probably even the same person signing the check. Just like making the toothpaste hole larger, it is one of those simple ideas lying in plain sight that can have a profound effect on the value of the business.
Therefore, my very strong suggestion to management would be to commit to reducing, over the balance of the year, the company's days accounts receivable to the industry average of 54 days. Don't take the easy way out by stopping at 80 days or 70 days and making excuses why it cannot be reduced further. Work to get the receivables down to at least the industry average of 54 days. From the current base of accounts receivable, this will generate approximately $180 million in cash. Assuming that quarterly revenues grow to $450 million by Q4, the better accounts receivable discipline will generate an additional $35 million in cash flow from operations in 2018.
Because the company is already generating meaningful free cash flow after capital expenses, it has no pressing need for this money. Therefore, given the value inherent in the shares and the company's negligible debt position, management should commit to using these funds to repurchase shares, starting more or less immediately and proceeding at least commensurate with the cash generated by the reduction in accounts receivable. In fact, given the ease and surety which I expect the company to reduce its accounts receivable, as well as the attractive current price of the stock, any repurchase of shares should be immediate and front-end loaded.
CONCLUSION
WTTR is a unique company that has everything needed to become a great investment, including,
A low valuation. The shares trade at just 4.3x projected 2019 cash flows, cheaper than its pressure pumping and frac sand peers. Given the trends in the business, the opportunity for margin improvement, and the investment opportunities the company will no doubt have, I expect actual 2019 cash flows to be meaningfully greater than projections.
An attractive entry point. The shares have declined from $22 to $13 and, despite the tremendous growth in the company's revenues and EBITDA, the transformative acquisition of Rockwater, the vastly improved oil market fundamentals, and the rapidly quickening pace of completion activity nationwide, the shares currently languish below the company's IPO price from over a year ago.
Insider buying. CEO Holli Ladhani and director Alan Burnett recently purchased a combined 31,888 shares at slightly above current prices.
A strong balance sheet. The company has just $68 million in net debt against almost $1.1 billion in equity. According to management, the company will begin generating significant free cash flow right about now. The company will have a lot of options for its free cash flow and hopefully repurchasing stock will be one they will consider.
An important and increasingly complex niche. Water supply and management are a mission critical element of today's fracking process. Oil production doesn't happen without fracking and fracking doesn't happen without billions of gallons of water. WTTR is the biggest and most important player by a wide margin.
A protected competitive environment. There are competitors, but none of them have anywhere the scale and scope of proprietary water and easement rights that the company has. As I said earlier, the proof is in the pudding. Despite the capital that has been invested in all things fracking related, there is still no competition notable enough to single out by name in the 10K.
Strong growth opportunities. Because of its size, the company can take on projects that no one else in the industry can. When it comes, the establishment of an in-ground pipeline system in the Permian Basin will cement their leadership position there.
Numerous catalysts for share outperformance. Second quarter earnings should be excellent. Second half earnings will be even better. Free cash flow is ramping and will continue to ramp sharply.
In sum, WTTR is an excellent way to participate in the continuing surge in U.S. crude oil production with the least amount of commodity exposure. At current prices, I expect it will be a substantially better investment, over pretty much any time period, than any of the pressure pumpers or frac sand producers.
For investors who own E&P companies and actually want the commodity exposure, WTTR will be a great investment as well.
ADDENDUM: PERMIAN DIFFERENTIALS
Over the last two weeks or so, WTTR has sold off from the $17.50 level to the $13.50 level. The proximate reason would seem to be concerns over the potential for a slowdown in Permian oil production.
Here's the issue. The Permian is an absolute hotbed of activity right now. What has happened is that Permian production growth has now exceeded the region's pipeline takeaway capacity. As shown below, while additional pipeline capacity is coming on imminently, the rapid growth in Permian production will still likely result in about 200,000 bpd of deficit in pipeline takeaway capacity for the next year or so.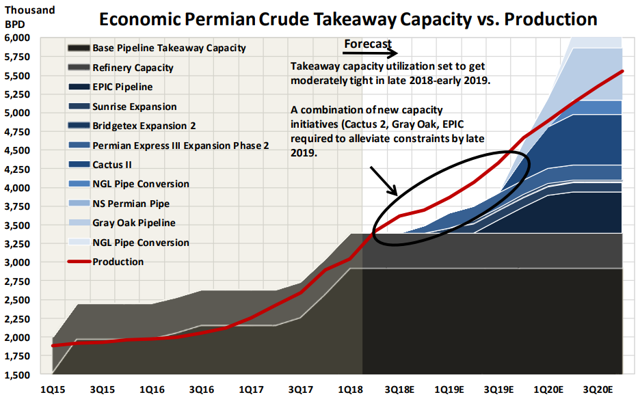 Source: Raymond James research report
E&P producers who haven't reserved pipeline capacity in advance, are going to have to transport their oil to the coast by rail. If they can't do it by rail, then they will have to do it by truck. That's a lot more expensive and both rail and especially trucking capacities are limited. Either way, unless the E&P producer has hedged the basis differential (and apparently many of them have), it will have to eat the cost.
For sure, this is a temporary problem as significant new pipeline capacity is slated to come on in mid/late-2019. But what about the next 12 to 15 months? The question on investors' minds, and the reason for the selloff in WTTR and other stocks with Permian exposure is the concern that this issue will force a slowdown in Permian drilling and fracking activity.
The conclusion, according to Raymond James, which has a terrific energy research team, is, "probably not in any meaningful way." It may, at the margins, slow the growth in Permian activity, but any such slowdown will be mild and transitory.
In the worst case scenario, you will have excess production in the Permian of about 200,000 barrels per day for about 12-15 months. That's about 5-6% of current Permian production of 3.5 million bpd. Let's assume that about half that amount can make it to the coast by rail or truck. That means the real shortfall in takeaway capacity--the kind that may begin to slow activity--is only about 2-3%.
As a result, Raymond James has modestly tempered their Permian production forecast. As can be seen, the differences from their earlier forecast are hard to discern.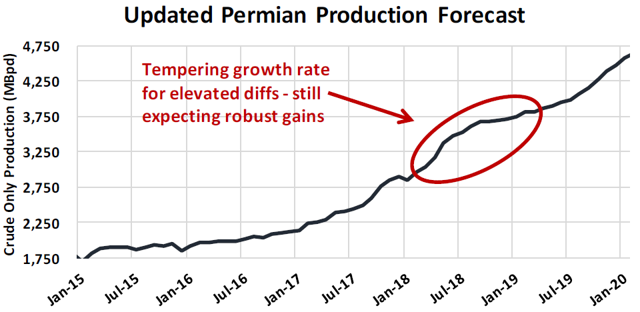 Source: Raymond James research report
This issue was widely discussed on first quarter E&P conference calls and no company reported they were considering such a shut down. On their recent conference call, WTTR management also indicated that they had discussed this issue with their customers and none indicated any change in drilling plans. This should not be a surprise, because the major companies that WTTR deals with have undoubtedly all reserved sufficient takeaway capacity for the hundreds of thousands of barrels per day they intend to produce each day. It is the smaller private equity backed E&P's, with less sophisticated operations, that will most likely be impacted. Nonetheless, this modest reduction in their forecast is probably a prudent move.
So what does it mean for WTTR? The answer is basically nothing. The Permian is on fire and oil production will continue to grow rapidly. As I said earlier, it's the hottest drilling basin on the planet right now and it will stay that way for near future. Don't be fooled--you WANT a company Permian exposure.
In the worst case, you might have a 2-3% reduction from what volumes might have been had there been no takeaway constraints. That might lead to a corresponding or slightly greater moderation in activity. Since the Permian accounts for about one-third of WTTR's revenues, the nominal impact to the company might be on the order of a 1-3% reduction in revenues, which is nothing in the context of its strong growth. Furthermore, since WTTR operates nationally, they may very well be able to move their equipment and pick up offsetting business in other basins. Currently, they are still moving equipment into the Permian, so maybe that pace just moderates a bit.
Disclosure: I am/we are long WTTR, LBRT.