THIS ARTICLE IS NO LONGER READILY AVAILABLE AT SEEKING ALPHA SO I AM REPUBLISHING AS A BLOG POST.
This is a brief but important follow-up to my initial article on Select Energy Services (WTTR). It also has significant relevance to all Permian-related companies, whether in the E&P, pressure pumping or sand business.
The article is a bit dense with calculations, but they are important and I urge readers to take the time to understand what I am saying.
INTRODUCTION
After a great trading day Thursday (up 6.7% on very heavy volume), shares of WTTR declined on Friday (down 4.7% on lighter volume). Friday's decline was in concert with a continued further decline in the pressure pumping stocks, particularly. I believe this was related to a broker downgrade amid increasing concerns that insufficient Permian takeaway capacity could lead to a slowdown in drilling and fracking activity in that most important basin.
While I addressed this issue in my original article, Friday's market action makes it clear that this matter needs further clarification and quantification.
Perhaps even more importantly, I also explain why the base level of Permian drilling will almost inevitably have to grow significantly. Any future cyclical declines in drilling and fracking activity will almost certainly be shallow and swift, which is in sharp contrast to the longer cycle offshore projects.
PROPETRO: EYE OF THE STORM
Let's take a look at the chart of ProPetro Holding (PUMP). PUMP is a $1.7 billion enterprise value pressure pumper with 100% exposure to the Permian Basin. It is therefore the poster child for Permian-related takeaway capacity fears.
As can be seen below, the stock has recently declined from a high of almost $21 to a most recent close of $14.25. Astonishingly, the stock is essentially back to its IPO levels of March 2017, when oil was under $50 and the Permian rig count was 308. Today, oil is $66, the Permian rig count is 480, and business is booming.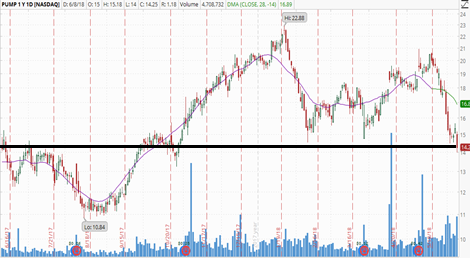 This is ridiculous and let me now explain why.
PERMIAN ACTIVITY
Let's think about this. The Permian Basin is the hottest drilling play on the planet and, as a result, oil production has now surpassed the region's pipeline takeaway capacity. While significant new pipeline capacity is coming, this is now causing investors to dump the stocks over what is, in the very, very worst case, a temporary reduction in the rate of rig additions.
In 2014-17, the oilfield services stocks declined significantly because oilfield activity declined significantly amidst low oil prices and excess inventory. That makes sense. But for the stocks to decline significantly because activity is too strong makes no particular sense, particularly when inventories are balanced and longer-term oil fundamentals are excellent. This is what they would call a first world problem.
First, let's take a look at the recent history of drilling in the Permian.
As can be seen above, the Permian is on fire. Since bottoming in April 2016, the Permian rig count has well more than tripled, increasing from 132 to 480. Almost all of those rigs are drilling for oil. The Permian now accounts for about 45% of all drilling activity making it, by far, the most important shale oil basin in the country.
The matter of Permian takeaway capacity has been topical since March, with basis differentials beginning to widen and then blowing out in April and May. Yet, during this time actual Permian activity has increased significantly as can be seen in the expanded chart below.
Since the beginning of the year, the Permian rig count has increased 20%. Even since March, when the basis differentials started widening, the Permian rig count is still up 10%. What gives?
SHALE DRILLING – ACCELERATED DECLINE RATES
Now, let's talk about why, for the foreseeable future, the level of Permian oilfield activity must not only increase, but must also stay elevated. A decline of the sort seen in 2015-16 will likely be never seen again. I cannot overestimate the importance of understanding this math.
An oil well declines over time - it's a simple matter of geology and physics. Bigger wells tend to decline much more slowly than smaller wells. Imagine putting a hole in a big blimp. It will take a long time for all the air to escape. As the internal pressure declines, so will the rate of flow; but it will be gradual. Now imagine releasing the air from a tire.
The air will rush out, and the rate of flow will decline very quickly. In almost no time at all, the tire will be essentially empty and the flow will be a fraction of where it started. The concept is similar in oil wells: big ones deplete slowly and gradually, while small ones yield their oil in a rapid burst.
On a global basis, most estimates of the aggregate decline rate are about 6-7% per annum. That is, the average conventional well will naturally decline at about that rate. That means that after five years, the well will be producing at a rate about one-quarter less than it did initially.
But shale wells are not like conventional wells and have an incredibly accelerated rate of decline. A typical shale oil well peaks around its first month, and then declines very rapidly thereafter. First year decline rates are typically on the order of 50-60%, meaning that at the end of its first year, production has already declined by that amount. Second year decline rates are on the order of 30% so, after just two years, oil production has declined by almost 90%.
What does this mean? Essentially, it means that in order to produce a continuously growing stream of oil, you need to continuously increase your rate of drilling. Any decrease in the rate of drilling will result in a quick and steep decline in production.
Let's take a look at the U.S. Energy Information Agency's (NYSEMKT:EIA) most recent Drilling Productivity Report for May 2018.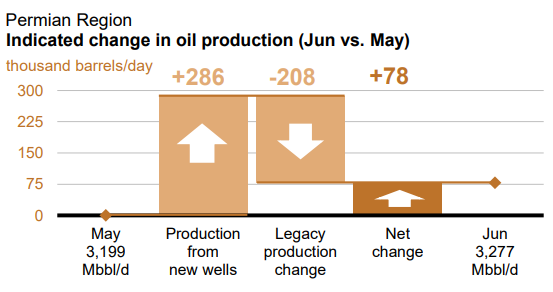 Source: Energy Information Administration (EIA)
For the Permian Basin, May oil production was 3.199 mmbpd. According to the EIA, production from new wells added about 286 kbpd of production during the month, while production from existing wells declined by about 208 kbpd during the month, leading to an estimated net increase of 78 kbpd.
So, think about it. At the beginning of May, existing wells were pumping at a rate of 3,199 kbpd and by the end of the month, those wells were producing only 2,991 kbpd, a decline of 208 kbpd just during the month. In just one month, existing production declined 6.5%.
RUNNING ON THE TREADMILL
Thus, the production of shale oil has significant elements of running on a treadmill. That is, you have to keep running at a certain pace just to stay even. Stop running, or even slow down for a moment, and you can start to move backwards.
In other words, even if you only want to maintain flat production, you have to do a lot of drilling just to offset the accelerated decline rate that shale wells display. If you want to actually grow production, you will have to do even more drilling. Finally, (bonus points if you are astute enough to see where I am going), the greater the production rate, the greater the number of rigs required to maintain flat production.
Let's take a look at the math.
Currently, monthly production in the Permian is 3,199 kbpd and the monthly decline rate is 208 kbpd. Each rig currently contributes about 635 bpd of new production. That means, of the 450 rigs working in the Permian now, 328 of them, or 73%, are working just to keep production from declining. If you stop drilling for a month, your production will decline 6.5%. If you stop drilling for three months, your production will decline more than 20%. E&P companies never like to see even short term declines in their production.
Now let's fast forward two years to May 2020 when daily Permian oil production is expected to be around 5,200 kbpd. Assuming the decline rate stays proportionally about the same, the monthly decline will be about 338 kbpd. Assuming the productivity per rig also stays roughly the same, the number of rigs needed simply to maintain production will be 532 rigs - significantly greater than the current number of rigs need today to maintain and grow production. In other words, in just two years, the base level of activity, defined as the number of rigs needed to keep production flat, will increase by 62%. That's incredibly important.
For those of you interested in the detail, I've modeled out what production would look like in two years with a flat rig count. Every model needs its simplifying assumptions and mine are that the productivity per rig stays flat at 635 bpd and the legacy decline rate stays flat at 6.5% per month. I believe that both are reasonable approximations of reality.
As can be seen, keeping the rig count flat at May's level of 450 would yield growth in production to 4,172 kbpd by May 2020. By that point, however, net monthly production growth would slow from 78 kbpd to just 15 kbpd because more and more of the rigs will be working just to maintain production.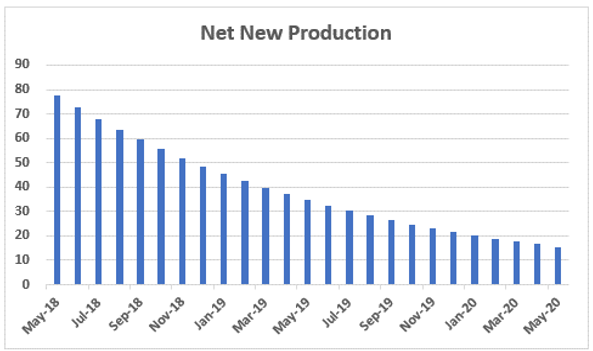 Source: Author's calculations
In fact, by May 2020, 426 of the rigs, or 95%, will be dedicated just to keeping production flat.
(In this function, net new production will decline asymptotically toward zero, with all 450 rigs eventually being used simply to keep production flat.)
Now, let's go back to this chart from Raymond James, showing forecast Permian oil production versus pipeline takeaway capacity.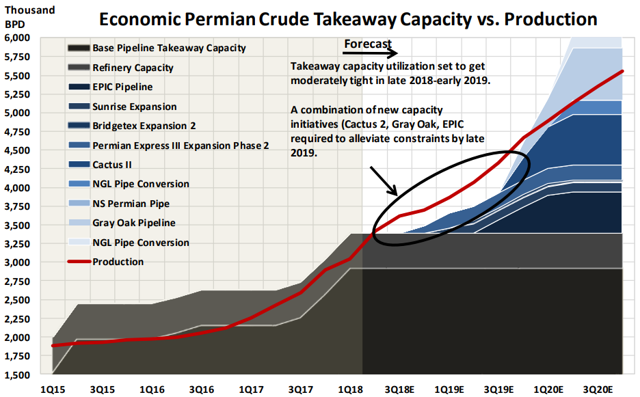 Source: Raymond James research report
As can be seen from the red line above, current production is about 3,199 kbpd and is forecast to growth to about 4,500 kbpd by September 2019 and 5,200 kbpd by June 2020.
As can also be seen above, there is currently about 3,350 kbpd of pipeline takeaway capacity. This pipeline capacity continues to grow modestly from the expansion of the Permian Express III pipeline until the third quarter of 2019, at which point it jumps dramatically as significant new capacity comes online.
So, let's examine two scenarios, both using a June 2020 endpoint. In the first scenario, production is unconstrained by any takeaway capacity. Here, as shown in the red line above, production is expected to grow more or less linearly from 3,199 kbpd currently to about 4,500 kbpd by September 2019, and then on to about 5,200 kbpd by June 2020.
As shown below, I calculate that this will require the steady addition of about 9 rigs per month to achieve this type of net production growth. By May 2020, the Permian rig count would be 657 and about 524 of them would be required just to maintain production flat at that level.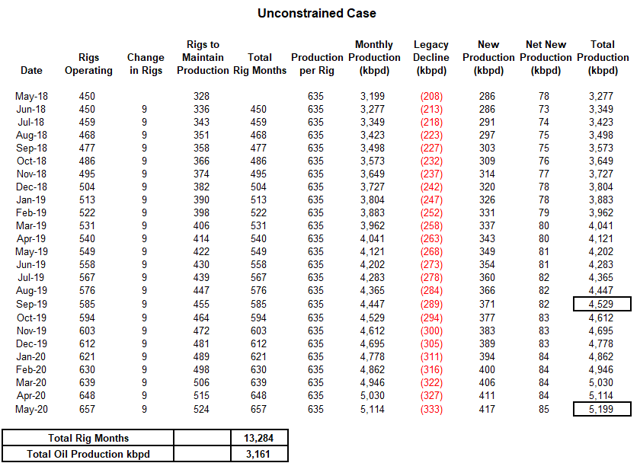 Source: Author's calculations
During this period, the industry will use about 13,284 rig-months and produce about 3,161 million barrels of oil. (Total oil production for the period is derived by multiplying daily total production by 30 and summing for each month in the period. Daily total production is the right-most column in the chart above.)
Now let's consider the more likely case where production is constrained by pipeline capacity, but where there is also some limited rail and trucking capacity.
According to Goldman Sachs, there is approximately 125-150 kbpd takeaway capacity by rail, which will cost about $7-9 per barrel in incremental transportation cost. There is also some amount of trucking capacity which will cost $10-15 in incremental transportation. According to Goldman, each truck can carry 180 barrels and it takes 1.5 to 2.0 days per round trip. Therefore, on a dedicated basis, one truck can transport about 100 barrels a day and therefore, 1,000 trucks can transport about 100,000 barrels a day.
For the purposes of my model, I assume 137.5 kbpd (the mid-point of Goldman's range) of oil will be transported by rail, which is still quite economical at current oil prices. I also arbitrarily assume that 100 kbpd can be transported by truck, which is also economical at current prices. I suspect that actual trucking capacity could be significantly greater. (Despite a nationwide shortage of truck drivers, high value cargoes such as an oil tanker truck would likely be able to find drivers. With 3.5 million truck drivers in the U.S., finding an incremental couple of thousand should not be an impossible task.)
I further assume that it will take six months for capacity to ramp up to these levels. Adding that to the pipeline capacity (which I have estimated from the Raymond James chart), I calculate total Permian takeaway capacity as follows: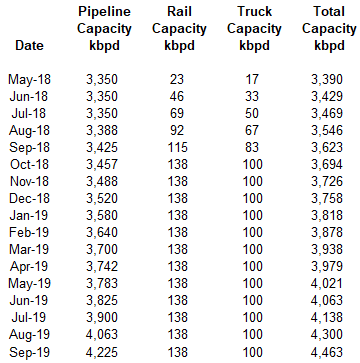 Source: Raymond James, Goldman Sachs, author's calculations
(After September 2019, pipeline capacity will be in surplus and therefore will not be a constraining factor to production.)
Let's now try and adjust the rig count so that total production will still fall under the takeaway capacity.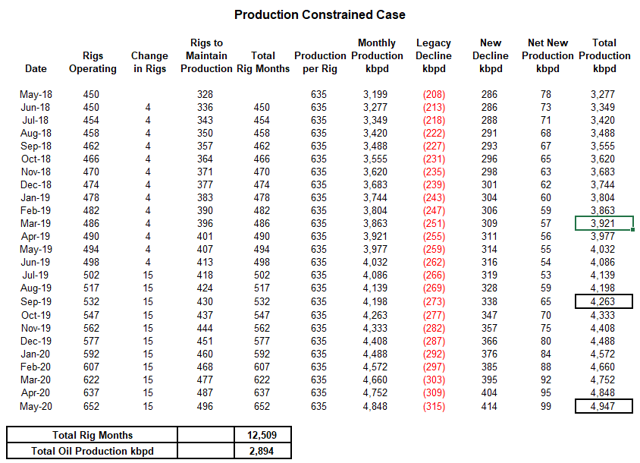 Source: Author's calculations
There are many ways to adjust the rig count trajectory to accomplish this, and I have chosen one which divides the rate of rig count growth into a constrained and an unconstrained period. As can be seen above, during the constrained period, the rig count needs to grow at the rate of about 4 rigs per month. This would allow production to grow but remain under the total takeaway capacity.
Beginning July 2019, the rig count would then need to grow by 15 rigs per month so that June 2020 can come close to the targeted level of about 5,200 kbpd while still remaining consistent with longer-term growth trends after that. Under this scenario, the industry would require 12,509 rig-months during this period, and total oil production would be 2,894 million barrels.
So, let's summarize.
As of May 2018, the Permian was producing 3,199 kbpd. The decline in production from existing wells was 208 kbpd, or 6.5% of total beginning production. The industry was employing 450 rigs with each rig adding 635 bpd of new production for a total of 286 kbpd in new production, resulting in net production growth of 78 kbpd.
In the unconstrained case, production rises more or less steadily to about 5,200 kbpd in June 2020. To achieve this type of growth, the industry needs to add about 9 rigs per month. By June 2020, monthly production will be about 5,199 kbpd, the industry will be employing 657 rigs, of which 524 will be need simply to offset the decline from legacy wells.
In the constrained case, production rises to 4,947 kbpd in June 2020, and is constrained through September 2019 by the amount of takeaway capacity. In this scenario, the industry needs to add 4 rigs per month through June 2019. Beginning in July 2019, it will need to add rigs at the rate of 15 months to catch up to its trendline growth rate.
The difference between the constrained case and unconstrained case is about 775 rig-months, or a decrease of about 5.8% for this two-year period. The decrease for the first half of that period is slightly greater at 6.4%. The difference in total oil production is about 242 million barrels, or about 8.4%.
NEVER AGAIN?
Never say never, but I think there is a good case to make that the kind of sharp and sudden decline in Permian activity in 2015-16 may never occur again. The reason for this is because, as production rises, so must the number of rigs and associated fracking crews simply to maintain production flat.
As can be seen below, oil production in the Permian has more than tripled over the past six years. Assuming stable rig productivity and decline rates, that means the number of rigs required to maintain production has also increased by roughly that amount.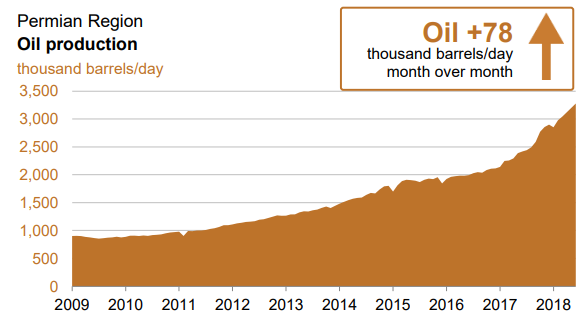 Source: EIA
Over the next two years, production is expected to increase by another 60%, which means that the number of rigs and fracking crews needed just to maintain production will also need to increase proportionately. With operators such as Exxon Mobil (NYSE:XOM) forecasting significant growth beyond 2020, production can be expected to rise significantly for years after that.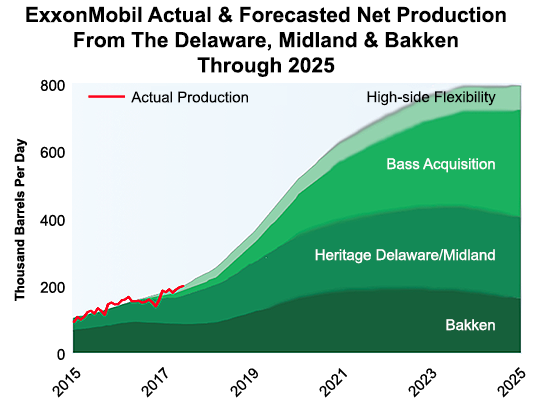 Source: Exxon Mobil
Therefore, I believe that the base level of Permian activity almost has to increase significantly for at least the next five years. WTTR will be an obvious and meaningful beneficiary of that growth.
CONCLUSIONS
As I suggested in my earlier piece, any slowdown in Permian activity would amount to, at worst, a modest reduction in the growth rate. I can now reassert that conclusion with greater confidence and demonstrate the mathematics behind that conclusion.
As it pertains to WTTR, I calculate a worst-case potential decline of approximately 5.8% in Permian fracking activity over the next two years. Since the Permian accounts for about one-third of WTTR's revenues, this would equate to about a 2% decrease in revenues, which is the midpoint of my earlier estimate of 1-3%. Because WTTR operates nationally, it may well be able to pick up any slack by moving some of its equipment to other basins.
So, the conclusion should be clear: drilling and fracking activity in the Permian is strong and will remain strong under pretty much any conceivable set of circumstances. The looming takeaway constraints may slow the near-term growth in the rig count, but this will be significantly compensated for by much more aggressive rig count growth after July 2019 , when pipeline capacity constraints begin to disappear. It's mostly much ado about nothing.
Perhaps the most important takeaway from this article for investors is the implicit growth in base drilling and fracking levels just to maintain existing production. E&P companies are loathe to allow production to decline and the accelerated decline rates of shale drilling all but ensure continued healthy activity with minimal cyclical declines in activity. I see at least 20% organic growth over the next five years.
Disclosure: I am/we are long WTTR, LBRT.