THIS ARTICLE IS NO LONGER READILY AVAILABLE AT SEEKING ALPHA SO I AM REPUBLISHING AS A BLOG POST.
I have written two articles on Select Energy Services (NYSE:WTTR) in the last ten days. My June 6 article focused on the company and its competitive positioning, wherein I concluded the shares are currently worth $26-33, more than double the current share price. My June 11 article focused more on the industry and why continued significant growth in drilling and fracking, particularly in the Permian Basin, is all but assured.
Despite a very good response to both articles, shares have not made much forward progress. After initially trading as high as $15.08, they closed last Friday at $13.72, up just slightly from my recommendation price of $13.45. I believe that's about to change, starting now.
Friday's market action now presents a very clear and obvious trading opportunity. Here's why.
Fundamental Versus Non-Fundamental Sellers
I described this seller as being "non-fundamentally driven." What do I mean by that? Essentially, what I am saying is that this seller was not acting based on a fundamental judgment as to whether WTTR would be an attractive investment, but rather based on non-fundamental, institutional-type reasons. For example, when a fund shuts down, its managers must sell all their stock regardless of price or merit. In this case, I believe the seller was a private equity fund that does not make a practice of holding public company equities and therefore sold its newly registered WTTR shares as a matter of policy.
Specifically, I believe the seller was White Deer Energy, a small, energy-focused, private equity investment firm with offices in Houston and New York. As of May 15, 2018, White Deer owned 4.489 million shares of WTTR in its White Deer fund. It came to own these shares through an original investment in Crescent Companies, which was sold to Rockwater Energy Solutions in March 2017, which in turn was sold to WTTR in November 2017. These shares were first eligible for resale on May 16 and, based on my analysis of price and volume as well as other factors, I believe the last of these shares were sold at the close of business on Friday. This has created an excellent buying opportunity, as I will explain.
Why would White Deer Sell?
When a private equity firm receives publicly traded shares pursuant to an acquisition of a portfolio company, it has the choice of whether to sell immediately or to hold on to its shares for the possibility of further appreciation. Different investment firms have different policies in this regard. My understanding is that White Deer typically disposes of any public equities it receives promptly, and my analysis of its other recent transactions also suggests this is true.
According to its website, White Deer generally seeks control or co-control of portfolio companies and works with management to drive growth, make operational improvements and grow through acquisition. With respect to its holdings of WTTR stock, White Deer is now two portfolio companies removed from its original investment and has no board representation. Therefore, it is entirely logical that such an investment would be promptly liquidated.
Furthermore, most private equity funds are structured with an intended ten-year life, with the goal of selling their portfolio companies and returning funds to investors by the tenth year. White Deer was founded in 2008, and these shares were held by its first investment fund. This fund would be hitting the ten-year mark about now, so from that perspective, it also makes entire sense that the company would be selling its shares to return funds to investors.
The May 16 Registration Statement
On May 16, WTTR filed a registration statement with the SEC registering approximately 50 million shares for sale. While that may seem to be a very large number of shares relative to the company's 106 million shares outstanding, the vast majority of those shares are not going to get sold for a long time.
About 30 million of those shares are owned by Crestview and its employees and affiliates. Crestview is the company's main private equity sponsor, and it has three representatives on the board, including executive chairman John Schmitz.
About 16 million shares are owned by L. E. Simmons and his SCF Partners group. Simmons/SCF was the private equity sponsor of Rockwater, which was acquired by WTTR in November 2017. It has one representative on the board.
4.489 million shares are owned by White Deer Energy, which has no board representation.
Crestview and Simmons/SCF are in WTTR for the long run. The IPO and subsequent merger with Rockwater are just stepping stones on the path to building the dominant water management company in the industry. One day they will sell shares, and I suspect it will be at much higher prices. But for now, because of the number of shares they own and their respective positions as company insiders, there are many restrictions in terms of when and how they can sell stock. Their shares are not for sale, and I do not expect them to be for some time.
On the other hand, White Deer has no current affiliation with the company. It is two portfolio companies removed from its original investment and the fund is hitting its ten-year life span. Now that its shares are freely tradeable, it makes all the sense in the world that White Deer would be selling.
In sum, I believe that over the past 19 trading days, White Deer has sold the entirety of its 4.489 million share position in the company. I believe the decision to sell was unrelated to the company's fundamental outlook, and that this selling was the primary factor in the shares' decline from a closing price of $17.58 on May 18 to the most recent closing price of $13.72.
I now believe that this selling ended at the close of business on Friday, and the shares are poised to pop significantly, likely recovering to the $17-18 range in fairly short order.
Let's look at why I believe this to be the case.
May 10-May 20: Post-Earnings, Pre-Seller
Going into the first-quarter earnings report, expectations were mostly muted. Management had previously guided for the quarter, after adjusting for the Rockwater acquisition, to be more or less similar to the fourth quarter. It was well understood that there were some unusual headwinds in the first quarter - notably, bad weather in January and rail supply issues in February that would negatively impact revenues for the entire industry - and there were no particular expectations for upside.
On May 10, WTTR announced its first-quarter earnings. In fact, while actual revenues of $376 million were in line with consensus estimates, adjusted EBITDA of $59.6 million was significantly better than consensus expectations of $49.8 million and even Credit Suisse's "optimistic" estimate of $55.7 million.
On the call, management guided toward continued revenue growth, improving margins and significant free cash flow generation beginning in Q2 and continuing throughout the balance of 2018 and all of 2019. In all, it was the kind of quarter that would tend to bring buyers into the stock, and in fact, the stock did respond positively.
May 21: The Seller Enters
I believe the seller started selling stock at the beginning of trading on Monday, May 21, two days after the registration statement was filed. It's possible the seller started a little earlier, but this is certainly when the footprints became more obvious.
First, let's take a look at the daily chart for some background.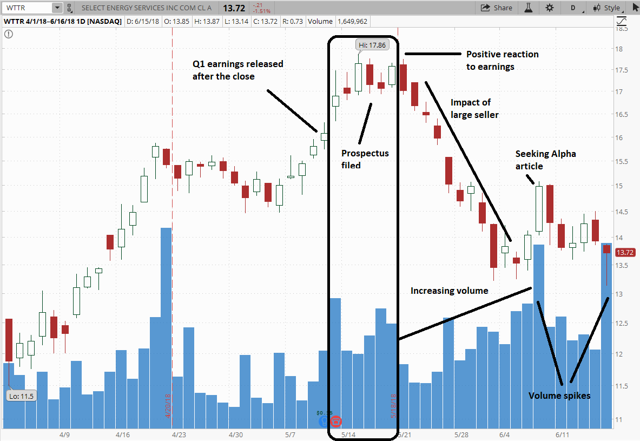 (Source: Author's annotations)
As can be seen, for the ten days prior to the Q1 earnings report, the stock traded mostly in a narrow band between $15 and $16, reflecting the muted expectations for the quarter. Trading volume averaged about 373,000 shares per day during this period.
On May 10, after the close, the company issued its better-than-expected first-quarter earnings report. The next day, shares gapped higher on significantly greater volume of almost 1.2 million shares. For the several days after that, shares continued to move higher on heavier-than-usual volumes. This can be seen in the rectangular box above. I believe that this was a rational reaction to the better-than-anticipated first-quarter results.
Now, let me explain why I believe the seller started selling on May 21. For this, let's go to the hourly chart.
As can seen below, the seller took a bit of a heavy-handed approach to selling stock. Rather than continuously engaging with the market, making it difficult to discern the trading strategy, the seller simply appeared to be operating by choosing a round number, driving the stock to that level, and then continuously offering a large amount of stock there, effectively capping the stock at that level. These episodes are shown in the circles in the chart below.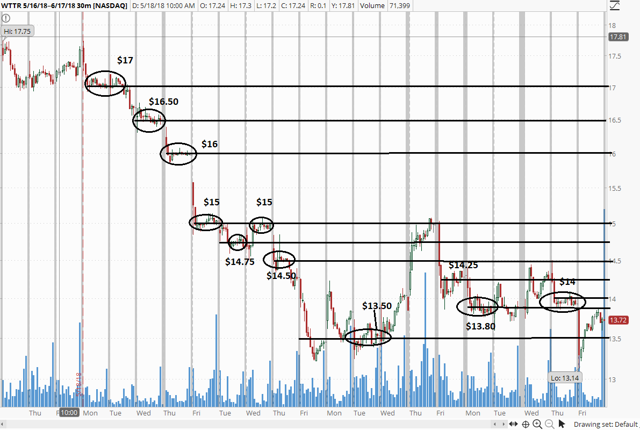 (Source: Author's annotations)
For example, on Monday, May 21, the seller started by knocking the stock down from the previous close of $17.54 to $17 and then putting a lid on it at that level. Whenever the stock looked like it wanted to do better, the seller came through with more shares, driving it back to the figure. Late in the day on Tuesday, the seller drove it down to $16.50, and then capped it there through the Wednesday close. On Thursday, May 23, the seller put the stock at $16. The next day, Friday, the stock gapped down at the opening. Rather than give the shares a chance to possibly recover, the seller just took the stock down to $15 and capped it there for the day.
The next week, we can similarly see the seller appearing to cap the stock at the $14.75 level, then back up to the $15 level, and then down to the $14.5 level.
If, in fact, that is was what the seller was doing, then it wasn't a particularly artful way to try to sell a large amount of stock. What the seller did by capping the stock so obviously was to effectively announce his presence, his intentions, and his trading strategy. With a large seller making himself so obvious, the natural reaction of buyers was to take advantage.
So, for the three days prior to May 21, daily average volume was about 945k, mostly north of $17. For the nine days after the seller entered, the daily average volume was about 664k and the stock had declined to $13.45, with 8 of those 9 days being in the red.
As can be seen, the seller's trading strategy mostly continued for the next ten days. Instead of backing away and giving the stock some room to breathe, the seller continued to sell into the decline, pushing the shares down day after day. In a scenario like this, two things happen. First, buyers will retreat, and that's why volume initially declined. Second, "tag along" sellers will show up. That's a polite way of saying that traders will front-run your order by selling stock ahead of you. The minute you stop selling, so will they. Eventually, the shares will reach a level where buyers know there is a big seller, but with the stock down sufficiently, they are comfortable buying anyway. When the seller is done, these will prove to have been good purchases. That's when volume will start to pick up.
It was against this backdrop that, on June 6, I published the first article on Seeking Alpha. I knew there was plenty of stock for sale, but this had also created an excellent entry price. My article generated a lot of interest, and over the next two days, the stock traded almost 2.75 million shares, while rising from $13.53 to $14.98. No doubt the seller sold a lot of stock into this rally.
Could the seller have continued to sell at ever-higher prices? It's possible, but we'll never know. On June 8, the seller once again got more aggressive and drove the shares back down to the $14 level and capped them at various points near there.
Friday, June 15: The Selling Climaxes
Even though the stock had declined after the initial flurry created by my article, it was clear that there were still plenty of buyers. Daily volume was now routinely in the 800-900k range. Watching the tape, one could see how volume would tick up when buyers entered the picture. One could also see how easily these buyers could buy stock from the seller. It was now clear that the seller was selling stock at a fairly rapid pace, and based on my analysis of volumes, I concluded that the seller was almost done.
One analysis which pointed to that conclusion was the change in trading volume before and after the registration statement. For the 19 days prior to when the selling began, daily average volume was about 579k shares. Since then, it was about 838k shares, an increase of 259k shares per day, or 45%. Assuming that a significant part of this excess trading volume was attributable to the seller, then that seller had to be almost done.
Let's look at Friday's trading. As can be seen below, trading started off with a flurry of selling. After leaning on the stock for weeks, the seller promptly put the stock down another 4%. It would appear that the seller, having probably sold most of its stock by now, had made a decision to just be done by the end of the day.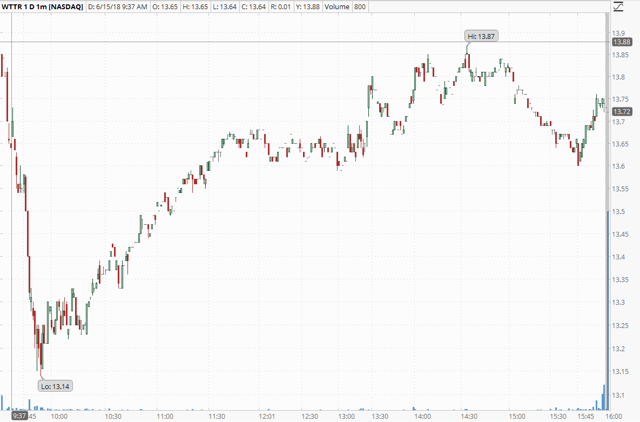 But most important of all was the trading right at the close on Friday. Over the last five minutes of regular trading, about 150,000 shares traded. On the closing print, another 498,312 shares traded. And shortly after that, yet another 362,908 shares traded in the extended hours session. That's more than a million shares in just a few minutes. This has all the hallmarks of a large and aggressive seller being cleaned up.
To buttress this conclusion, I've examined end-of-day trading since May 21. Below is a chart which shows the closing NYSE volume plus any extended hours volume. As can be seen, Friday's closing and post-closing volume of 861,000 was literally off the charts.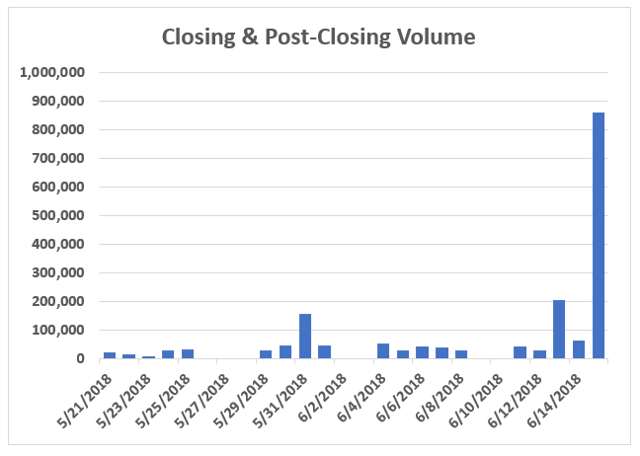 (Source: Author's estimates)
What happened? Since I was not involved in the transaction, I cannot know for sure. But based on my experience, this is overall really an entirely normal trading pattern. A large seller needs to force price in order to sell his shares. As he nears the end of his ticket, buyers sense the opportunity and become more aggressive. Here, at the $13-14 level, the buyers were more than happy to buy anything the seller had. After that, it was not so much a matter of price discovery but of volume discovery.
Summary
Let's briefly summarize the data.
For the 19 days prior to when the seller entered, the stock rose from $15.15 to $17.58, and 12 of those days were up. During that period, a total of about 11 million shares were traded.
For the 19 days after the seller entered, shares declined from $17.58 to a last close of $13.72. Out of those 19 trading days, 13 were down. Of the 6 up days, 2 were directly related to my June 6 article. Over this period, a total of about 16.5 million shares of WTTR traded, an almost 50% increase.
If White Deer was indeed the seller of its 4.5 million shares, that means it was on the sell side of about 27% of all shares traded during the period, and it is not surprising that there should have been such a significant market impact. Perhaps the seller could have been a bit more artful, but one way or another the seller would have leaned on the stock.
Conclusion
If I am correct, that means:
The market price of WTTR has been driven down by 22% owing to a single large, non-fundamentally driven seller; and,
That seller has now just sold the last of his stock.
Therefore, a significant near-term recovery in the shares is likely, possibly even back to the $17-18 level, or higher.
Disclosure: I am/we are long WTTR, LBRT.