THIS ARTICLE IS NO LONGER READILY AVAILABLE AT SEEKING ALPHA SO I AM REPUBLISHING AS A BLOG POST.  ORIGINALLY PUBLISHED OCTOBER 26, 2017.
Mammoth Energy (TUSK) is a stock that can double or triple in the next 12 to 18 months with relatively little risk at today's price levels. Against a current stock price of $17, I estimate risk to $14-15 and reward to $40-45.
Let me explain.
Mammoth, which went public (to little fanfare) at $15 about a year ago, is primarily and originally in the business of onshore oilfield services — helping E&P companies drill for oil and gas in the unconventional shale basins in the lower-48 states. This is one of the best places in the world to drill for oil and activity is bouncing back sharply after the gut-wrenching cyclical low experienced in 2016.
Because of its forward-looking management and focus on unconventional shale basins, Mammoth is one of the fastest growing and best positioned oilfield services stocks. It is why I first bought the stock, but it is not why I am writing this article.
REBUILDING PUERTO RICO: A MAMMOTH UNDERTAKING
The reason I am writing this article is to highlight a new and potentially extremely valuable new business unit that management has just announced. I expect it will have an immediate and transformative impact on valuation and this will become evident as soon as the next earnings call, currently scheduled for November 2.
To be clear, I first bought this stock because I thought the base business was extremely attractive. The announcement of this new business unit was a complete surprise to me and, most likely, other analysts and investors. I expect this new business to add substantially more upside to a stock that I had already expected to double or triple over the next 12 to 18 months.
After the close last Thursday, the company announced that it had signed a mammoth (sorry, no other word for it) $200 million contract with the Puerto Rico Electrical Power Authority (PREPA) to assist in the rebuilding of its electric utility infrastructure. As is well-known, the already fragile Puerto Rico electric grid was essentially destroyed by recent hurricanes and its residents are currently largely without power.
Now, get this—this is no ordinary $200 million contract which might play out over the course of several years, but one which will play out over the course of just the next 120 days. In other words, Mammoth, which reported revenues of $98 million in its latest report quarter, just signed a contract that will double its revenue run rate overnight. More importantly, this is not a one-off piece of business; it comes from a new business unit that addresses a large and growing market and deserves to be capitalized as such.
FINANCIAL SUMMARY AND REVIEW
Let's begin with a brief financial review.
Mammoth Energy has 44.5 million shares outstanding, giving it a market capitalization of $779 million at yesterday's close. Unlike many of its oilfield peers, the company boasts an excellent balance sheet with just $57 million in net debt against book equity of $440 million.
In analyzing the company's earnings prospects, it is important to understand that current results, while improving rapidly, are still somewhat cyclically depressed. In other words, there is significant room for organic growth in margins and utilizations as business normalizes.
Revenues in the Q2 were $98.3 million, a 32% sequential increase from the prior quarter. The consensus estimate for Q3, which is scheduled to be reported after the close on November 1, is for $130.75 million, a further 33% increase. The consensus estimate for Q4 is currently $153.88 million. That number is now likely to come in at closer to $300 million, with more than commensurate implications for cash flow, and that is why I am writing this article.
Over the past year, growth has been driven by a combination of organic and non-organic factors, including, a larger asset footprint acquired through equipment purchases and acquisitions, higher utilization, and improved pricing power. Earlier this year, the company made a number of smart acquisitions which are expected to be significantly accretive. Their full impact will not be felt until Q4 and accounts for some of the anticipated revenue and profit growth.
THE PUERTO RICO CONTRACT
As management explained in its recent conference call (slide presentation), in late 2016 they had internally identified the utility infrastructure business as a highly promising adjacent business with good margins, stable cash flows, strong returns on capital, and the potential for significant growth. They describe this business as "less cyclical and less capital intensive, but equally technically challenging with the ability to cross-sell to its existing customers."
Earlier this year, Mammoth hired a small executive team, with an average of 25 years of experience at much larger companies, with the goal of entering this business. In the second quarter, the company quickly and quietly entered the energy and utility infrastructure business by acquiring two small "platform" companies for a total of $8 million. Both companies had strong customer bases but were starved of capital.
Mammoth management quickly deployed capital to expand the companies' energy transmission and distribution infrastructure business—a business currently estimated at $65-70 billion annually for at least the next five years. Given the aging of the current electrical infrastructure nationwide, management sees plenty of demand going forward.
What's particularly remarkable about management here is, having identified an opportunity, how quickly and quietly they moved to execute upon that opportunity. From a standing start, Mammoth's infrastructure business employed 275 personnel at the end of the third quarter—a number which they anticipate to grow rapidly.
Before we try to analyze the impact of this announcement, let's deal with a few basic questions.
What are some more details of this contract?
This is a $200 million services contract to help rebuild the utility and energy infrastructure in Puerto Rico. The initial contract will focus on storm remediation—replacing downed utility poles and running new cable. According to the Engineering News-Record, rebuilding the electrical grid will require over 62,000 new utility poles, 338 towers and 6,500 miles of cable. How long does it take to replace a utility pole? According to one estimate, from 8 to 18 worker hours for a low-difficulty replacement and 20 to 75 worker hours for a high difficulty replacement.
Most of the island's transmission infrastructure is on the sparsely populated south side of the island, where the terrain is rough and resources are few. More likely than not, this is a higher difficulty job, and the replacement of 62,000 utility poles will require well more than a million worker hours.
Who is this contract with?
Technically, this contract is with the PREPA, the Puerto Rico Electrical Power Authority. But, as is well-known, Puerto Rico is in a state of deep financial distress and PREPA is in fact bankrupt. Management took pains to note that officials of FEMA (the U.S. Federal Emergency Management Agency) were involved every step of the way to make sure the contract complies with their reimbursement requirements.
On the conference call, management repeatedly emphasized that they paid a great deal of attention to how and when they would get paid. Prior to beginning any work, the company received a $15 million up-front payment, and billing will occur twice weekly. This a take-or-pay contract with no performance based milestones which might impact the ability to be paid.
What are margins on this contract?
Without giving much further detail, management described this contract as being accretive to its corporate-wide EBITDA margin. All that can be said for sure is that this is a fixed price take-or-pay contract with margins targeted to exceed last quarter's EBITDA margin of 16%. I believe management's target margin assumption is significantly higher—at least in the low 20% range and perhaps even higher. Emergency remediation is difficult and does not come cheaply.
An important consideration here was that the rebuilding efforts not place further strain on the island's already highly limited resources. The company will supply workers with barge housing and supply their own facilities for water generation, medical care, food preparation and, of course, electricity generation. None of that comes cheaply.
In light of the scope and potential difficulty of this contract, it was particularly reassuring to hear the company explain that the experienced management team they have assembled includes industry veterans who have been through this scenario any number of times, including the post-earthquake restoration in Haiti.
What happens after this contract ends?
While not specifically forecasting anything further, management clearly expects the likelihood of significant further continuing revenue from Puerto Rico. According to the management conference call, while this is a 120-day contract, "we expect work to go on beyond that... [because] as time goes on you're going to identify so many needs. You are going to in to repair and to restore immediately, and then we think there will be other work that goes beyond that."
Given that the estimated $5 billion cost of rebuilding the Puerto Rico electrical grid, I believe the only reasonable expectation is that not only will there likely be more work from Puerto Rico, but there is almost certainly going to be a LOT more work. Indeed, El Nuevo Dia quotes Ricardo Ramos, executive director of PREPA, as warning that the contract may be increased.
For their part, management described their approach to this project as a "total, self-contained project." It's not "let's just get some guys over there to fix wires." Really, they are partnering with Puerto Rico to repair and replace the electrical grid while at the same time not placing any additional burden on the already beleaguered island.
Regardless of what happens with Puerto Rico after this initial contract, the key investment and valuation issue is that Mammoth has successfully created a new business unit focused on a $65-70 billion annual market. As they stated on the conference call, this country's infrastructure is such that aging utilities "have to spend a lot of money to keep up with the infrastructure that has deteriorated over time." While Puerto Rico is an important contract, the bulk of the focus going forward will be investor-owned utilities in the lower-48 states.
Currently, consensus estimates for Q4 are for revenue of $154 million and EBITDA of $26 million. Adjusting for the impact of this new contract, new revenue estimates are likely to in the range of $275-300 million and EBITDA estimates in the range of $50-60 million. Obviously, that's a very significant step change to Q4 results, but the real value of this contract, from an investment perspective, is the fact that it is not a one-off contract but the beginning of a new, important and valuable business unit for the company.
THE OILFIELD BUSINESS
As important as this new business development is, I want to emphasize that I initially bought this stock because I thought the shares could double or triple in 12 to 18 months on the basis of growth and improvement in its base oilfield services business.
While the global oil markets are now on a path to recovery, in many places that recovery will be slow and ragged. For example, while utilizations are beginning to improve in the offshore drilling markets, there is still so much idle equipment that any real pricing power is still at least a year or more away.
Much has been written in relation to the higher profile offshore drillers—those drillers who enable offshore drilling, anywhere from the benign shallow waters of the Gulf of Mexico to the harsh environment ultra-deep waters in the North Sea. On Seeking Alpha, for example, dozens of articles have been written comparing the virtues and vices of an ever-shrinking pool of offshore drillers.
Is Transocean (RIG) better than Rowan (RDC)? Was Ensco's (ESV) acquisition of Atwood wise? Does Noble (NE) have too much debt? In my opinion, the answer to all of those questions is a definite maybe as so much depends on the shape and speed of the offshore recovery.
A good example of what is happening offshore is Transocean, which recently signed a two-year contract for its Deepwater Invictus drillship. While that is nominally good news, the critical day rate was almost 75% lower than the previous rate. Plus, it also granted its customer three one-year options, presumably also at highly depressed rates.
In other words, Transocean was so desperate for business that it contracted one of its newest and most capable deepwater drillships at a rate barely equal to its cash flow break-even rate. Economically, this is really a loss-making contract because the very large cost of depreciation is essentially borne entirely by Transocean.
But onshore, the story is entirely different. Here, the recovery is already at hand. Let's take a quick look at Schlumberger's most recent quarterly results.

Source: Schlumberger press release dated October 20, 2017
As can be seen, North American revenue increased 18% sequentially and a whopping 53% year-on-year. In contrast, international revenue was flat sequentially and down (2%) year-on-year. That's why Transocean opted to contract the Deepwater Invictus for cash break-even. That's also why you want to own an onshore driller like Mammoth over any offshore driller.
This is a complex story, and I hope to write more in the future, but this is what you need to know for now.
The driving force behind Schlumberger's North American results is the strong improvement in activity in unconventional (shale) basins. North American offshore activity in the Gulf of Mexico actually weakened in the quarter and Schlumberger described the outlook as "bleak."
So, what's driving this frenzied improvement in shale drilling? The answer is that the U.S. is sitting on billions and billions of barrels of oil onshore. Our reserves are equal to anything that Saudi Arabia might have. The initial problem was that this oil was trapped in tight shale formations and it was not known how to extract them. The answer turned out to be a process called fracturing, or more commonly, "fracking," in which tons of sand and fluid are injected into the well at very high pressures.
Here's the critical issue. As recently as 2013, the wellhead breakeven price/barrel for extracting shale oil ranged from $66 to $98, depending on basins. Remember, that's wellhead price, which doesn't include transportation and other expenses. So, at today's $52 oil, that would all be a non-starter. But an extraordinary thing has happened since 2013. Driven by improved fracking technology, the cost to extract such shale oil has plummeted to levels that are now economic even at today's oil price.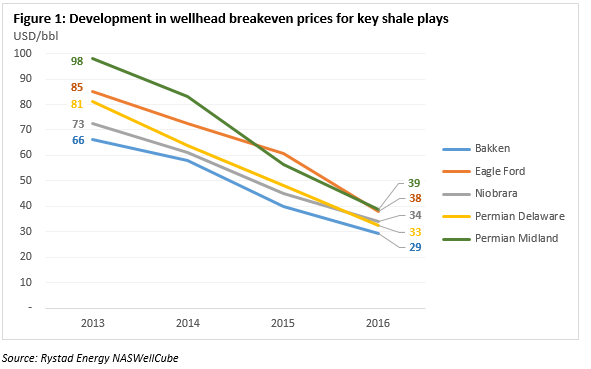 As can be seen above, those same basins can now produce at a wellhead breakeven price of just $29 to $39. That is why onshore drilling activity is coming back and coming back hard. Shale oil is now on a par with OPEC as an important swing producer and $50 oil is approximately the price that makes it all happen.
In other words, an increase from here sends onshore fracking activity significantly higher, while a decrease from here will tend to slow activity. Unlike offshore drilling, onshore drilling is a short cycle business that can respond relatively quickly to changes in the price of oil, adding supply when prices are higher and shutting-in supply when prices are lower.
The critical technology in all of this is fracking and this has catalyzed a significant increase in demand for pressure pumping equipment. For anyone who questions the economic significance of what improved fracking technologies have wrought, consider this: oil production from shale resources is currently running at 6 million barrels per day; that's 2.2 billion barrels per year; and at $52 oil, that's a $113 billion a year industry that would not be possible without the technological innovation of fracking.
I particularly like Mammoth because their oilfield activities are purely focused on the unconventional basins which are now beginning to experience tightening conditions and improving pricing power. Pressure pumping, and closely related businesses such as frac sand production, are about 75% of their revenues. Unlike the offshore drilling market, which still suffers a significant excess of idle assets, the onshore pressure pumping and related markets are tight and tightening further. In contrast, contract drilling, which is still beset by excess supply, represents only 13% of their revenues.
In the past, contract drilling and pressure pumping marched mostly to the same drummer. Both were related and complementary technologies for the production of oil and gas. But that is changing now and the reason why is an important part of the Mammoth investment story. In a sense, they are still marching to the same drummer, but the beat for pressure pumping is faster.
As can be seen below, the U.S. land rig count averaged 1,800 to 1,900 rigs in 2014 before plummeting to barely 400 by 2016.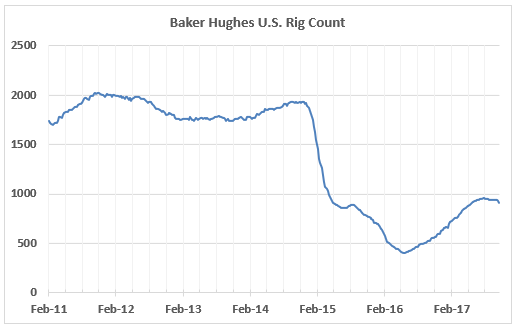 Source: Baker Hughes
Since then, the land rig count has more than doubled to over 900. In other words, while the recovery has been strong, there are still fewer than half as many rigs working as there were just three years ago. So, if rigs are so plentiful, why is the market for pressure pumping equipment beginning to tighten?
The answer is fracking intensity. As noted, over the last three to four years, the price of extracting oil from shale has declined significantly. One of the main reasons for this was the ability to drill and fracture much longer intervals by pressure pumping far greater quantities of fluid and sand at far higher pressures.
Since just 2014, the average lateral length of a well has increased 40%, from 5,000 feet to 7,000 feet, with continuing further increases expected.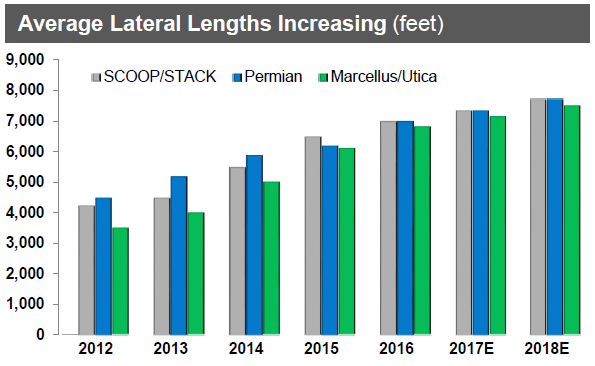 Source: Company Presentation dated September 22, 2017
Similarly, the amount of sand used has increased in every basin. For example, in the Permian basin, sand concentrations have increased 25% from 1,200 lb/ft in 2014 to 1,600 lb/ft in 2017, again with continued further increases expected.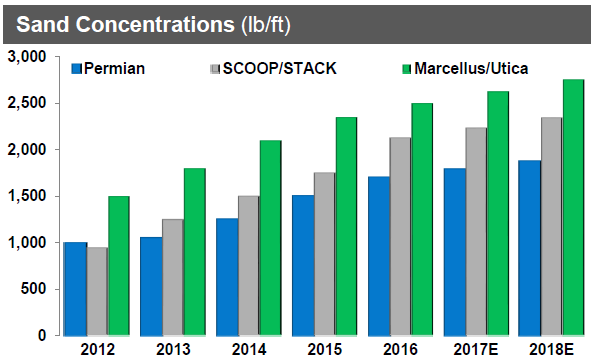 Source: Company Presentation dated September 22, 2017
Combining a 25% increase in sand per foot and a 40% increase in lateral well length means a 75% increase in total demand for sand and pressure pumping capacity.
Thus, at the peak of activity in 2014, 1,800 to 1,900 active land rigs were utilizing approximately 18-19 million hydraulic horsepower (HHP) of pressure pumping equipment, or about 10,000 HHP per rig. Today, just 900 or so rigs are almost fully utilizing the industry's estimated 12-13 million HHP, meaning that each rig now requires almost 15,000 HHP per rig. By year-end 2018, Mammoth anticipates a working rig count of 1,200 which will require about 20 million HHP, or almost 17,000 HHP per rig.
That's why other pressure pumping competitors, such as Basic Energy (BAS) and RPC (RES) have recently indicated that their pressure pumping calendar is now booked well into 2018 and I expect that Mammoth is experiencing the same demand. In this type of environment, E&P companies are clearly worried about their ability to procure the necessary supply of pressure pumping equipment in a timely manner and pressure pumpers like Mammoth will benefit from an improving pricing environment.
Currently, the industry has about 12-13 million HHP of capacity. Given the growing backlog of frac work it should be evident that demand is about equal to supply. So, without putting a specific percentage on it, utilizations are close to full. If you want pressure pumping equipment, you've got to book it several months in advance and you've got to be willing to pay whatever the spot market is at that time. You can book time, but you can't book rate; and that's the sign of a good market.
As leading-edge prices go higher, exposure to the spot market will be a good thing. For 2018, approximately two-thirds of Mammoth's fleet will be on spot market pricing, leaving a lot of room for margin improvement through the year.
Also, unlike rigs, pressure pumping equipment is relatively short lived. Previously, pressure pumping equipment had an expected life of 5-6 years. But now, the industry convention of pumping more sand and more fluids at higher pressures, as well as effectively running on a 24/7 basis, has shortened the lives of this equipment to just 3-4 years. With a useful life of no more than 4 years, that means that every year at least one-quarter of the industry fleet will be lost to attrition. In other words, if the industry adds zero capacity, in one year the pressure pumping supply will decline to around 9-10 million HHP, which is well below demand.
Because the cost of extracting oil from shale has declined so significantly since 2014, oil prices need only stabilize at about current levels for activity to remain brisk. Even modest improvement in activity from current levels will yield a windfall for pressure pumpers.
As shown below, Mammoth is anticipating a year-end 2018 rig count of approximately 1,200 working rigs, a figure still more than one-third below the 2014 peaks.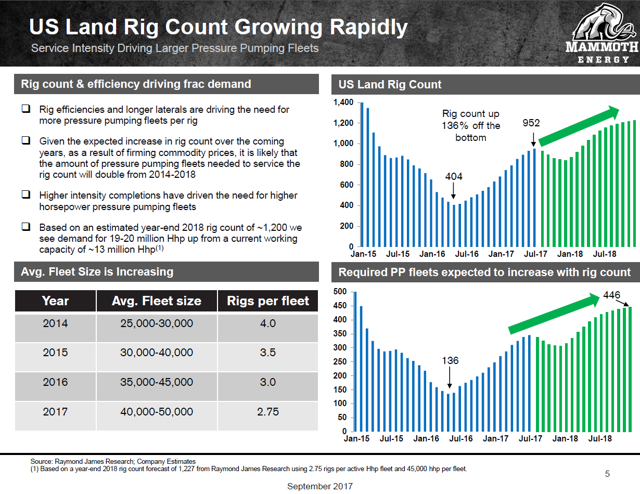 Source: Company Presentation dated September 22, 2017
In such as scenario, demand for pressure pumping equipment will reach 19-20 million HHP in the next two years, a more than 50% increase over the current fleet levels. Adjusting for a 25% attrition rate, the industry will have to add 12-14 million HHP (on a current base of about that amount) to meet expected demand—that is, it has to replace the 6 million HHP that will be lost to attrition, and then it has to add an additional 6-8 million HHP to meet incremental demand.
But so far, nobody is rushing to build pressure pumping equipment and some companies are even saying that the OEM industry is incapable of supplying even the 3 million HHP required to replace current annual attrition. How can it possibly produce twice that amount?
Why aren't they building? That's what happens when an industry has just suffered through an epic downturn. Look at the offshore drilling industry. When times were good, they built massively. As the scope of the downturn became evident, it is now clear that they massively overbuilt. Now, even though times are improving, they are still stuck with a significant overhang of equipment that will put a lid on any real price improvement for at least another year or more.
Unlike pressure pumping assets, drilling rigs are long-lived pieces of equipment, with useful lives of 25 years or more. Once again, that's why Transocean contracted its Invictus drillship for at least two years for little more than cash flow break even. If past is prologue, the industry will one day again build to overcapacity, but for now it is once burned, twice shy.
But the onshore pressure pumping dynamics are very different. There is more work than pressure pumpers can handle and backlogs are rising. Prices are rising because E&P companies need to frack and availability, not price, is the important constraint. But even though prices have risen significantly, nobody is rushing to significantly expand their fleet. Any newbuilding that is taking place is only to replace what has been lost to attrition.
On their recent conference call, Halliburton laid down the three requirements for newbuilding: a committed customer contract, adequate pricing, and an adequate return on investment. According to Halliburton, the industry is just not there yet. Given the unwillingness of the industry to be burned by speculative and anticipatory newbuilding, and the potential inability of the industry even to offset the natural attrition of pressure pumping equipment, the economics of the business are likely to be robust through to at least 2019 and perhaps even into 2020.
In fact, many industry analysts are even more bullish than that, anticipating a period of severe pressure pumping tightness worsening throughout 2019 and 2020. Even the more conservative managements are suggesting that while supply and demand will inevitably balance out, the period of imbalance will likely be longer than most people expect.
In summary, the pressure pumping business is a good place to be now. At worst, supply is about equal to demand and, against the backdrop of a 25% annual attrition rate, prices will continue to rise modestly. More likely, however, the industry is modestly undersupplied and that condition will be exacerbated by continued stable or rising oil prices. Prices will ultimately rise to and through levels which justify newbuilding, and that is what has to happen if the industry is to grow its fleet to 20 million HHP over the next two years. In such a scenario, pressure pumpers will coin money, much as they did at previous activity peaks in 2011 and 2014.
Beyond the macroeconomics of the pressure pumping industry as a whole, there are reasons that I like Mammoth in particular.
Management is smart. They are disciplined and returns oriented capital allocators. Unlike so many in the energy industry, they invest counter-cyclically, building the company when prices are low.
For example, management foresaw the tightening of the pressure pumping market and about doubled their nameplate capacity from 159,250 HHP at the end of 2016 to 291,750 today. While the price for newbuild pressure pumping equipment is generally quoted at about $1,000/HHP, management was able to add much of their incremental capacity at a price of just $479/HHP, less than half the newbuild average. This will effectively double their return on capital compared to a normal newbuild acquisition price.
As I noted earlier, the fracturing process today is far more intensive, involving almost double the amount of sand and fluids at much higher pressures. Another commodity potentially in short supply is sand. Earlier this year, management purchased Chieftain Sand out of bankruptcy for just $35 million. This provided an incremental 1.5 million tons per annum of sand capacity. After restarting idled capacity, management then promptly entered into a $100 million, three-year, take-or-pay contact for slightly less than half of this capacity.
The gross margin from that contract will entirely pay the cost of the acquisition. Meanwhile, management has a large incremental amount of sand for either its own pressure pumping customers or to sell on the currently hot spot market. Regardless of what happens to the price of frac sand, management has earned the cost of this acquisition and then some.
Management is also a good operator with superior margins. For 2016, their EBITDA margin was 18%, compared to (9%) for their pressure pumping peers, (2%) for their proppant peers, 10% for the large cap service companies and 13% for the land drillers.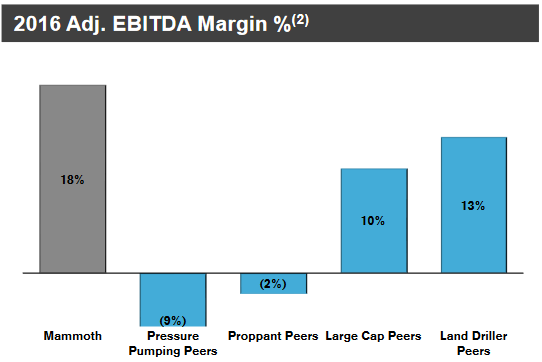 Source: Company Presentation dated September 22, 2017
Finally, Mammoth has one hidden asset that is likely to become increasingly important as industry activity picks up: a last mile logistics capability that includes its own large trucking fleet. Already, with activity increasing but only still moderate, there are increasing reports of logistical issues that are reducing oilfield efficiency.
Unlike most of its smaller pressure pumping peers, Mammoth has vertically integrated and controls not only its own supply of sand, but its ability to deliver that sand to the customer. As oilfield activity picks up, it will be more and more appreciated that seemingly commoditized businesses like frac sand are really value-added logistics businesses in disguise. Mammoth is well positioned for this.
Mark my words, by this time next year, the chart below is going to matter.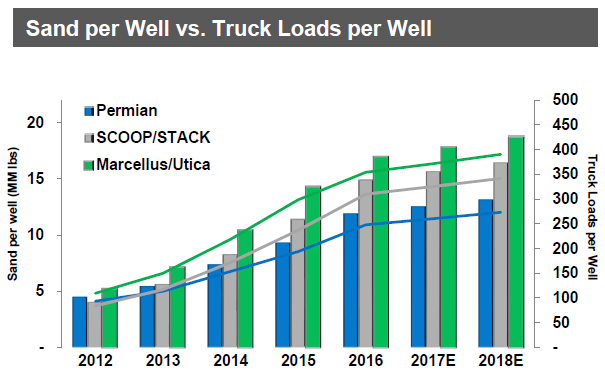 Source: Company Presentation dated September 22, 2017
As can be seen, since 2014 the required number of truck loads of sand per well has doubled. Using the rig count as a proxy for the number of wells drilled, we can infer that the 50% decrease in wells drilled has effectively offset the doubling in the required number of truck loads per well. In other words, trucking requirements are close to their 2014 peak and that is probably why we are starting to hear scattered stories about logistical inefficiencies. What's going to happen if the rig count increases 900 to 1,200 as many observers expect? The demand for trucking, which is already tight, will increase by two-thirds.
The bottom line is that the next peak in oilfield activity is likely to be characterized not by tightness in offshore drilling rigs or even onshore drilling rigs, but by tightness in pressure pumping, last mile logistics and perhaps even frac sand--all areas where Mammoth has significant exposure.
VALUATION
Consensus 2018 EBITDA estimates, prior to any adjustment for the Puerto Rico contract or the new infrastructure business, are approximately $164 million, meaning that Mammoth currently sells for just 5.1x 2018 EBITDA. I am not in the business of forecasting earnings or cash flow, and my preference is to be approximately right rather than precisely wrong.
While I have no idea what level of EBITDA Mammoth will generate in 2018, I believe that the current estimates do not nearly reflect the substantial pricing power achievable in a tightening pressure pumping environment, nor do they reflect the other smart things that management might do. Of course, they also do not include the potential benefit of the new energy infrastructure business unit.
So, where should the stock be trading? My answer is that Mammoth is a company that is still in the process of being built and its full potential is not known yet. The acquisitions that were closed in Q2 will only begin to manifest themselves in Q3 and Q4. For example, the Chieftain $100 million take-or-pay contract does not begin until October 1. Similarly, while the energy infrastructure business is off to a great start, at this moment, there is not enough information to value it with any precision. In my opinion, I think this stock can easily double or triple in the next 12 to 18 months with relatively little risk at current prices.
Disclosure: I/we have no positions in any stocks mentioned, but may initiate a long position in WTTR, FRAC, TUSK over the next 72 hours.