GRDH: Why This Stunning Non-Lethal Device Company Is A Great Buy
Please Note: Blog posts are not selected, edited or screened by Seeking Alpha editors.
Long/Short Equity, Tech, Deep Value, Growth At A Reasonable Price
Seeking Alpha Analyst Since 2009
Mark Fidelman is the founder of SmartBlocks.Agency, His experience includes more than two decades of technology sales, marketing and customer experience with organizations including NFT leader WAX.io
Mark has been named a 2017 Top 20 influencer of CMOs by Forbes Magazine, a Top 25 Social Media Keynote Speaker by Inc Magazine, and a Huffington Post Top 50 Most Social CEO.  Mark hosts the popular Cryptonized! YouTube channel at www.youtube.com/fanaticsmedia on the hottest crypto trends
Mark is a globally recognized thought leader on the subject of cryptocurrency and ecommerce.  He was a writer for Forbes and has interviewed hundreds of Global 3000 CXOs and speaks and writes regularly about how they are impacting today's business. Follow Mark on twitter at http://twitter.com/#!/markfidelman
One thing is clear, the public outcry about police and security guards using deadly force is reaching new levels of hysteria.
And companies like Taser (TASR) and Digital Ally (DGLY) are up as a result. Those who still believe that lethal options rule the police and security guard market are quickly coming to realize that the public mood has shifted drastically. The current discussion in most law enforcement and security organizations involves non-lethal defense options and security monitoring.
But both Taser and Digital Ally are trading near their highs so where can value investors go to take advantage of this long-term trend? There's a standout company in the sector which actually benefits from the need for new additional non-lethal and monitoring options and can help you ride the momentum of the non-lethal wave.
Profile: Guardian 8 (OTCQB: OTC:GRDH): Inside one of the most undervalued stocks
The stock is a relative newcomer, having only started trading in early 2012, Guardian 8 developed and is beginning to distribute a new defense solution to professional security organizations, private professionals, and law enforcement domestically and internationally. In addition, they plan to target individuals and families in the United States and internationally with a consumer version by early 2016.
They manufacturer the G8 Pro V2, an enhanced non-lethal (ENL) security device designed for use in the professional security industry. They've recently sold product to Anderson Security, Securatex, and several Fortune 1000 companies which could rapidly turn into larger deals which would positively impact their revenues significantly.
Guardian 8 has also steadily gained market share in other areas of the security space and recently won the Campus Safety BEST Award from Campus Safety Magazine in the Personal Gear & Equipment category. However, as Guardian 8 sets its sights on broadening its security footprint, questions remain about how they'll handle the growth and opportunities that are emerging. They're still a relatively small company and remind me of Taser in 2002.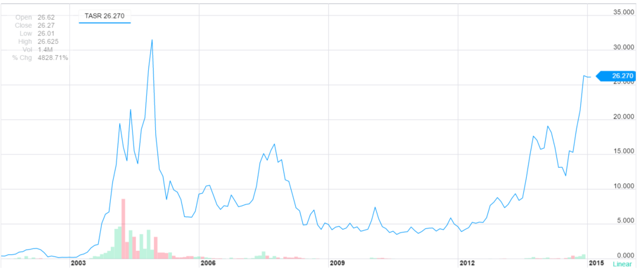 The Opportunity
Thus far, Guardian 8 has relied on the G8 Pro V2, an effective device that has both a laser targeted, and an on-device audio/visual camera that activates the second the safety is engaged. A half pull of the trigger notifies authorities with a prerecorded message indicating a need for assistance, allows real time communication with the authorities, emits a load warning siren and intense light to disorient and temporarily reduce vision. And with a full pull of the trigger (level three) there is sufficient pepper spray to disable multiple potential assailants at a distance or 10to 12 feet in a non-lethal manner.
Domestically, the professional security market for the device is at least four times the size of the Taser's law enforcement market. And because 95% of the current security force armed with only a flashlight and mobile phone, there's huge market potential if you can equip even a fraction of them with a non-lethal device and an audio video recorder. On top of professional security, the potential market for K-12 and college security nationwide, US governmental agencies (Customs, Border Patrol, VA Hospitals, etc.) as well as eventually the consumer market is off the charts.
Outside the United States where firearms are far less common or accepted, the market also opens up to law enforcement on top of the security guard industry. For example, many countries in Central and South America and the Middle East either do not allow or are shying away from local law enforcement carrying firearms at all. China alone has 2.5 million police and almost all of them are not equipped with ANY defense device, let alone firearms. However, selling a new non-lethal technology such as the ProV2 in foreign countries still requires companies like Guardian 8 to secure import approval.
As we've seen with security related lawsuits can reach as high as $26 million for failing to protect citizens to $58 million for overly aggressive security guards. These staggering numbers underscore the importance of having a sound security risk mitigation strategy. On officer video of some kind will become the standard in law enforcement and eventually the security industry as well, and Guardian 8 should be able to capitalize on this once the industry understands that audio/video alone can eliminate 70% of potential liabilities.
The Risks
As with any small cap company, it remains to be seen if Guardian 8 will capitalize on the huge opportunity or cede it to a competitor. From personal experience, the decisions in the law enforcement and security markets can take an agonizingly long time especially with disruptive new technology, so Guardian 8 will need to remain tenacious and focused on developing the market. The upside is the Guardian 8 board and management are filled with extensive executive experience from the likes of Taser, Smith and Wesson, the security industry, and Fortune 1000 companies.
In Sum
The security market will move towards non-lethal options and on-officer video and audio equipment. However, like Taser, Guardian 8 will need to create demand for an industry that hasn't focused enough on officer or citizen safety. But there's no question - the size of the market, the demand for non-lethal and video products, and the reduction in liability will produce some big winners for those companies that develop and capitalize on the market.
Guardian 8 has its work cut out for them, but they certainly can have the management team, resources and relationships to win here. Zacks small cap research agrees, they recently projected the stock to hit $0.90 within the year, "Since Guardian 8 has the potential and is expected to generate meaningful revenues within the next 12 months, our price target is based on a price-to-sales ratio valuation using estimated revenues for the ensuing 12-month period. At a P/S ratio of 12.5 on projected sales of $3.4 million, our price target remains $0.90."
Analyst's Disclosure: The author has no positions in any stocks mentioned, and no plans to initiate any positions within the next 72 hours.
The author was a former employee of Taser and is an adviser to Guardian 8.
Seeking Alpha's Disclosure: Past performance is no guarantee of future results. No recommendation or advice is being given as to whether any investment is suitable for a particular investor. Any views or opinions expressed above may not reflect those of Seeking Alpha as a whole. Seeking Alpha is not a licensed securities dealer, broker or US investment adviser or investment bank. Our analysts are third party authors that include both professional investors and individual investors who may not be licensed or certified by any institute or regulatory body.