Great Portland Estates [GPOR.LSE] full-year results interview.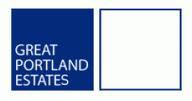 Great Portland Estates, the UK property investment and development company, released its 2012 preliminary results today saying one of the main drivers behind its performance had been a "very strong" leasing year. The company said it had benefited from its portfolio of assets being concentrated around London's West End and its tenant base had proved to be "incredibly resilient". bit.ly/KlZgvw
Register at http://www.3bnexus.com to set automated e-mail alerts for broadcasts by your preferred Investors, Companies, Sectors, Markets or Regions.