Below is the 2 day chart for Liberated Solutions, Inc., which ran from $0.0001 to $0.0018 in less than 2 trading days: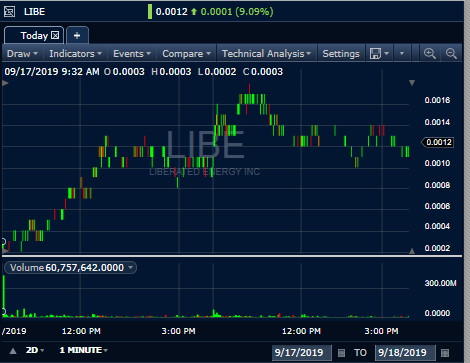 LESSON 1 – It does not matter if a firm has billions of shares authorized, issued and outstanding.    Below is a snip from the Pink Sheets website:

LESSON 2 – A favorable [SUPER] 8-K is going to move the stock PPS up, significantly.  Print it out and read it! This is the 8-K that caused the spike in the PPS for (OTCPK:LIBE).  If the upside is enormous, expect a very strong upside over-reaction.
LESSON 3 – If you have a position in the stock when the news hits, do not sell it until the close of the first day, or mid-way through the second day.  [There are, of course, occasions during a "pump and dump" when the rally sizzles out in half a day, but these are the exception].  In this case, the optimal PPS for a sell, before the pull-back was $0.0018, between 10:15A and 11A on the second day of the run.  You "did" have time to buy on the first day of the run, probably at about $0.0003.  Hitting the absolute high PPS was nearly impossible.
If you missed this one, do not worry.  There will be others.  You might even see more action for this stock in coming weeks.  I am out of it, but, if you like, set a news alert.
Stay well.