Disclosure
I have, previously, provided some Seeking Alpha blog data on an alternative to Biogen's Aduhelm, here and here and here.  These Seeking Alpha blogs examine Cassava Sciences, Inc. (SAVA).  I am long SAVA stock and sometimes, sell and even trade covered calls.  I do not short stocks and rarely buy put options, so I have no position in Biogen, Inc. (BIIB).
Biogen, Inc. – Stock Performance during the Past 12-months
Below is a 1-year chart I captured from my Fidelity account on the morning of December 15, 2021: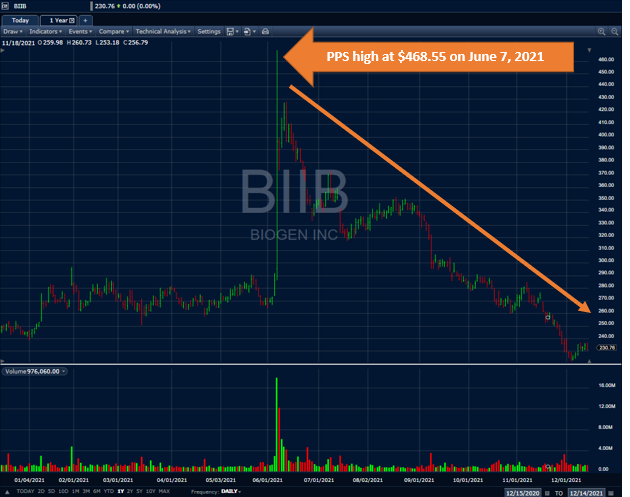 Biogen, Inc. (BIIB) has dropped from it's upside over-reaction price-per-share [PPS] of $468.55 on June 7, 2021, to $230.76 at the market close on December 14, 2021, for a PPS decline of more than 50%.
The Food and Drug Administration [FDA] approved Aduhelm at a cost of$56,000 per year per patient.  FDAs own statisticians and advisors felt the approval of Aduhelm was "disgraceful."  It would appear that physicians are not prescribing Aduhelm, as layoffs follow anticipated revenue shortfalls.  European rejection of Aduhelm was anticipated and received a negative vote for approval.
Second quarter revenues for Aduhelm reached$2 million.  At $56,000 per patient year, let's assume 25% of this amount for the quarter, or $14,000 per patient.  $2 million divided by $14,000 suggests about 143 patients.  Below is a quote:
"In June, the FDA granted accelerated approval to Aduhelm (aducanumab), Biogen's controversial treatment to reduce the accumulation of amyloid beta plaques in the brain of Alzheimer's disease patients. This month, Biogen updated the drug's label to mention that Aduhelm treatment should be initiated in patients with mild cognitive impairment or mild dementia due to Alzheimer's disease. Biogen recorded Aduhelm sales of $2 million in the quarter."
Below are analysts price targets [PTs].  This data was captured from my TDAmeritrade account, also on the morning of December 15, 2021: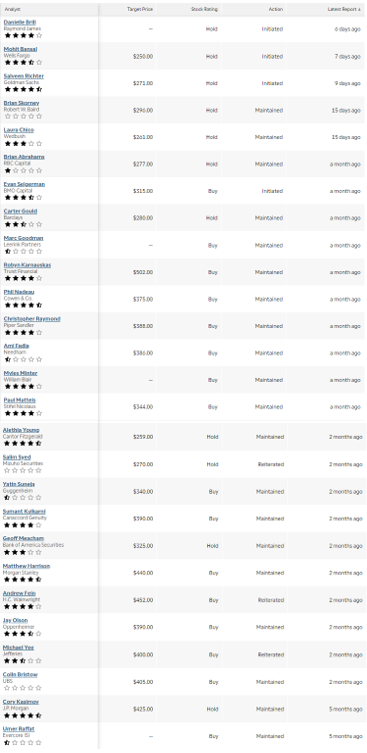 Please note that the most recent 6 analysts have a "HOLD" stock rating – not a "BUY" stock rating.
Below is a snip or summary statement, also captured from TDAmeritrade, where analysts predict a 47.62% increase in price-per-share [PPS]:

Summary
I am long SAVA and have no position in BIIB.  I believe that SAVA is a very strong buy.