Dimensional Fund Advisors
International Small Company Portfolio, Japanese Small Company Portfolio, US Large Cap Equity Portfolio, United Kingdom Small Company Portfolio, these are just some of the names of Dimensional Fund Advisors many Prospectuses.
Dimensional Fund Advisors is an American Investment firm with affiliates all over the world such as UK, Germany, Singapore, and Japan. By focusing on small cap stocks they want to increase returns while deliver the performance of capital markets.
Here I have made a table comparing Dimensional Fund Advisors (MUTF:DFSVX) and SPDR S&P 500 ETF Trust (NYSEARCA:SPY). As you can see the alpha is higher with DFSVX and the Beta as well.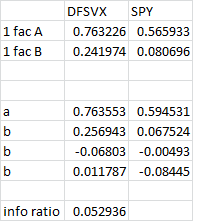 I would recommend DFSVX since they have showed consistency over the years. Their way of investment generates a higher profit but I also come with a higher risk. Although I think that the risk is compensated by the competence of the board of directors that consists of: Ken French, Eugene Fama (former prize taker in economics by Swedish Central Bank in honor of Alfred Nobel) and Myron Scholes (Also former Nobel prize taker in economics).