Why do I Think that watching Chromebook Sales is
So Critical at This Particular Juncture?
Even though ostensibly this will have a pretty limited impact on the Financials in a DIRECT fashion, this is a beautiful longer-term strategic play by Google. I am finishing Day 38 with my HP Chromebook 14 and I must tell you...what were the drawbacks and liabilities everyone warned me about? Because this has been - over ALL my Apple notebooks (from the Air on back, maybe 14-15 I just counted, plus a few iMacs, and one or two PowerPC Desktop Towers) - my very favorite non-PC PC notebook I've ever owned.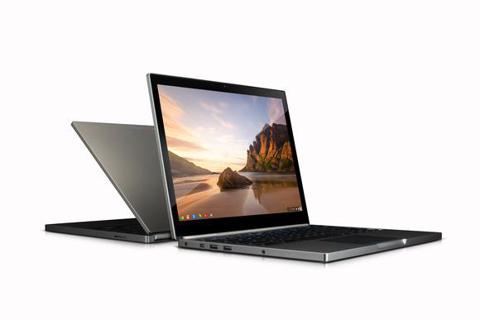 So BIG DEAL you might say, right? Most every Chromebook App is free, I only paid $279.99 for this hardware, and while I have no clue what the revenue share agreement structure looks like between HP and Google I cannot imagine anyone partying like rockstars tonight over the continued month-over-month growth in Chromebook sales from either company!

The Big Deal is this Chromebook, in 38 Days and despite a LOT of really difficult hardware issues I am hoping for Google and Chromebook's sakes were simply anomalies (You can read my blog posting from this morning here: My HP Chromebook Hardware Woes Continue…), I am buying my first Android Smartphone, the Nexus 5, this month after owning an iPhone since the day the debuted. I am switching my employees all over to Google Enterprise Solutions and Google Business Apps, with Nexus 5 Smartphones as well as HP Chromebook 14's! And I myself am gonna Double-Down on my Chromebook Hardware luck and get myself the Chromebook Pixel (the Premier Version, with the internal Wireless 4G connection, touchscreen, etc), as well as the CEO of one last company I am still invested in.

As this trend continues throughout my personal life, my companies, and my (dare I say) expert opinion virally spread after having 15-years in Digital Technology...there is going to be an absolutely substantial impact from users like myself and many others on the bottom line for years and years to come - but today it is Fairy Dust, I write this with some conjecture...and granted to a Quant or a normal businessman it is an esoteric concept to grasp.

Convergence or Interoperability and Graphic Likeness Between Chrome OS and Android?: But here is Google's longer-term play and why they have remained so very consistently supportive of the Chrome OS and the Chromebook Initiatives: Will there be a day that there is a much more serious convergence between Chrome OS and the Android Mobile OS on Chromebooks (we are already seeing the beginnings - albeit pretty insubstantial and cosmetic - of this trend at Apple between iOS and Mac OSX for their desktops and notebook PCs…).

Well. what if this trend suddenly grew with an accelerated rapid growth rate right around the same time, maybe a year from now, there are enough Chromebooks in the marketplace that it makes sense to make a very big move and capture what would essentially be a MUCH larger chunk of the Mobile Device Operating System Market Share (considering as a Web Thin Client, light and compact, Chromebook is really (especially if the touchscreen on the Pixel is any indication) essentially a Mobile OS right now for so many of us who still need what tablets cannot yet offer - the large tactile keyboard inputs, the larger 14"+ screens, the ability to run spreadsheets with a mouse controlling the UI and not my fat fingers...

When you think about Chromebook as this type of Convergence Strategic Initiative running simultaneously with the still expanding Android Market Share leads in Mobile OS'....the game becomes CHESS and not CHECKERS.

It is THEN that the Monetization of Chromebooks begin in earnest…

For a moment, think much smaller. What if Chromebooks are nothing more than much better performing netbooks, that fad we saw generate monster sales and revenue numbers only to largely vanish less than 36 months after the craze began? Well, at these price points and if sales globally were to experience if not equal expansion to what the netbooks experienced...how about DOUBLING both the growth rate and the overall market share after 24 months?

This could in fact REVERSE or most likely at a minimum be a major factor in offsetting the slowdown or in some cases the decline in CPC (Cost-Per-Clicks) and especially in CPM costs to Digital Display Advertisers (CPM = Cost-per-Thousand, the standard way to charge a Digital Display Advertiser).
In these two quick scenarios outlined above...Chromebook could be a strategically STEALTH but potentially a very important part of the rest of this decade's revenues and gross margins at Google. Not to mention...many consumers, and I am one very sophisticated one among them, LOVE THEIR CHROMEBOOKS. This could be longer term - 24-36 months out - a BIG winner for Google.
The Bottom Line
Chromebook is not even close to a non-justifiable expense, and in fact with my very close ties now for many years with Google there is much speculation similar to my actual predictive scenarios above that place Chromebook, Chrome OS and perhaps even a Convergence of the two Operating Systems in some shape of form as one of those very quiet "Skunkworks" like operations that Google runs so often and so well. I believe Chromebook sales will see some very substantial Holiday Sales numbers (surprising the analyst estimates) and will be a strong but still strong small ancillary growth stream for Google in 2014 and 2015.
Chrome OS, and the Chromebook/Chromebox, are all products that in my very strong estimation - especially in this rapid user-movement to All Cloud-Based Everything Digital Environment, will do nothing but support the share price of $GOOG in 2014 and 2015...and will be a very nice December stocking surprise from the Market Gods for the Holiday Season.
Disclosure: I have no positions in any stocks mentioned, and no plans to initiate any positions within the next 72 hours. I wrote this article myself, and it expresses my own opinions. I am not receiving compensation for it (other than from Seeking Alpha). I have no business relationship with any company whose stock is mentioned in this article.