Article Source: Best Buy Crashes; Is This An Opportunity?
By Sasha Cekerevac for Investment Contrarians
Best Buy Co., Inc. (NYSE/BBY), one of the largest electronic retailers in the world, is at a crossroads. The latest quarterly corporate earnings results were shockingly bad, showing that the company's current direction is not working. The company reported corporate earnings of $12.0 million, a drop of 91.0% from $128 million in the prior year period. The company also suspended any guidance for future corporate earnings estimates, which is usually met with an extremely negative investor sentiment.
The future is looking bleak, even as the founder has proposed a takeover of the company at $24.00-$26.00 per share. With the stock price trading below $18.00, it is obvious that investor sentiment is extremely negative on this stock, showing signs that investors don't believe any such deal will occur.
With sales down 2.8% and gross margin continuing to decrease to 24.3% as compared to 25.4% in the prior year period, it is apparent that corporate earnings will continue to be under pressure. The business model of having smaller stores to compete is either not working or not being enacted fast enough. Investor sentiment will continue to weigh on the stock until there are signs that the massive decline in corporate earnings will soon come to an end. So far, I don't see any improvement in the near future for corporate earnings growth and, as such, I continue to see investor sentiment keeping the stock price at depressed levels.
Large format retailers have had a difficult time in generating corporate earnings against online retailers. Consumers prefer to touch the product in the store and purchase the goods at home. Best Buy has been among several large retailers that have tried, and have so far failed, to overcome this hurdle. This has led to investor sentiment turning negative toward any large-format, mall-oriented retail stores.
Obviously this is a company deep in turmoil, not knowing what direction it wants to go. While it is announcing the closure of 50 stores and the building of smaller-format operations, most analysts think it's too little too late, leading to poor investor sentiment. Growing corporate earnings is difficult to begin with, but even more so when a new technology changes the rules of the game.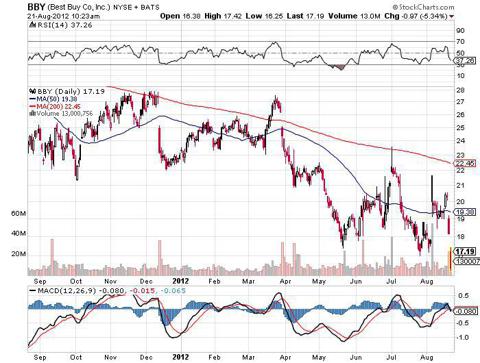 Chart courtesy of StockCharts.com.
Investor sentiment remains poor right now, even with a potential buyout rumored. With the company bringing in a new CEO in September, this latest corporate earnings report could have been one in which the firm was clearing out all of the bad news. With the deck clean, a new CEO could come into the situation and at least spark some renewed interest in investor sentiment. Combining a new CEO with a potential buyout, there's the possibility of a speculative buy fairly soon. The real test will be what new strategy and direction the new CEO will enact to revive corporate earnings growth. Until we see more information regarding this strategy and where corporate earnings will come from, investor sentiment will most likely remain poor.