Article Credit: http://www.investmentcontrarians.com/stock-market/chinas-massive-mobile-market-how-you-can-cash-in-on-it/574/
China has been growing exponentially in many areas, but while there is some stalling, an area that continues to expand at a staggering pace is the mobile phone sector. The growth is enormous with the number of subscribers surpassing one billion users. Let me put it another way: there are more mobile users in China than the populations of the United States, the European Union, Mexico, and Canada combined!
These are exciting times for China's mobile market where three major carriers dominate the market, according to my stock analysis.
The adoption of 3G and 4G networks will help to drive additional growth in the country's mobile phone market due to the need for new phones, based on my stock analysis. At the end of May, there were about 167 million mobile 3G users in China, up 126% year-over-year, according to Topeka Capital Markets. Growth in 3G is expected to continue rapidly.
Apple Inc. (NASDAQ/AAPL) is a major player in China, with sales in the country accounting for about 20% of total sales in the second quarter, and this is expected to rise. My stock analysis is that the potential is significant as Apple only has 10% market share of the Chinese smartphone market.
The income demographics in China support the spending. In a recent research finding, Credit Suisse predicted that the household wealth in China could double to $35.0 trillion by around 2015, based on achieving sustainable GDP growth at or near the current levels; albeit, the current slowing will impact wealth but will still allow consumers to spend on more non-essential goods and services, such as mobile phones, according to stock analysis.
The top mobile company in the country is China Mobile Limited (NYSE/CHL). With a market-cap of around $216 billion, the company is massive. By comparison, AT&T Inc. (NYSE/T) is the largest mobile provider in the U.S. with a market-cap of $212 billion, and Verizon Communications Inc. (NYSE/VZ) has a market-cap of $123 billion.
The price chart of China Mobile continues to look bullish, based on technical analysis.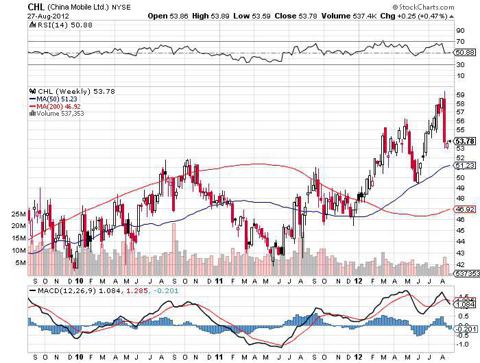 Chart courtesy of StockCharts.com.
China Mobile is one of the largest companies in China and can be considered a "widow" stock for long-term buy-and-hold investors, based on my stock analysis. The company is ranked the top brand in Bloomberg Businessweek's "20 Best China Brands." The stock pays an annual dividend of $1.89 for a current dividend yield of 3.5%, based on the prevailing stock price of $53.78.
The company had 683 million subscribers, or over 67.0% of all mobile users in China, at the end of June. The company is the world's largest provider of cellular services, based on subscribers and has set its sights on expansion outside of the Great Wall via its ownership of Luxembourg-based Millicom International Cellular S.A. (NASDAQ/MICC), a telecom operator with about 8.4 million subscribers and 17 mobile operations in 16 countries.
Going forward, my stock analysis is that China Mobile should benefit from the massive mobile market and growth in the 3G and 4G telecommunications area.
Alternatively, you can look at the makers of mobile accessories and builders of telecommunication networks in China, according to my stock analysis.
My stock analysis is that the Chinese mobile market is massive and worth a look.
Article Credit: http://www.investmentcontrarians.com/stock-market/chinas-massive-mobile-market-how-you-can-cash-in-on-it/574/