Many analysts and investors have been hesitant about the rally in the S&P 500. While I wasn't surprised with the rally into the Federal Reserve announcement, I thought it highly likely that the S&P 500 would have a pullback in the fall. However, it appears that the S&P 500 is continuing its strong move up and, at this point, it would be quite dangerous to bet against this rally and the Federal Reserve.
Since the S&P 500 broke the downtrend in June, it has formed a very clean and resilient uptrend. In technical analysis, trendlines are extremely important. We note that in April of this year, the S&P 500 broke a long-standing trendline that is extremely important in technical analysis. This led to a subsequent decline in the market.
Another important note is that the highs reached in May of this year were not in excess of the highs reached in April. In technical analysis, if the S&P 500 cannot overtake its previous high, it is seen as extremely bearish. We saw the net results leading to a low in the S&P 500 in early June.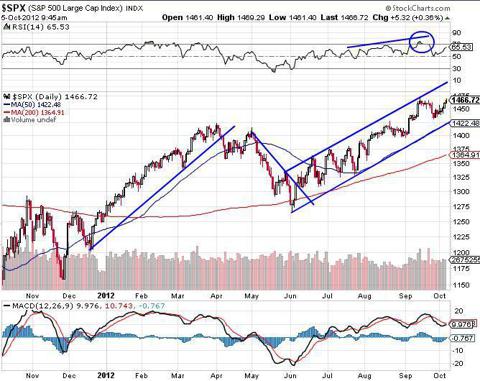 Chart courtesy of StockCharts.com
With this new uptrend developing, technical analysis will tell you to pay attention to whether or not the highs of the S&P 500 continually get broken. As is obvious by the chart, this is certainly the case. Another bullish sign is that the minor occurrence of the Relative Strength Index (RSI) being overbought in the middle of September has apparently been resolved. Read More http://www.investmentcontrarians.com/stock-market/will-the-sp-500-hit-1525/780/