Article Via http://newswalls.blogspot.com/2012/10/state-unemployment-rates-decline-for.html
The September state employment statistics show a drop in unemployment rates yet little significant growth in actual jobs. Only six states had unemployment increases whereas 41 plus the District of Columbia showed declines. Below is a map of state's unemployment rates for September 2012.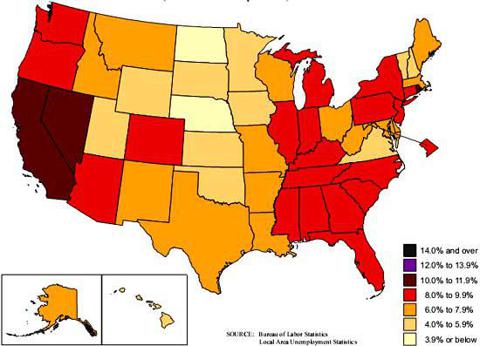 There are now only three states with unemployment rates above 10%, Nevada at 11.8%, Rhode Island, at 10.5% and California with a 10.2% unemployment rate.
Payrolls on the other hand are another story. While employment increased in 35 states, payrolls actually decreased in 15. The percent changes are not that large either. From the report:
The District of Columbia experienced the largest over-the-month percentage increase in employment (+2.0 percent), followed by Maine (+0.9 percent) and South Carolina (+0.7 percent).
Oregon and Wyoming experienced the largest over-the-month percentage declines in employment (-0.5 percent each), followed by West Virginia (-0.4 percent).
Article Via http://newswalls.blogspot.com/2012/10/state-unemployment-rates-decline-for.html