Let's take a look at Apple stock (AAPL) daily chart.  It was gaining ahead of Tuesday's quarterly earnings releases (May 1st), and it rallied after the fact. On that Tuesday I  wrote, that "we will likely see a more clear reaction. Probably to the upside, as there seems to be some "sell the rumor, buy the fact" action going on".  And  I was right! The stock reached new record high on Friday, as it broke above resistance level of around $175-180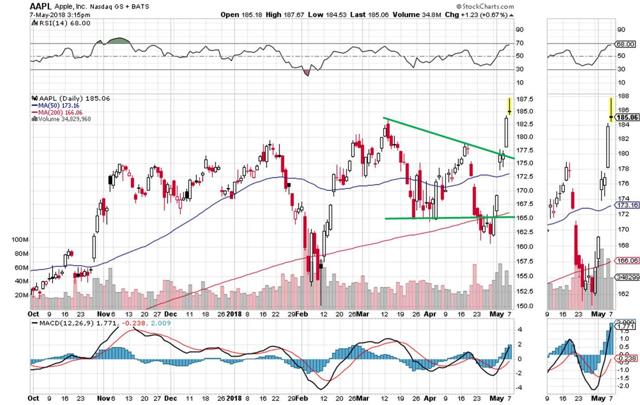 Courtesy of StockCharts.com

Apple (AAPL) shares rose about 1%, near 185.5, this afternoon trading on the stock market today. Intraday, shares hit an all-time high of 187.67. It now has a market value of about $945 billion, continuing its march toward a $1 trillion market cap.
Apple Stock received a Buy rating from 7 analysts. 0 analysts gave its stock an Outperform rating. 5 analysts say it's a Hold while 0 analysts provided their expert opinion as Sell.
The stock has climbed 10 percent this year, roughly double the increase on the Nasdaq. It trades 11 percent higher than its 200-day moving average. Its relative strength index hit 68 on Today, inching toward the 70 threshold indicative of overbought conditions.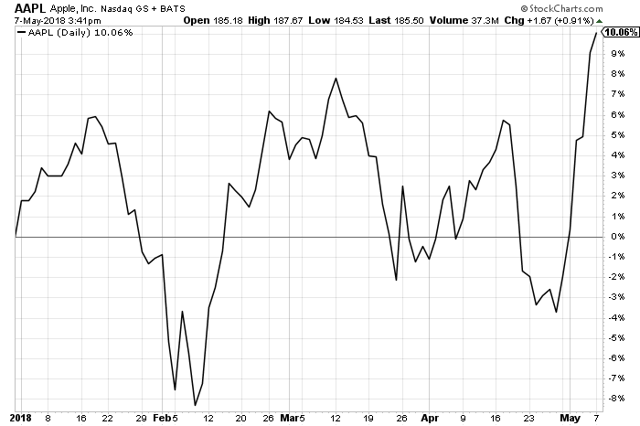 Courtesy of StockCharts.com