Poseidon Concepts executive Kostelecky Is Criminally Charged
Editors Note: Calgary's Poseidon Concepts was a market darling in 2011-2012, rising from $2.65 - $16 on the Toronto Stock Exchange. The company proclaimed it was so profitable making and selling frac water tanks, it started a dividend. But doubts in the Market arose after receivables increased quarter after quarter. On November 15 2012--days after confirming the next quarter's dividend--the company released financials that showed a $10 million writedown in revenue. The stock crashed from $13-$6 the next day, and within four months it wrote down $148 million of previous revenue, and the stock went off the board. The Chairman was Scott Dawson; Lyle Michaluk was both CEO and CFO of the company at different times.
The Canadian executives settled out of court, as you will read below. The US executive is now being criminally charged.
by Mike Caswell, Stockwatch.com
reprinted with permission
Prosecutors in North Dakota have filed criminal fraud charges against former Poseidon Concepts Corp. senior vice-president Joseph Kostelecky. They claim that he caused Poseidon to book tens of millions of dollars in non-existent revenue. His actions led directly to the company's collapse, prosecutors say.
The charges come about four years after Poseidon, which was listed on the Toronto Stock Exchange, surprised investors with a massive revenue restatement. The company reported that between $95-million and $106-million of its revenue for the first nine months of 2012 was incorrect. The resulting restatement wiped out most of the company's $148-million in revenue for the period. The stock, which had traded as high as $16.90 in 2012, hit 27 cents after the news. Two months later the company delisted from the TSX, and it is now defunct.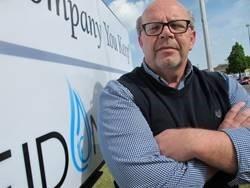 BISMARCK TRIBUNE
Joseph Kostelecky
According to prosecutors in North Dakota, the man behind this trouble was Mr. Kostelecky. On Friday, Jan. 6, they unsealed an indictment charging him with wire fraud and securities fraud. They claim that he caused the company to book the non-existent revenue in part to boost the value of his Poseidon shares and stock options.
The scheme, as described in the indictment, revolved around Poseidon's U.S. tank rental business. The tanks were used for above-ground storage of the fluids used in hydraulic fracturing. Mr. Kostelecky was the company's sole executive in the U.S., and managed the U.S. business until his resignation on Jan. 10, 2013. He personally marketed the company's products and negotiated the contracts with customers, according to the indictment.
Starting in November, 2011, Mr. Kostelecky caused the company to book revenues from tank sales that had not occurred, prosecutors claim. They say that he directed accounting staff to enter figures from purported long-term rental contracts. In reality, such contracts are almost never used in the tank rental business, the indictment states. Customers typically only use the tanks for a short period, and then return them.
Eventually, accounting staff started to question the figures, prosecutors say. They sought documentation that would support the company's sales. Mr. Kostelecky's response to such queries, as described in the indictment, was far from a receptive one. On May 23, 2012, a clerk asked for copies of rental agreements to support invoices the company was preparing with respect to a lengthy rental. Mr. Kostelecky's response, as quoted in the indictment, was: "Why are we waiting on this? Invoice off what I have provided you!!"
Within months, the matter had escalated to Poseidon's controller and other executives, prosecutors say. On Aug. 24, 2012, the controller specifically asked Mr. Kostelecky for signed contracts. In response, he provided assurances that, according to prosecutors, were entirely false. He said that the contracts were on file, even though he knew they did not exist, the indictment states.
Meanwhile Poseidon's revenue was growing substantially as a result of the purported U.S. business, prosecutors say. Its second quarter 2012 revenue of $54.8-million was a 568-per-cent increase over the prior year. Other quarters showed equally impressive figures.
Keeping the scheme going, however, was becoming an increasingly complex task for Mr. Kostelecky, prosecutors claim. Among other things, he began instructing accounting staff not to call some customers about outstanding invoices, the indictment states. He told staff members that he would be the only Poseidon contact to handle those accounts. Similarly, he told staff not to mail out some customer invoices at all, instructing staff to book the revenue even in the absence of billing.
Eventually the company's board hired an outside auditor to look into its revenue. After receiving the findings, the company issued a Feb. 14, 2013, news release, in which it said that much of its revenue for the first nine months of 2012 should not have been recorded. The stock collapsed, and on May 17, 2013, the company delisted from the TSX.
The charges against Mr. Kostelecky are five counts of wire fraud and one count of securities fraud. He entered a not guilty plea in an appearance on Friday before a judge in North Dakota. The judge released him on a promise to appear.
In addition to the criminal charges, Mr. Kostelecky was the target of a similar case filed by the U.S. Securities and Exchange Commission in 2015. He agreed to pay $75,000 (U.S.) to settle that matter. He also agreed to a permanent officer and director ban and to injunctions barring future violations. Mr. Kostelecky did not admit any wrongdoing in settling the SEC case.
In Canada, three of the company's officers were the target of an administrative action filed by the Alberta Securities Commission. The ASC said that the men should have disclosed the revenue trouble much sooner. Instead they certified false and misleading financial statements. To settle that matter, former Poseidon chief executive officer Lyle Michaluk agreed to pay $150,000, as did former chief financial officer Matthew MacKenzie. Its chief operating officer, Clifford Wiebe, agreed to pay $75,000.
Disclosure: I/we have no positions in any stocks mentioned, and no plans to initiate any positions within the next 72 hours.
Additional disclosure: Disclosure:

The Oil and Gas Investments Bulletin is a team of writers. This article was written by Keith Schaefer, Editor/Publisher. We did not receive compensation for this article, and we have no business relationship with any company whose stock is mentioned in this article. The author of this article has no positions in any stocks mentioned, and no plans to initiate any positions within the next 72 hours.