Each week Value Line Investment Survey publishes a list of stocks that have had growth in Revenue, Earnings, Cash Flow, Dividends and Book Value that averaged 10% over the past 10 years and are expected to continue with the same growth numbers for the next 5 years.
I have taken that list and run them through the Barchart technical indicators to find the stocks with the highest Weighted Alpha and current technical buy signals that are 80% or better.
Today's list includes Nutrisystem (NASDAQ:NTRI), Monster Beverage (NASDAQ:MNST), Maximus (NYSE:MMS), VCA Antech (NASDAQ:WOOF) and Allergan (NYSE:AGN).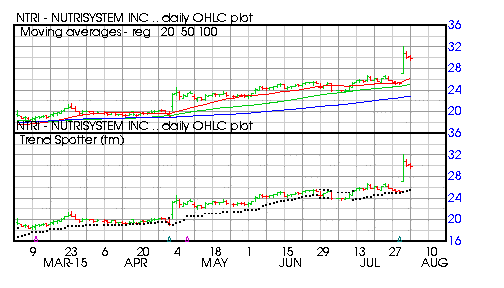 Barchart technical indicators:
100% Barchart technical buy signals
99.50+ Weighted Alpha
Trend Spotter buy signal
Above its 20, 50 and 100 day moving averages
10 new highs and up 24.07% in the last month
Relative Strength Index 70.33%
Barchart computes a technical support level at 28.91
Recently traded at 29.98 with a 50 day moving average of 25.07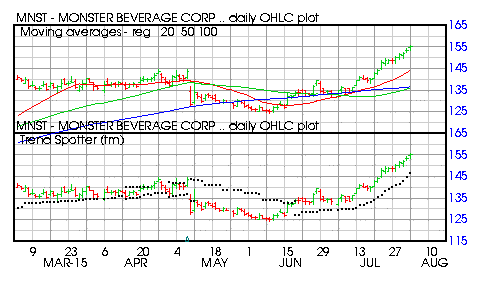 Barchart technical indicators:
80% Barchart technical buy signals
91.90+ Weighted Alpha
Trend Spotter buy signal
Above its 20, 50 and 100 day moving averages
14 new highs and up 15.83% in the last month
Relative Strength Index 81.84%
Barchart computes a technical support level at 151.71
Recently traded at 155.44 with a 50 day moving average of 135.94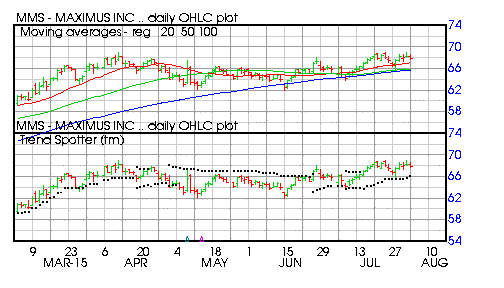 Barchart technical indicators:
80% Barchart technical buy signals
62.60+ Weighted Alpha
Trend Spotter buy signal
Above its 20, 50 and 100 day moving averages
8 new highs and up 3.21% in the last month
Relative Strength Index 56.00%
Barchart computes a technical support level at 67.53
Recently traded at 67.98 with 50 day moving average of 65.89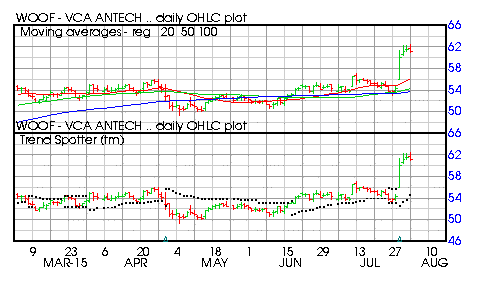 Barchart technical indicators:
100% Barchart technical buy signals
62.10+ Weighted Alpha
Trend Spotter buy signal
Above its 20, 50 and 100 day moving averages
7 new highs and up 12.87% in the last month
Relative Strength Index 74.90%
Barchart computes a technical support level at 60.43
Recently traded at 61.08 with a 50 day moving average of 54.28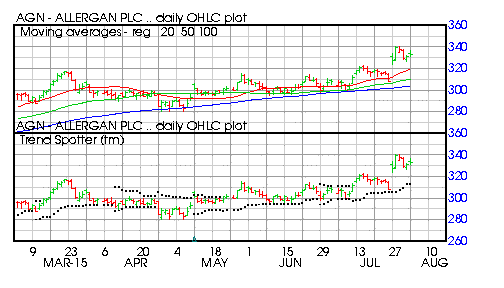 Barchart technical indicators:
96% Barchart technical buy signals
57.70+ Weighted Alpha
Trend Spotter buy signal
Above its 20, 50 and 100 day moving averages
8 new highs and up 8.33% in the last month
Relative Strength Index 62.75%
Barchart computes a technical support level at 323.78
Recently traded at 3370 with a 50 day moving average of 310.21