Nothing spectacular to report but it looks like the market may have bottomed out. Below is a chart of the Value Line Arithmetic Index of 1700 stocks which shows the price vs the 20, 50 and 100 day moving averages plus a 14 day turtle channel. It does not indicate a rebound but does show movement off a bottom.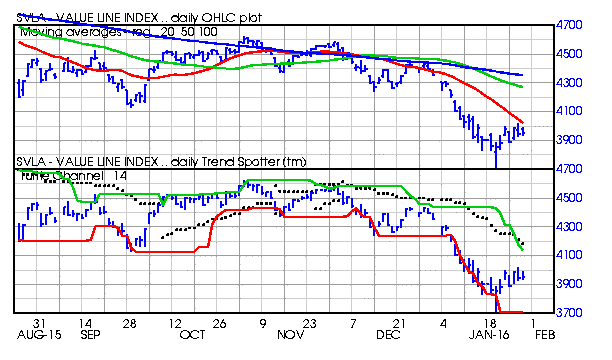 My support level on major indexes is the 50-100 Day MACD Oscillator and you can see that we are below that level and climbing slightly. I usually say above the 20 DMA - On Your Mark; above the 50 DMA - Get Set and when you are above the 100 DMA - GO!.
In addition, when I consider the 10,000+ stocks in the Barchart data base the majority are still trading below their moving averages. As I write this article the percentage trading above their DMAs are:
42.13% - 20 DMA
20.09% - 50 DMA
21.07% - 100 DMA

At the bottom I can say : "Runners" but not "On your mark" just yet.
This morning I used Barchart to sort the NASDAQ 100 stocks first for the highest technical buy signals, then I used the Flipchart feature to review the charts. Nothing here to really brag about but here are 5 stocks that weren't hurt too bad in the recent market weakness.
The list today includes Dollar Tree (NASDAQ:DLTR), Ross Stores (NASDAQ:ROST), Kraft Heinz (NASDAQ:KHC), Facebook (NASDAQ:FB) and Mattel (NASDAQ:MAT).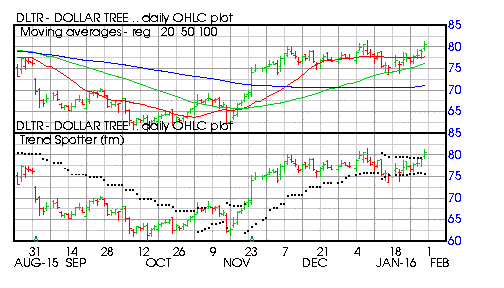 Barchart technical indicators:
96% technical buy signals
Trend Spotter buy signal
Above its 20, 50 and 100 day moving averages
4 new highs and up 3.76% in the last month
Relative Strength Index 64.11
Technical support level at 76.63
Recently traded at 80.92 with a 50 day moving average of 76.24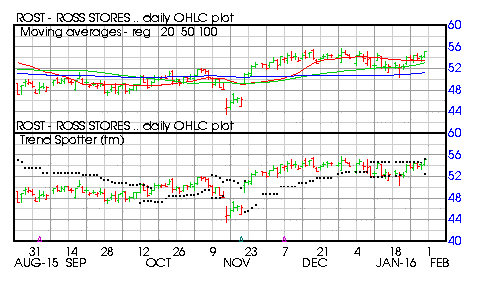 Barchart technical indicators:
88% technical buy signals
Trend Spotter hold signal
Above its 20, 50 and 100 day moving averages
2 new highs and up .67% in the last month
Relative Strength Index 59.46%
Technical support level at 52.67
Recently traded at 55.44 with a 50 day moving average of 53.08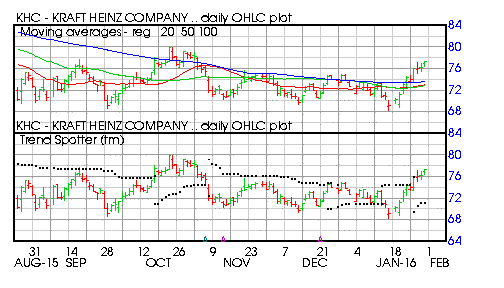 Barchart technical indicators:
72% technical buy signals
Trend Spotter buy signal
Above its 20, 50 and 100 day moving averages
4 new highs and up 3.45% in the last month
Relative Strength Index 65.55%
Technical support level at 74.70
Recently traded at 77.26 with a 50 day moving average of 72.58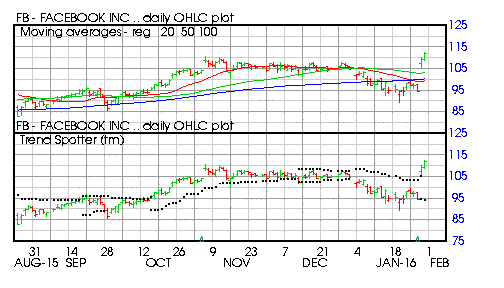 Barchart technical indicators:
72% technical buy signal
Trend Spotter buy signal
Above its 20, 50 and 100 day moving averages
3 new highs and up 4.93% in the last month
Relative Strength Index 67.12%
Technical support level at 102.56
Recently traded at 112.69 with a 50 day moving average of 103.07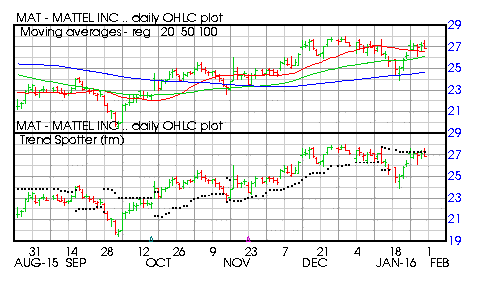 Barchart technical indicators:
64% technical buy signals
Trend Spotter sell signal
Above its 20, 50 and 100 day moving averages
1 new highs and 1.95% off its high in the last month
Relative Strength Index 57.16
Technical support level at 26.32
Recently traded at 26.91 with a 50 day moving average of 26.11