As I write this post I am adding some stocks to the Barchart Van Meerten New High portfolio not because I see the market recovering as much as I see it bottoming out. If you look the the chart of the Value Line Arithmetic you will see that it appears to be trading off a bottom. The stocks I'm adding are those taken from the Russsell 3000 Index that have technical buying signals of 100% at the time I place the trade: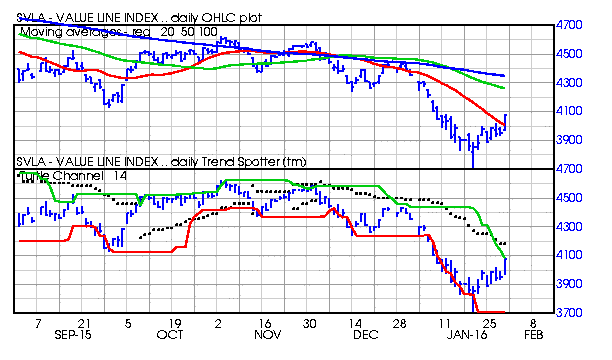 The stocks added:
YORW York Water
XEL XCEL Energy
WTR Aqua America
WGL WGL Holding
WEC Wisconsin Energy
T AT&T
SYA Symetra Financial
STZ Consellation Brands
STOR Store Capital
SSS Sovran Self Storage
SPKE Spark Energy
SERV Service Master Global
SCG Scana
SAFM Sanderson Farms
SO Southern Company
Disclosure: I am/we are long YORW, XEL,WTR,WGL,WEC,T,SYA,STZ,STOR,SSS,SPK,SERV,SCG,SAFM,SO.