Barchart.com's
Chart of the Day - Bed Bath & Beyond (NASDAQ:
BBBY
) for May 30, 2012
To access recent archived Chart of the Day reports, please go to:
http://www.barchart.com/headlines/search.php?feed=BC&series=COD
The "Chart of the Day" is Bed Bath & Beyond (BBBY), which showed up on Tuesday's Barchart "All-Time High" list. Bed Bath & Beyond on Tuesday posted a new record high of $74.67 and closed up 2.10%. TrendSpotter has been long since May 11 at $71.55. Bed Bath & Beyond was last featured by "Chart of the Day" as of the close on Nov 8, 2011 of $63.44. In recent news on the stock, Argus on May 17 reiterated its Buy rating on BBBY and maintained its $80 target, saying it is positive about the company's acquisition of Cost Plus because the deal will enable BBBY to add some excitement to its stores with new merchandise. Credit Suisse on May 11 upgraded BBBY to Outperform from Neutral and raised its target to $91 from $75 because the Cost Plus acquisition adds growth, improves selection, and reduces sourcing costs. Bed Bath & Beyond, with a market cap of $17 billion, is a nationwide operator of superstores selling predominantly better quality domestics merchandise and home furnishings typically found in better department stores.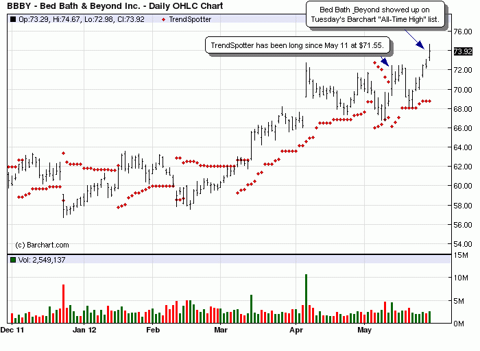 How we found the Chart of the Day:
We found the "Chart of the Day" by scanning the Barchart "All Time High" list. In order to get to that list, we first clicked on the Stocks menu item on the Barchart home page, then on the "All Time Highs" menu item on the left menu bar. We then sorted the list by percentage gainers by clicking on the "Percent" column title. A stock that has posted a new All-Time high is typically showing strong upside momentum.
The status of Barchart's Opinion trading systems are listed below. Please note that the Barchart Opinion indicators are updated live during the session every 10 minutes and can therefore change during the day as the market fluctuates. The indicator numbers shown below therefore may not match what you see live on the Barchart.com web site when you read this report.
TrendSpotter: Buy
Short-Term Indicators: 100% Buy
Medium-Term Indicators: 100% Buy
Long-Term Indicators: 100% Buy
Overall Average 100% Buy
---
Barchart links for further information:
Quotes and Charts
Quote
Detailed Quote
Chart
Technical Analysis
Technicals Summary
Trader's Cheat Sheet™
Barchart Opinions
Barchart Opinion
Barchart Snapshot
Trading Strategies
Company Info
Company Profile
Key Statistics
Ratios
Income Statement-Quarterly
Income Statement-Annual
Balance Sheet-Current
Balance Sheet-Annual
---
Chart of the Day Archive
View Past Chart of the Day Reports
---
Barchart Chart of the Day and is a free email newsletter providing commentary and analysis on one ticker symbol or commodities contract each trading day. In order to assure consistent delivery of the newsletter into your inbox, add newsletters@barchart.com to your Address Book. For troubleshooting help on email delivery, please visit http://secure.barchart.com/newsletters/whitelist.aspx.
Copyright © 2011, All rights reserved. The information contained herein is derived from public sources believed to be reliable but is not guaranteed as to its accuracy or completeness. No responsibility is assumed for the use of this material and no express or implied warranties nor guarantees are made. Nothing contained herein should be construed as an offer to buy or sell, or as a solicitation to buy or sell, any securities or derivative instruments.
This message was sent by Barchart.com, 330 S. Wells St., Suite 618, Chicago, IL, 60606. Web site: http://www.barchart.com/.
You have opted in to this permission-based newsletter. If you do not wish to receive this email, then we apologize for the inconvenience. You can immediately discontinue by clicking here: Click here to unsubscribe