On Tesla And Its Bitcoin Purchase. Is Tesla's "Do Good For Our Planet" Story Being Challenged?
Please Note: Blog posts are not selected, edited or screened by Seeking Alpha editors.
Seeking Alpha Analyst Since 2015
Corporate professional and investor with 20 years experience on capital markets worldwide. Active in Finance and Energy sectors with international work experience in 9 countries, on 4 continents (Europe, Africa, Asia, North America).
University of Cambridge Alumni, MBA Graduate, CISI certification.
Summary
Tesla produces electric cars for a better planet (500K in 2020; they also earn very profitable green credits). Tesla reported buying Bitcoin (published 2020 10K report). A lot of it.
We will analyze how the 110.53TWh energy used to produce Bitcoins (2020) was obtained. Fossil fuels are key, will this fact impact the narrative of Tesla and its sustainability principles?
Further, the article will research how much of Tesla's CO2 savings from its electric cars sales were impacted by buying bitcoins.
We will compare the details of the CO2 savings from Tesla's cars produced in 2020 versus the average petrol/diesel car (vehicle's lifetime) with the CO2 emissions of the purchased bitcoins.
Theresults could surprise, and might give some food for thought to some investors,especially to those with an Environmental,Social and Governance (ESG) mindset.
TESLA, GREEN CARS AND THE BITCOIN LINK
Tesla's narrative is that it produces electric cars which are meant to provide a better future for the sustainability of the world. In 2020 it produced almost 500K electric cars. They also are rewarded, in many states in United States and some countries in the European Union with green credits which they can sell to other car manufacturers. Those green credits were significant, because without them, the company would have been loss making in 2020.
In addition to their financial results deriving from the production of electric cars and selling green credits to other car manufacturers, Tesla reported in their annual report (10K filing) for 2020 to have bought $1.5 Billion worth of Bitcoin. There were 330,000 BitCoins mined in 2020. If we average a cost of 30K a piece, the total quantity bought by Tesla is about 50,000 BitCoins. That's about 15% of the total quantity of coins mined in 2020.
WHERE IS BICOIN MINED AROUND THE WORLD, HOW MUCH ENERGY IS IT USING AND HOW IS THE ENERGY BEING SOURCED?
To answer these questions we will first analyse the whole world and then we will go deep into the Top 5 country producers (which come to slightly above 90% of the total world production):
Based on the analysis performed by Cambridge Centre for Alternative Finance (1), 71.7% of Bitcoins are being mined in China. Russia, United States, Malaysia, Kazakhstan and Iran are the only other countries in the world with more the 1% extraction share. When combined, the Top 5 countries shown above are extracting 90.03% of world total, and the Top 10 represents 95.55% extraction share.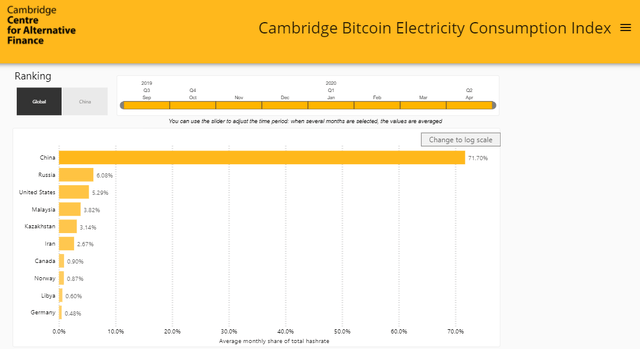 Source: cbeci.org/mining_map
We will analyse the top 5 countries. Given their 90% of worldwide bitcoin extraction, they cover the vast majority of resources being used in the process of bitcoin production worldwide.
China, 71.70% of Bitcoin Production Worldwide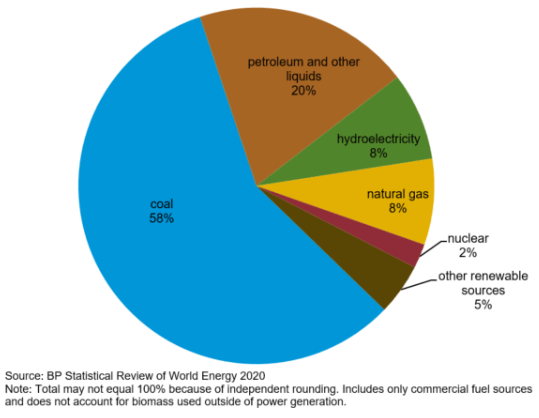 As you can see, China's energy sources ranges from 58% coal, to 20% petroleum, 8% hydro, 8% natural gas, 2% nuclear, 5% other renewables. Overall, 86% of China's energy mix in 2019 comes from fossil fuels, whereas only 13% comes from renewable energy of any kind.
Russia, 6.08% of Bitcoin Production Worldwide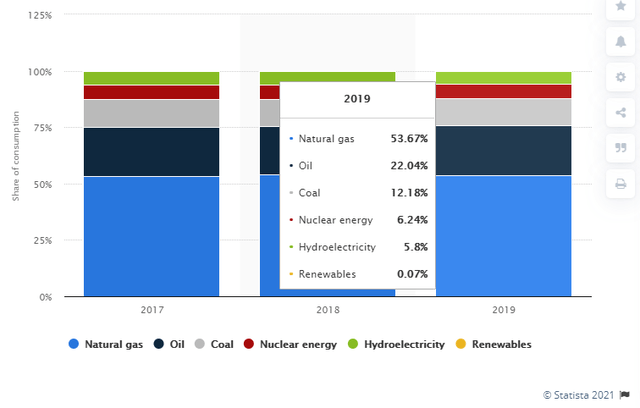 Source: Russia: primary energy consumption share by source 2019 | Statista
As you can see, 87.9% of Russia's energy mix in 2019 comes from fossil fuels, whereas only 5.9% comes from renewable energy of any kind plus another 6.2% from nuclear energy.
United States of America, 5.29% of Bitcoin Production Worldwide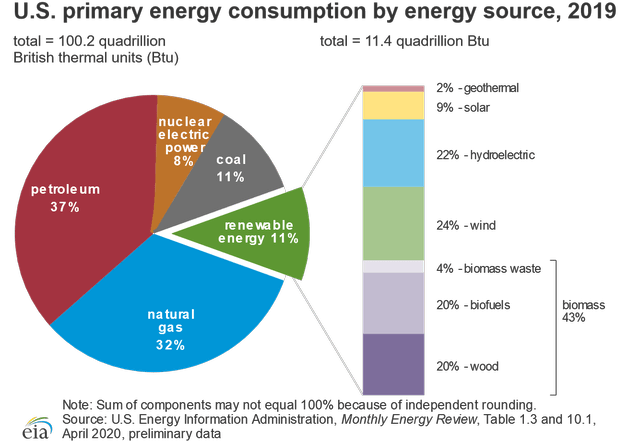 Source: PennState University (College of Earth and Mineral Sciences)
As you can see, 80% of United States's energy mix in 2019 comes from fossil fuels, whereas only 11% comes from renewable energy of any kind plus another 8% from nuclear energy.
Malaysia, 3.82% of Bitcoin Production Worldwide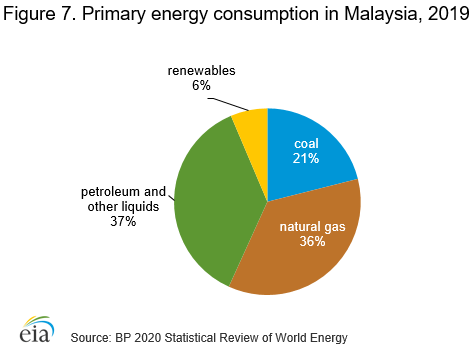 Source: International - U.S. Energy Information Administration (EIA)
As you can see, 94% of Malaysia's energy mix in 2019 comes from fossil fuels, whereas only 6% comes from renewable energy of any kind.
Kazakhstan, 3.14% of Bitcoin Production Worldwide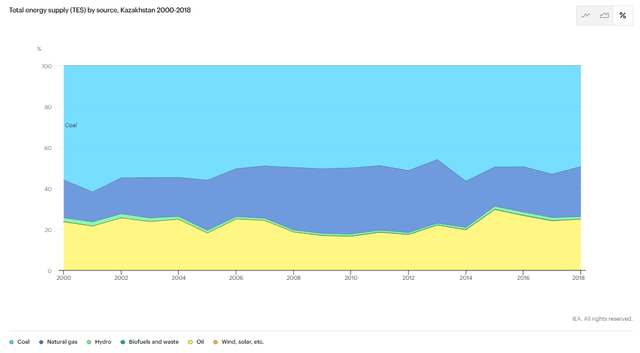 Source: Kazakhstan - Countries & Regions - IEA
For Kazakhstan, data was available from only up to 2018. As you can see, 98.6% of Kazakhstan's energy mix in 2018 comes from fossil fuels, whereas only 1.4% comes from renewable energy of any kind.
Summary Top 5 Bitcoin Producers:
Based on the above data, we can summarize the top 5 bitcoin producers, which represent about 90% of bitcoin extraction:

We can see that on a weight (percentage) adjusted average, 86.35% of the energy is being obtained from fossil fuels, whereas 11.40% comes from renewable energy of any kind (mostly hydroelectric, but also solar, wind etc.). 2.25% comes from nuclear sources.
HOW MUCH CO2 ARE THE TESLA MANUFACTURED ELECTRIC CARS SAVING OVER THEIR LIFETIME CYCLE
A report published by the European Union's Transport and Environment Agency (2) has shown that one car of the size of Tesla saves 37 Tons of CO2 emissions over its lifetime compared to a Gasoline based engine and 32 Tons of CO2 emissions versus a Diesel based engine. That saving includes manufacturing, and usage. The comparison assumes the same segment (SIZE) car and unchanged driving habits (same distance driven and same routines between city/highway).
Let's take a mix of 70% gasoline and 30% Diesel, getting us to a saving of 35 Tons of CO2 per car. Tesla production in 2020 is exactly 499,550. That means 17,484,250 Tons of CO2 saved over the lifetime of these cars.
While being the most comprehensive analysis available to us, we should note that it only covers European Union countries. Typically, EU countries tend to be greener than most other countries when it comes to the way their energy is being sourced. Therefore, it may likely that energy used by electric cars in other countries is dirtier, therefore the CO2 gain derived from electric cars usage is smaller. That may reduce the benefits of electric cars over gasoline/diesel cars, but to give Tesla the benefit of a cleaner energy future worldwide, we cross-reference the EU benefits to all other markets were Tesla is present (primarily China and United States).
HOW DOES THE CO2 FOOTPRINT SAVE OF THE CARS TESLA PRODUCED WITH THE CO2 FOOTPRINT OF THE ENERGY PRODUCED BY THE BITCOIN TESLA BOUGHT?
The University of Cambridge Center for Alternative Finance explains in the same report that Bitcoin had consumed 110.53 TWh in 2020 for the about 330,000 Bitcoins that were extracted in 2020.
Given that Tesla bought about 15% of the total quantity, it means that the bitcoins that Tesla bought consumed 16.58 TWh.
On average there are 0.8 kgs CO2 per kWh (given that 71% of bitcoins are produced in China we are using the basis of 0.821-0.861 kgs CO2 per kWh (4), but then reduce that down to 0.8 kgs as our analysis show a slightly better average in smaller bitcoin producers (although others such as Kazakhstan are slightly above) . That's 800 kgs per MWh, that's 800,000,000 kgs CO2 per TWh. That's 800,000 Tons per TWh.
Therefore the CO2 emissions that were generated from running computers to get Tesla the coins in 2020 come to 13,264,000 Tons of additional CO2 generated into Earth's atmosphere.
When we compare the 17,48 MTones saved over the lifetime of the 500K cars with the 13,26 MTones of CO2 produced by the bitcoins Tesla bought, that's three quarters of the CO2 savings gone. 75.86% to be precise.
WHY IS THAT RELEVANT? HOW IS BITCOIN ADDING VALUE TO THE GLOBAL ECONOMY?
Further concerns arise from the sustainability of Bitcoin's ecosystem. An article published by BBC in February 2021 (3), showed that the Bitcoin ecosystem is "reckoned to be making 160 quintillion calculations every second - that's 160,000,000,000,000,000,000". Further, this amount and the corresponding need for energy is only going to increase in future years. All these millions of trillions of calculations aren't really adding any added value. Alex de Vries, founder of Digiconomist, argues "They're computations that serve no other purpose, they're just immediately discarded again."
CONCLUSION:
The Bitcoin bought by Tesla around the end of 2020 and early 2021 was generated by releasing CO2 into the atmosphere of our planet to the equivalent of about three quarters of the CO2 emissions that the Tesla's production of cars would have saved over the lifetime of those particular cars (that's 12 years or more). We are talking about the CO2 savings over the next 12 years being wiped out. So that's savings that will happen only if the Tesla cars manufactured in 2020 will be actually be used as intended by their owners.
If we only refer to the energy footprint for the year 2020 of those cars (so basically the clean air gains materialised until now) and compare that to the energy footprint of the Bitcoins bought by Tesla, the CO2 emissions of the Bitcoins mining far exceeds the one year CO2 savings of the 500K cars Tesla produced.
We don't have at this moment the whole story behind Tesla's (Elon Musk's) decision to acquire bitcoin. There may be further items that will explain the decision, however these details have not yet been made transparent and we can only speculate as to why Tesla may think buying Bitcoin is a good idea.
To conclude: there is a big question mark under the Environmental, Social and Governance (ESG) story that Tesla is presenting to investors. In fact, the environmental narrative is completely altered. Therefore the question is: will this fact affect attractiveness of the investment into Tesla's stock for some investors and therefore the price of TSLA stock and its future returns? Is the purchase of Bitcoin part of a larger masterplan which is not being revealed at this moment (if so, why is Tesla not transparent about it), or is the Bitcoin purchase purely a financial speculation on a fossil fuel burning asset which, in its turn, shows there is a dichotomy between Tesla's laudable environmental mission and the practical actions of Tesla (good old profit seeking actions no matter the cost to the environment)?
Supplemental References (in addition to the references highlighted above):
Cambridge Centre for Alternative Finance, cbeci.org/mining_map, February 2021
European Union's Transport and Environment Agency, www.transportenvironment.org: How clean are electric cars? T&E's analysis of electric car lifecycle CO₂ emissions, April 2020
BBC, How Bitcoin's vast energy use could burst its bubble, February 2021
Science Direct, China's Electricity Emmission Intensity in 2020, an Analysis at Provincial Level, X. Li, K. Chalvatzis, D. Pappas, August 2017
Analyst's Disclosure: I/we have no positions in any stocks mentioned, and no plans to initiate any positions within the next 72 hours.
I wrote this article myself, and it expresses my own opinions. I am not receiving compensation for it (other than from Seeking Alpha). I have no business relationship with any company whose stock is mentioned in this article.
Seeking Alpha's Disclosure: Past performance is no guarantee of future results. No recommendation or advice is being given as to whether any investment is suitable for a particular investor. Any views or opinions expressed above may not reflect those of Seeking Alpha as a whole. Seeking Alpha is not a licensed securities dealer, broker or US investment adviser or investment bank. Our analysts are third party authors that include both professional investors and individual investors who may not be licensed or certified by any institute or regulatory body.