M&A Outlook: Innovus Pharma (OTCQB:INNV) may be Potential Acquisition Target, following Valeant's (NYSE: VRX) Acquisition of Sprout Pharma
With M&A activity in biotech and pharmaceutical sectors accelerating, large and mid-size pharmaceutical corporations are in search of opportunities to increase revenue growth. The female sexual dysfunction (NYSE:FSD) market has gained momentum, following approval of the drug Addyi by the FDA last week, for a subset of the FSD market called HSDD. The drug has been considered controversial for years, particularly after facing two previous rejections by the FDA, due to its low efficacy and euphoria-like side-effects. One week following its approval, Sprout Pharmaceuticals was acquired by Valeant for $1 billion, validating the market potential for FSD pharmaceuticals. Female Sexual Interest/Arousal Disorder (FSIAD) is the most common form of female sexual dysfunction. FSIAD is a diagnosis, which combines two previously distinct disorders: hypoactive sexual desire disorder (HSDD) and female sexual arousal disorder (FSAD).
HSDD refers to chronic or ongoing lack of interest in sex among females, to the extent of developing personal distress and/or problematic relationship issues; where as FSI/AD is a disorder characterized by persistent or recurrent inability to attain sexual arousal, in addition to maintaining arousal until sexual climax.
While males have relied upon Viagra (sildenafil), Cialis (tadalafil), and Levitra (vardenafil) to address their sexual disorders for almost a decade, creating a female solution has experienced complications.
The market for FSD drugs is estimated to outperform male sexual disorder products ($4-$5 billion annually), since the percentage of females with FSD between ages 18 and 59 (43%, according to studies by Edward Laumann and colleagues between 1999-2009) is higher in comparison to men (34%). Research appears to validate this proposal, to a degree, as seen by the acquisition of Sprout Pharma by Valeant.
Apricus Biosciences (NASDAQ: APRI) was advantageous of the announcement of Sprout Pharma's acquisition by Valeant, to announce they would be reviving their dormant product Femprox. According to previous filings and announcements by Apricus, Femprox completed a Phase III trial in China for female sexual arousal disorder, which relaxes vulvar and clitoral blood vessels, leading to increased blood flow, pelvic engorgement and enhanced secretion activity. We don't expect Apricus will be acquired for their product, Femprox, which is at least several years from a potential approval, but it is probable the company announcement could gain some momentum for its continuously declining stock price and increase their currently low cash reserves.
A very small and largely unrecognized company, called Innovus Pharmaceuticals (OTC QB: INNV), seems to be quietly obtaining a share of the FSD market after their acquisition of an over the counter product called Zestra. Zestra is commercially available in multiple countries, containing a tropical mix of essential oils. It is not a pharmaceutical drug, and is considered a cosmetic in the United States. Interestingly, Zestra has gone through the same trials which several pharmaceutical products under development endured, including Addyi. Looking at published clinical data of Apricus's Femprox, Sprout's Addyi and Innovus's Zestra, Zestra has had a comparable or better response on the FSFI score for arousal, desire and satisfaction, and may be the safest product according to the published studies. Zestra is the only product with consumer scores added to their clinical trials and assessed partner's responses. No clinical trials had published a comparison of the three products, so published literature from available data, as well as the companies' presentations at different meetings, including BIO meetings, and attempted to create an approximate representation to compare results. Note: this data should NOT be taken as an accurate representation of the data presented for each product, and were run independently with different populations and parameters, only using same or similar scores.
Total FSFI Score (Mean Change)
Zestra vs Addyi (Flibanserin) vs Femprox

FSFI Desire Domain (Mean Change)
Zestra vs Addyi (Flibanserin) vs vsFemprox

I Arousal Domain (Mean Change)
Zestra vs Femprox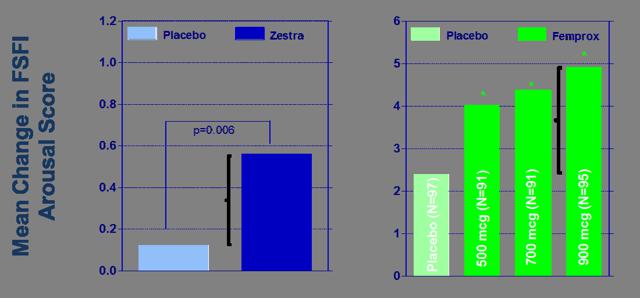 Our own conclusions on the clinical efficacy of the products:
FSDS and FSFI scores suggest Zestra's patients population suffered mild female sexual disorders in comparison to Addyi (Flibanserin) and Femprox patients population
Clinical effects of Zestra on FSFI desire and arousal domains was equivalent to Addyi (Flibanserin) (Desire) and Femprox (900 mcg)
Zestra and Femprox have an increased advantage over Addyi, as both seem to increase arousal in women and not just desire.
Zestra has a superior safety profile when compared to Addyi (Flibanserin) and Femprox
We believe Innovus is expected to be acquired if interest in the FSD market continues, as it did with the anti-viral market, for the following reasons:
The Company appears undervalued, relative to its growth potential and market cap of less than $6M on non-diluted basis,
Innovus is publicly traded on US exchanges and according to previous owners of the product, Zestra experienced peak sales of several millions in the US,
Innovus has multiple commercial partners for the product in over 50 countries, the product is currently at its approval stage, and it may be approved within less than a year,
Innovus has a division for men's health, with a focus towards issues such as premature ejaculation and others
Innovus acquired OTC rights to Fluticare for allergic rhinitis, and if approved by the FDA, could be a solid competitor to Flonase by Glaxo SmithKline (NYSE: GSK).
About E3 Capital LLC:
E3 Capital LLC (E3 Capital) is a Chicago based research firm, which covers global markets, and engages in proprietary trading of commodities, global equities, fixed income, currencies, derivatives and ETFs. We also search for publicly listed companies, which are overlooked and undervalued by institutional asset managers.
Disclosure: Information, opinions and analysis contained herein are based on sources believed to be reliable, but no representation, expressed or implied, is made as to its accuracy, completeness or correctness. The opinions contained herein reflect our current judgment and are subject to change without notice. We accept no liability for any losses arising from an investor's reliance on or use of this report. This report is for information purposes only, and is neither a solicitation to buy nor an offer to sell securities. E3 Capital has not been compensated by INNV nor expects to receive any compensation for distribution of our opinions and publicly available information is as of 08/25/2015. Certain information included herein is forward-looking within the meaning of the Private Securities Litigation Reform Act of 1995, including, but not limited to, statements concerning manufacturing, marketing, growth, and expansion. Such forward-looking information involves important risks and uncertainties that could affect actual results and cause them to differ materially from expectations expressed herein.
Additional Disclosure: Penny stocks and small capitalization stocks such as Innovus Pharmaceuticals and Apricus Biosciences are high risk investments. You may lose a substantial portion or all of your investment.
We have no positions in any stocks mentioned, and no plans to initiate any positions within the next 72 hours.
This article covers one or more stocks trading at less than $1 per share and/or with less than a $100 million market cap. Please be aware of the risks associated with these stocks.
Penny stocks and small capitalization stocks such as Apricus Biosciences and Innovus Pharmaceuticals are high risk investments. You may lose a substantial portion or all of your investment. Please be aware of the risks associated with these stocks.
Disclosure: I/we have no positions in any stocks mentioned, and no plans to initiate any positions within the next 72 hours.