Introduction
Chegg (NYSE:CHGG) is an online company based in Santa Clara, California, that specializes in helping high school and college students succeed. To name a few they do this through digital and physical textbook rentals, online homework help, online tutoring, and helping students find available scholarships. Through these platforms Chegg has two steady revenue streams. Print revenue and digital revenue. Print revenue is exclusively from physical text book rentals which generated $36.8M according to Monday's earnings report. Digital revenue is generated from all of Chegg's other online services, advertising, and commission-based revenue. These generated a staggering $30.2M, up 62% Y/Y, accounting for 45% of the company's total revenue. A growth in digital revenue is likely to continue with this generation's movement towards online resources coupled with textbook prices up over 1000% since 1977. This is just one piece of good news from Monday's Q2 report; now let's take a deeper look to see just how much upside there is for Chegg.
Monday's Q2 Earnings Report
As mentioned before Chegg's revenue has been increasing every year since going public.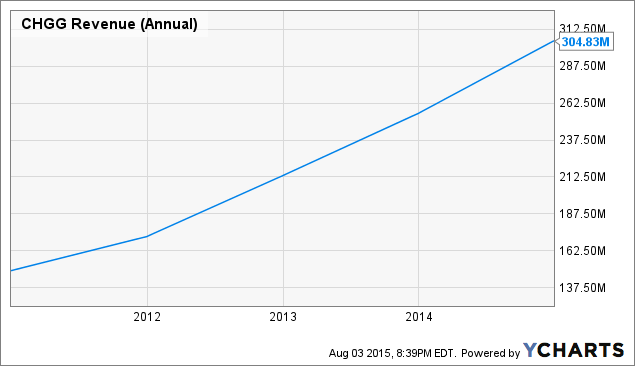 CHGG Revenue (Annual) data by YCharts
The consistent increase in revenue is almost entirely due to a growing and loyal customer base. This quarter Chegg added 200,000 new customers bringing their number of digital subscribers up to 700,000. Chegg added 500,000 new subscribers in Q1, so it might seem like 200,000 this quarter is very low. What you have to take into account is that a large portion of Q2 has been over the summer when students do not need these online services. Taking this into account I expect the user base to rise even more than it did in Q1 in this upcoming quarter. Not only are the subscriptions going up the subscribers are really using the product; this is very exciting for a company dependent on loyal subscribers. 70% of subscribers use Chegg for something other than textbook rentals, 84% bought it organically, and 41% are subscribed to a paid digital service. Dan Rosensweig, Chairman and CEO of Chegg is also excited about the increase in subscriptions and looks to continue helping students succeed in school. In Monday's press release CEO Rosensweig put it best himself:
"As education goes increasingly digital and students become increasingly self-directed in their pursuit of better outcomes, Chegg is with them every step of the way"
As Chegg increases its number of subscribers its profit is also increasing. Gross profit for this quarter was $30.8M up from last year's Q2 of $25.9M. An increase in subscriptions along side this increase in profit shows that Chegg has the infrastructure in place to keep operating expenses down and increase subscriptions at the same time. Not only is gross profit increasing Y/Y, but adjusted EBITDA of $3.2M is also increasing, up 106% Y/Y.
FQ3 and FY2015 Guidance
When I was reviewing Monday's earnings report I was absolutely dumbfounded to see that Chegg was down nearly 7% after hours. As I mentioned before the company is gaining subscribers and increasing gross profit, so I was really surprised to see how much they were down. There must have been something that scared away investors. After further analysis I found that the only reason for the drop was a marginal miss on guidance. New estimates on Q3 revenue are just $1.8M below the previous estimate, and FY2015 estimates are a minute $0.3M below the previous estimate. Investors must have totally overlooked the Q2 beat and increase in gross margin guidance by 2%. With a drop of 6.8% the new market cap is now 689.7M a drop of 25.37M. Misses this insignificant definitely do not warrant that much of a drop.
Conclusion
Monday's earnings report demonstrated significant value and growth seen in the company. Unfortunately the positive growth was outweighed by the marginal miss on guidance. I think the price drop was due to an overreaction from investors. Look for Chegg to continue it's positive trends, and the drop from Monday's earnings report will just be a small dip in the long term scheme of things.
Disclosure: I/we have no positions in any stocks mentioned, and no plans to initiate any positions within the next 72 hours.
I wrote this article myself, and it expresses my own opinions. I am not receiving compensation for it (other than from Seeking Alpha). I have no business relationship with any company whose stock is mentioned in this article.
Additional disclosure: The absence of investment is due to a lack of capital not a lack of conviction.