Infinity Pharmaceuticals: An Intriguing Small-Cap Biopharmaceutical Company
Please Note: Blog posts are not selected, edited or screened by Seeking Alpha editors.
Long/Short Equity, Momentum, Special Situations
Seeking Alpha Analyst Since 2015
I am a student at the University of Maryland interested in studying finance and operations management. I have experience researching stocks over the last few years, and I recently started investing my own capital. Feel free to contact me via LinkedIn at https://www.linkedin.com/in/adenicoff
Summary
With prices approaching a 5-year-low now is the time to get in.
With innovative products in clinical trials there is tremendous upside for Infinity.
Increased investment in research and development shows Infinity is serious about developing new drugs.
Duvelisib, Infinity's top drug prospect, looks like it will hit the market some time at the end of this year or early next year.
Introduction
Infinity Pharmaceuticals (NASDAQ:INFI) is a small-cap biopharmeceutical company with tremendous growth potential.

Infinity discovers, develops, and delivers medicines to patients with rare and difficult-to-treat diseases. They have many products in trials, which I will discuss in detail later in this article. Discovery research is a key part of this innovative company's backbone. With five different drugs in clinical trials Infinity has proven it is serious about developing lifesaving treatments. The product farthest along in clinical trials is Duvelisib, also known as IPI-145, an oral, dual-inhibitor of the delta and gamma isoforms of phosphoinositide-3-kinase (PI3K), for the treatment of hematologic malignancies. This drug is currently seeking FDA approval and hopes to be on the market by the end of 2015. Infinity seeks to generate revenue by licensing potential new products to third party companies.
If you read my last article you know there are three things I look for in a biotech investment:
1. There is at least one product on the market.
2. Products are helping continuously increase annual revenue.
3. There is at least one product in clinical trials.
Infinity only hits on one of these points, yet I am still optimistic about the company. With prices approaching a 5-year-low now is a great time for growth investors to buy up on Infinity.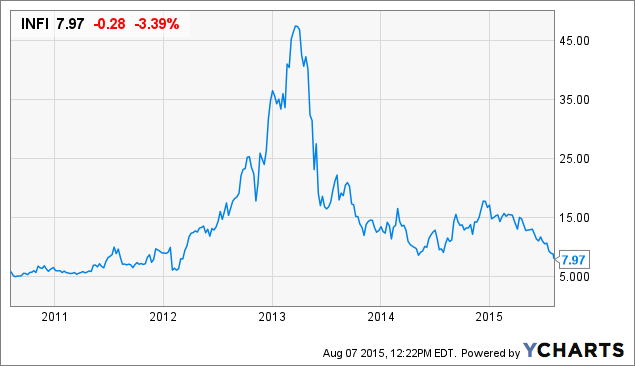 INFI data by YCharts
In this article I am going to tell you why Infinity is a great investment despite failing to meet all three of my biotech criteria.
Products In Trials
When evaluating any biotech company to see if it has a place in your portfolio it is important to understand the products the company is developing. Infinity currently has clinical trials in place, ranging in development from phase one to phase three. They are looking to treat indolent non-Hodgkin Lymphoma (iNHL) and Chronic Lymphocytic Leukemia (CLL). Below is an overview of the drugs to gain a better understanding of Infinity Pharmaceuticals:
1. DYNAMO
Dynamo is a phase two study of Duvelisib in patients suffering from refractory indolent non-Hodgkin Lymphoma.
2. DYNAMO+R
DYNAMO+R is a phase three study of Duvelisib in combination with Rituximab in patients with previously treated Follicular Lymphoma.
3. CONTEMO
CONTEMPO is a phase 1b/2 study of Duvelisib in combination with Rituximab or Obinutuzumab in patients with previously untreated Follicular Lymphoma.
4. DUO
DUO is a phase three study of Duvelisib vs. Ofatumumab in patients with relapsed or refractory CLL or SLL.
5. SYNCHRONY
SYNCHRONY is a phase one-b study of Duvelisib in combination with Obinutuzumab in patients suffering from CLL previously treated with a Bruton's Tyrosine Kinase Inhibitor (BTKi).
All the trials mentioned are forms of the drug Duvelisib. There are high hopes for Duvelisib in the cancer treatment market, and Infinity is doing everything possible to make sure this drug actually gets to market. When Duvelisib finally gets FDA approval Infinity will be able to generate more revenue than it has seen in a long time, and all that investment in R&D wil finally pay off.
The Risk Factor
Before I tell you why Infinity is a good investment I will show you the risks associated with this company. The first sign that troubles me is that they have no drugs on the market right now, and their entire focus is on R&D into new products. This is not necessarily a bad thing, but it definitely makes this a riskier investment than if they had at least one drug on the market.
Another troubling sign has been the company's major price drop over the last couple years.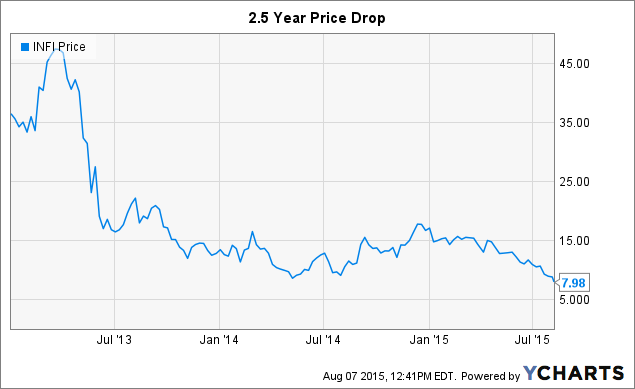 INFI data by YCharts
In just two and a half years the price has gone from over $45 per share to under $8 per share. This is troubling to say the least, but I am going to tell you why Infinity is finally due for a rebound.
Good Signs From Second Quarter Earnings
The first good sign from Thursday's earnings report was a $0.22 beat on Q2 EPS estimates. This is significant especially after Q1's miss by $0.23. Possibly the most important piece of information we heard Thursday was the huge increase in R&D. One of the big fears for this company is that they have no products on the market, but increased R&D shows they are serious about pushing products through trials. For the first six months of last year Infinity spent $62.7M on R&D. This year they almost doubled that spending a staggering $122.5M showing just how serious they are about discovery research. Infinity is finally due for a rebound because after dumping so much money into R&D they are finally going to see the benefits.
Occasionally the FDA grants what is called "Fast Track" designation for certain drugs. This is an attempt to push potentially lifesaving treatments through trials faster than expected. On Thursday's earnings report Infinity announced.
"U.S. Food and Drug Administration (FDA) granted Fast Track designation for the investigation of Duvelisib for the treatment of patients with chronic lymphocytic leukemia (CLL) who have received at least one prior therapy."
This means that by the end of the year Infinity will finally be generating revenue from Duvelisib. According to Adelene Perkins, Infinity's chair, president, and chief executive officer if all goes according to plan Duvelisib, along with two of Infinity's other drugs DYNAMO and DUO, could be approved by the end of the year. If Infinity can get drugs on the market, which looks increasingly plausible with FDA's Fast Track, prices could skyrocket.
Conclusion
With FDA's Fast Track Infinity plans to have drugs on the market sooner than expected. For a company currently holding drugs only in trials this is huge. With all biotech companies there is a risk that the drugs will never make it out of trials. It now seems more likely than ever that Infinity will get out of its long dry spell in the market for FDA approved drugs. I see a bright future for Infinity and with serious growth potential they are an intriguing biotech option. As I mentioned earlier Infinity is sitting close to its 5-year-low, so if you're looking to diversify or add biotech to your portfolio, now is a good time to buy.
Analyst's Disclosure: I/we have no positions in any stocks mentioned, and no plans to initiate any positions within the next 72 hours.
I wrote this article myself, and it expresses my own opinions. I am not receiving compensation for it (other than from Seeking Alpha). I have no business relationship with any company whose stock is mentioned in this article.
Absence of investment is due to lack of capital not a lack of confidence.
Seeking Alpha's Disclosure: Past performance is no guarantee of future results. No recommendation or advice is being given as to whether any investment is suitable for a particular investor. Any views or opinions expressed above may not reflect those of Seeking Alpha as a whole. Seeking Alpha is not a licensed securities dealer, broker or US investment adviser or investment bank. Our analysts are third party authors that include both professional investors and individual investors who may not be licensed or certified by any institute or regulatory body.