By Charles Kaplan, Analyst, Lampert Capital Markets, Inc.
In a previous article for Seeking Alpha dated Oct. 21, 2015 - "Syngenta: Feeding the World's Population" I discussed the possibility of another bid emerging for the company. As a refresher, I wrote "shareholders in Syngenta AG- ADR (SYT- $68.70 - 10/21/2015) were quite upset when their management walked away from what looked like a handsome price for the company. However, in the latest development Mike Mack, Syngenta's CEO just announced his resignation from the firm. It wouldn't surprise me if he was forced out over his handling of the Monsanto (NYSE:MON) bid. Does this mean the company is once again in play? Will Monsanto return to the table? Let's look at the facts: Monsanto is in desperate need of new pesticide products to replace its aging Roundup plus it faces a host of environmental related issues pertaining to this product. Syngenta looks like the answer to many of these issues Monsanto is now facing. As a result I wouldn't out rule the possibility of Monsanto returning to the table for a third go around." However at this time it now appears a new list of players has emerged including the giants of the chemical space- DuPont (DD) and Dow Chemical (DOW).
According to highly-regarded sources DuPont is exploring agricultural deals with both Syngenta and Dow Chemical. According to these sources Syngenta AG is in early stage discussions with DuPont's agricultural division about a combination of their operations. As an alternative backup to the negotiations DuPont is also exploring the possibility of acquiring Dow Chemical's seed and pesticide unit. Industry sources say "everyone is talking to everyone " and a major consolidation in the agricultural space is a distinct possibility. Every asset has its price and most CEOs are basically horse traders at heart looking for the right combination of assets and technology to maximize shareholder value. The CEO of Dow Chemical- Andrew Liveris is no exception to this rule having bought and sold more than his fair share of companies.
How large are the major players in this space? In 2014, the five largest agricultural companies each with pesticide and seed sales broken down (Billions) include: Monsanto $4.9 $10.7, Syngenta $11.8 $3.1 , Bayer $11.1 $1.5 , DuPont $3.7 $7.6, and Dow Chemical $5.7 $1.6 respectively.
Who will be the final winners remains to be seen, but when the dust settles only three super giants will emerge from the competition. To use an old cliché let the games begin. This is starting to look real interesting.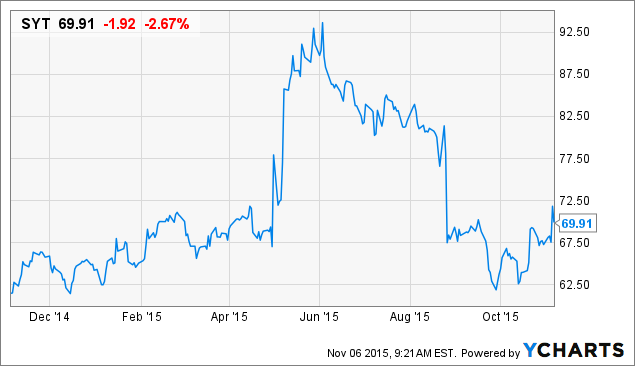 Analyst Certification
I, Charles Kaplan, certify that the views expressed in this report accurately reflect my personal opinion and that I have not and will not, directly or indirectly, receive compensation in connection with my specific recommendations or views in this report.
The analysts responsible for preparing research reports do not receive compensation based on specific investment banking activity. The analysts receive compensation that is based upon various factors including LCM's total revenues. a portion of which are generated by LCM's investment banking activities.
Other Disclosures: The information herein is based on sources that we consider reliable, but its accuracy is not guaranteed. The information contained herein is not a representation by this corporation, or is any recommendation made herein based on any privileged information. This information is not intended to be nor should be it be relied upon as a complete record or analysis; neither is it an offer nor a solicitation of an offer to sell or buy any security mentioned herein. This firm, Lampert Capital, its officers, employees, may have a position in any security discussed herein or in related securities and may make, from time to time, purchases or sales thereof in the open market or otherwise. The information and expressions of opinion contained herein are subject to change without further notice. The herein mentioned securities may be sold to or bought from customers on a principal basis by this firm. Additional information may be obtained by written consent.
Disclosure: I/we have no positions in any stocks mentioned, and no plans to initiate any positions within the next 72 hours.
I wrote this article myself, and it expresses my own opinions. I am not receiving compensation for it (other than from Seeking Alpha). I have no business relationship with any company whose stock is mentioned in this article.